1900-1919 Fashion History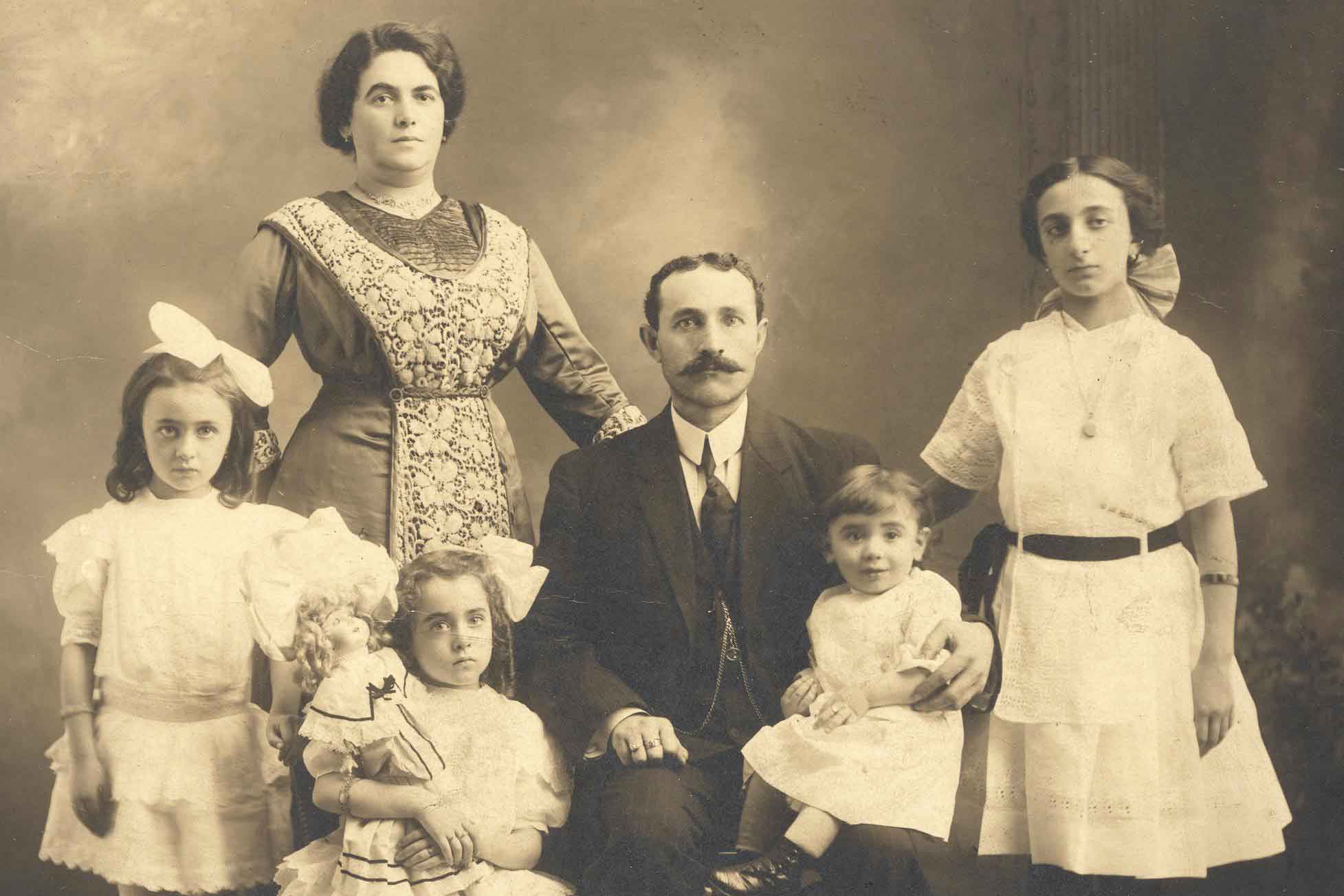 The period is 1900-1919 is fondly referred to as the Edwardian era or Belle Epoch (the beautiful age). 1900s fashion for women continued, talk of the modesty lady style with ankle-length dresses, corsets, and elaborate details. The suit continued being the mainstay for men's dressing, and children's fashion mirrored that of adults. However, the multiple garments unnecessary pieces such as crinolines, bustles, under-skirts, and dolmans went out of fashion as comfort and practicality were prioritized, because more women were getting into industrial wage jobs. The British Empire was still at its peak, which brought cultural influences, especially oriental influences on fashion.
What did women wear?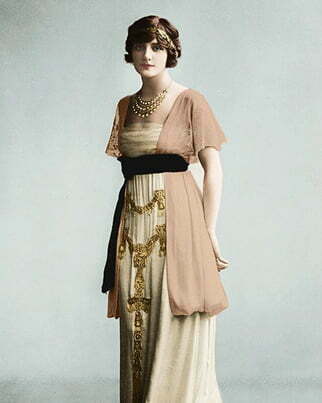 The curvy silhouette of the previous era still had a big attraction in the early 1900s, but the tight straight-fronted corset was discarded in favor of the S-curve 'health' corset, which did not put as much pressure on the abdomen and was more comfortable. This silhouette had a low full bust hanging over a narrow waist. This involved puffing out blouses and dresses to give a pigeon's breast, while the narrow waist was highlighted with a belt or a sash. The wider curve at the hips gave a back to front sloping look.
The houses of fashion of Paris began to exert their influence on 1910s fashion, which popularized flatter busts, thicker waistlines, and narrower hips. The dresses also began to shorten and clear the floor. Fashionable ladies from England, continental Europe, and even the US started frequenting the fashion shops on rue de la Paix, rue Halevy, la rue Auber, and Place Vendome for the March and September collections. A lady would work with a Vendeuse for a season's collection that would have items for different occasions; Lingerie, morning dress, dinner gown, walking dress, cycling dress, travel wear (train or motor), special event gowns (weddings, theater, tea parties). This era also saw the emergence of fashion names like Worth, Madeleine Cheruit, Poiret and Jeanne Paquin.
One of the more adventurous designers was Paul Poiret, who tried to infuse the oriental look. He tapered the skirt to a very narrow 'hobble skirt', and also experimented with 'harem' pantaloons for women, that ballooned at the knees. His chemises and blouses were looser, doing away with the need for a corset. This looser look gained traction into the 1910s.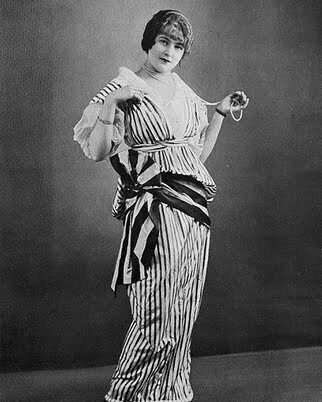 In the early 1910s, puffed blouses with frills, and narrower skirts were in vogue. The waistlines were high accented by belts and sashes that would be worn over a long tunic that dropped to the ankles over a 'hobble' skirt. More progressive ladies would have hitched skirts for easier climbing into automobiles which were becoming more common.
The First World War (1914-1915) disrupted 1910s clothing as more women were needed to work in factories, and needed clothing that was practical and comfortable. Dressing took a more utilitarian and simple form as women needed clothing that would accommodate overalls and tunics. Cotton garments gained popularity for their comfort during long working hours in factories. Women enlisted in reserve units also wore military uniforms. The tapered and cylindrical look made a comeback after the war.
Women's hairstyles also evolved during this period. At the beginning of the century, the favorite look was hair parted at the center, and looped around pads, or extensions, to make a wide-brimmed hairline. This was needed to support the broad-brimmed hats with low crowns that were in vogue. Pompadour styling gradually became popular with the low pompadour being the favorite hairstyle in the early 1910s. It was simple yet stylish and could support a wide variety of hats. More practical hairstyling was preferred during the war years. Hair was worn shorter, and chignon styling, which was simply a variation of tying the hair in a bun, became popular until the end of the war.
What did the men wear?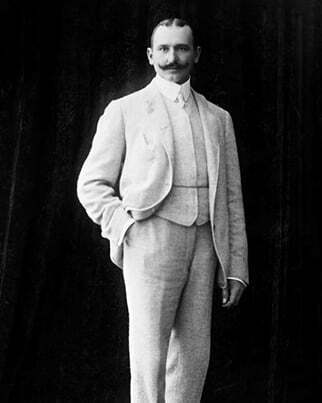 The lean silhouette look made a crossover and remained popular in the early 1900s. The three-piece suit stayed in vogue with a coat, waistcoat(vest) and trouser. The frock coat was gradually replaced by lounge and sack coats for both formal and informal wear. The contrasted look was popular; the trousers and coat would match with the waistcoat being a different color, or the coat and waistcoat would match, and the trouser of a different color. The trousers became shorter, reaching above the ankle and started featuring turn-ups. Front and back creases were done for a sharper look. Cold weather wear included overcoats reaching down to the calf, or topcoats. That would reach to the knees.
The morning coat was preferred for formal wear, while blazers and flannel coats were preferred for casual wear. They were adorned with patch pockets and brass buttons for practicality. The Norfolk suit was the preferred look for outdoor activities like shooting, hunting, and birdwatching. A sturdy fabric like tweed or denim was used to make the jacket. This would be worn with breeches (knickerbockers), and sturdy shoes.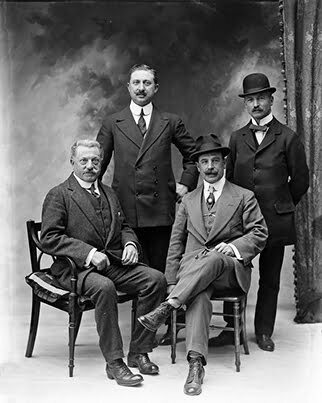 Popular evening wear for formal occasions was usually a suit of a dark tail coat, dark trousers, and a waistcoat that could either be light or dark. This was worn with a winged collar shirt and a bow tie. Less formal evening wear could see the dinner jacket, which was worn with a white shirt and a dark tie.
The formal shirt featured stiff tall collars or 'wings'. The fronts were stiff as well and occasionally featured decorative shirt studs. Some shirts were buttoned at the back. The formal shirt was usually worn with a narrow necktie. Less formal occasions called for colored striped shirts and bowties of varied colors.
Everyday footwear was dominated by the lace-up leather boot and toe caps. More formal shoes would have white uppers and occasionally buttons on the side instead of laces.
1910s men's fashion was also keen on accessories, with a hat being an almost mandatory item. The upper class favored the tall top hat, while the common people preferred soft felt homburg hats. Pocket watches remained a favorite accessory for many men.
What did children wear?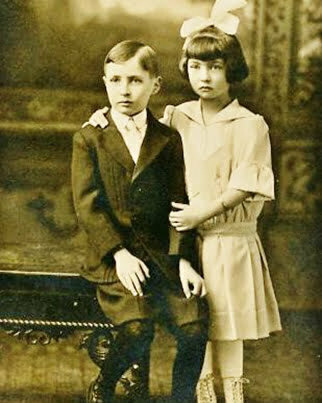 Fashion for girls largely mirrored that of adult women, with knee-length embroidery and lace dresses, woolen stockings and jerseys. The boys wore Russian style blouses, sailor shirts or dusters worn with knickerbockers. Lace-up boots were popular for both boys and girls.
Sorry, no content matched your criteria.