If one were to describe the 1950s decade, the words that come to mind are sophistication and glamour. The sense of style throughout the decade is undeniable. Jewelry trends at the time were bold statement pieces that exude femininity, and elegance. 1950s Jewelry trends are a must-have vintage accessory to compliment a night out, or formal office wear. In this blog post, we will be exploring the iconic pieces of jewelry that capture the essence of this era.
Popular 1950s Jewelry Styles
In the 50s, the materials commonly used for jewelry were pearls, silver, and gold. Although there were some other choices, the above-mentioned materials remained popular for their classic look. Below are some of the trendy 50s jewelry styles;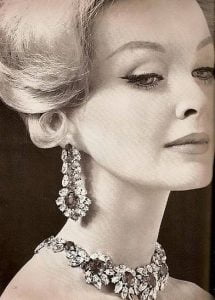 Cocktail Rings:Cocktail rings gained a reputation as a statement piece. Often worn on special occasions as it is large, and always features a large gemstone like rubies, diamonds, and emeralds. Also, the large gemstone is surrounded by smaller colored stones. It is a truly bold and captivating piece of jewelry.
Everything Pearl:Women couldn't get enough of pearls in the 1950s. They adorned themselves in pearl earrings, necklaces, studs, necklaces and other imaginative accessories. For some, they would layer their pearl accessory with other lustrous gems to make that iconic 1950s sophistication look.
Brooches:One of the ways women in the 50s loved to accessorize their clothes was to adorn them with brooches. The brooches could come in a variety of shapes and sizes made with either gold, silver, or gemstones. For most women, the brooches were perfect for their dresses, coats, and lapels.
Chandelier Earrings:These earrings are dangly, long, and are the perfect pair to go along with an evening gown. Similar to other jewelry of the 50s, comes in gold, silver, and gemstone options.
Bangle Bracelets:Bangle bracelets are circular and solid and women use them to adorn their wrists. They can be made of gold, silver, and a host of other materials.
Celebrities Pushing the 1950s Jewelry Trends
Just like today, the 1950s had its own brand of fashion influencers. The foremost influencers at the time included Marilyn Monroe, Audrey Hepburn, and Grace Kelly. Each of the women had their own interpretation of what fashion should be like and they exemplified their style to the fullest. Grace Kelly, is famous for her classy yet regal style. Kelly is always wearing some traditional jewelry pieces of bracelets and necklaces made of silver and gold.
On the other hand, Monroe exudes a sensual and glamorous style. She would accessorize with statement jewelry pieces like chandelier earrings and cocktail rings. Lastly, there is the great Audrey Hepburn, she was the personification of elegance and sophistication. Her jewelry style was typically pearl necklaces and earrings.
How to Wear 1950s Jewelry today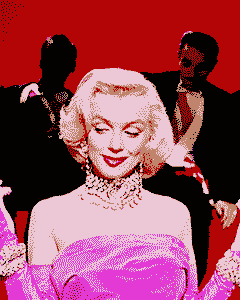 The most important rule to remember whenever you want to go with a vintage 50s look is to be Bold. Similarly, if you are to pick a piece of jewelry from the 50s to match your look then you must make sure they are statement pieces. Multi-strand necklaces, chandelier earrings, and cocktail rings are some of the options available to you. Using any of these jewelry pieces is sure to add glamour to your overall look.
Secondly, there is no fashion crime should you decide to mix or match a variety of styles and materials. You can comfortably pair a pearl necklace with a cocktail ring. Likewise, you can mix a chandelier earring look with a silver bangle bracelet.
Lastly, while there is no rule to mixing it up, you do have to be aware of your overall outlook. For instance, if you are thinking of wearing a bold jewelry piece, then the rest of your outfit has to be toned down a bit. A classic case is pairing a statement piece with a black dress.
Tips for Incorporating 1950s Jewelrys Trends into Modern Outfits
Below are some useful tips to help you match 1950s Jewelry Trends into your wardrobe.
If you want to make use of cocktail rings, then you can always pair them with an evening gown or cocktail dress in a formal setting. For a more casual look, it goes well with a simple pair of jeans and a top.
The Bangle Bracelet matches well with nearly all looks. You can stack bangles for daytime events and for the more relaxing evening, a single bracelet is more than sufficient.
Anytime you want to make a statement with a bold and glamorous look, then you have to pair your gown and dress with the chandelier earrings.
Brooches like the bangles are very flexible as you can pair them with your dress or lapel for daytime occasions. Also, it is fitting for coats and evening gowns.
In conclusion, 1950s jewelry trends are the epitome of style, glamour, elegance, and sophistication. Feel free to add a 50s piece of jewelry to your wardrobe to get that bold look.