Accessories were not left out of the fashion industry's evolution; there was an increase in new materials and forms of jewelry to complement every fashion trend.
Jewelry was quite experimental, taking on several forms. Multi-strand faceted glass, plastic, and crystal bead necklaces were popular materials for making jewelry.
The 60s Jewelry was used to elevate outfits and hairstyles. It was the one piece that completed every aesthetic jigsaw. Fashion designers and social movements used it to create art in various ways.
What kind of jewelry was popular in the 60s?
The 60s jewelry was modeled to meet every fashion trend existing at the time. As a result, there was a surge in the variety of jewelry available. Individual preferences and social movements influenced jewelry selections. Below are the most popular 60s Jewelry pieces:
Mod Jewelry:The mod fashion trend, defined by its bold and geometric designs, impacted 60s jewelry. Oversized earrings, thick bracelets, and geometric pendants made from plastic and acrylic materials in vibrant colors were common. These pieces of jewelry were especially loved because of the attention they commanded.
Hippie Jewelry: Jewelry was an important symbol of communication for this movement. Peace sign pendants, love beads, and other symbols of peace, love, and freedom were extremely popular. Necklaces, bracelets, and anklets were embellished with natural materials like wood, shells, feathers, and multicolored beads.
Flower Power: Floral-themed jewelry was influenced by this movement. Large flower-shaped earrings, brooches, and pendants with vivid enamel or painted accents were worn to embody a sense of serenity and nature. Jewelry was a fashion statement and a way of identification for them.
Psychedelic and Op Art Jewelry:This movement was all about brilliant colors, whirling patterns, and optical illusions. Bold, abstract shapes were fashionable, frequently integrating colorful gemstones or enamel. Pieces inspired by art that included repeated geometric patterns or illusionary effects were also common. They are commonly used as vintage costume jewelry by artisans
Go-Go Jewelry:Dangling earrings, choker necklaces, and charm bracelets with jingling charms quickly became trendy accessories to pair with the era's go-go boots and tiny skirts. The energetic, free form and vibrant culture were great inspirations for the creation of fun jewelry.
What were the fashion trends in the 1960s?
The 1960s fashion was vibrant, nonconforming, and extremely trendy. The fashion industry was centered on the youth market, which allowed for innovative designs. The 1960s were an age that shattered all fashion standards that had previously existed, as it evolved to keep up with all of the social movements of the time.
For the first time in the nineteenth century, London became the center of the fashion world, women's dresses became shorter, men's wardrobes were more colorful, and clothing became more informal.
The desire for pastel, bright, and geometrically patterned textiles skyrocketed; here are some of the trends that dominated the scene: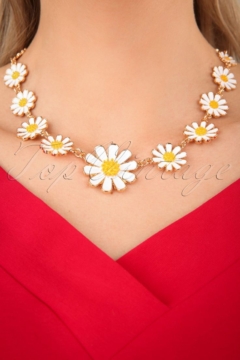 Mod Fashion: Mod originates from the word modernist; this community believes in being modern, sexy, and this was seen in their fashion choices. With short hemlines, geometric patterns, and brilliant hues, it embraced bold and futuristic styles. Shift dresses, miniskirts, bomber jackets, Chelsea boots, slim-fit trousers, and tailored suits with narrow cuts were fashionable for both men and women. PVC, vinyl, and other synthetic materials were also used in mod fashion.
Hippie Fashion: The hippie counterculture arose in the second half of the 1960s, bringing with it a bohemian and free-spirited fashion aesthetic. The hippie look was defined by flowing maxi dresses, peasant blouses, bell-bottom pants, and fringed vests. Natural materials like cotton and tie-dye designs were popular, as were a plethora of accessories like headbands, love beads, and giant sunglasses.
Space Age Fashion: Metallic fabrics, plastic components, and sleek silhouettes were prominent for this fashion community. A-line dresses, collarless coats, and "space helmets" (helmet-like haircuts) were trendy. The usage of silver, white, and other metallic colors contributed to their futuristic appearance.
Ladylike Fashion: It's an aesthetic that embraces elegant and refined looks from 1950s fashion trends. It draws inspiration from prominent figures such as Jacqueline Kennedy. The elegant design trend featured shift skirts with matching jackets, pillbox hats, bouffant hairstyles, and gloves.
Youthquake Fashion: This was the 1960s youth culture, and it inspired fashion styles that appealed to the younger age. It took a more fun and experimental approach to fashion. Bold patterns, bright colors, miniskirts, hot pants, and psychedelic prints were all trendy. Youthquake fashion mirrored young people's shifting perspectives and ambitions.
The 1960s were a very exciting moment for fashion. At the time, there is a lot going on globally. Nevertheless, the fashion business was right in the thick of it all, generating harmony and supporting expression. Some 60s jewelry trends have been modernized and can be seen in the contemporary fashion landscape.