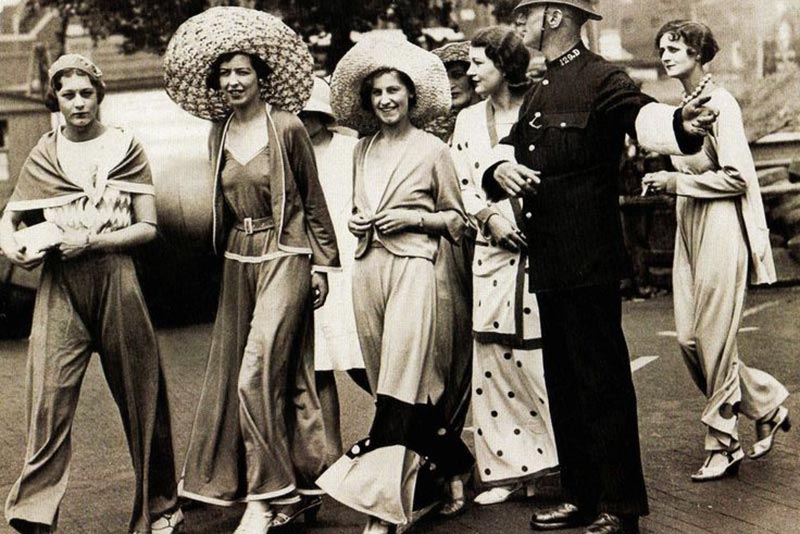 The 1930s were great years for feminine fashion despite the financial difficulties of the decade. Women found solace in fashion, closely following glamorous Hollywood stars like Carole Lombard and Greta Garbo who were major fashion influencers alongside the Parisian designers like Coco Chanel and Madeleine Vionnet. The feminine form was restored in sleek and sexy nightwear, gowns and lingerie. The cinema brought these risqué garments to eager audiences who were happy to imitate them. Fashion fads grew overnight courtesy of the cinema and mass production of garments that had begun.
White was a favorite color in the 30s because it came out better on black and white cinema screens, which made it widely used in Hollywood scenes. However, satin and silk robes of black, red and pink hues were also popularized by fashion magazines which were printed in color. The shocking pink color was later seen on designs by Elsa Schiaparelli.
Pajamas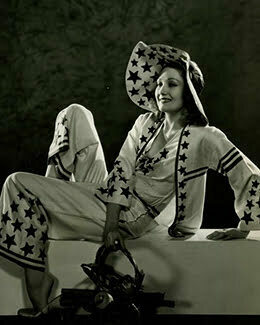 By the 1920s Pajamas were widely worn by both men and women. In the 1930s pajamas were dual role clothes; sleepwear during the night, and loungewear in the day. Lounging in pajamas was popularized by the actress Claudette Colbert in the film It Happened One Night, in a scene where she wears a pair of pajamas. Sleeping pajamas were usually made of rayon or silk. Women felt comfortable wearing them when at home during the day because they were seen as less 'immodest' than nightgowns.
The pajama was wide-legged and loose-fitting at the waist. They were tightened using drawstrings rather than buttons or clasps. The loose and airy pajama was also practical for light chores around the house, and it gradually became more than just sleepwear, but also a mainstream fashion garment for wearing to the beach and other casual events. Pajamas were very popular for wearing during summer vacations.
Lingerie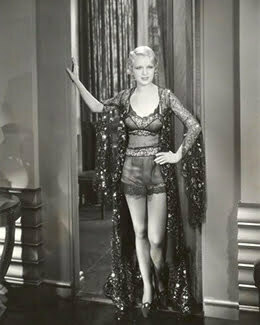 The flapper looks of the 20s were dropped in favor of more feminine curves. The natural waistline was accentuated with a slim hips profile and a natural bust. Lingerie played an important role in bringing out curves in the day and was adopted as sleepwear by more adventurous ladies. Lingerie was usually made from silk, satin, satin georgette, yarn crepe, crepe de chine, and crepe mousseline. More expensive items were made from silk, and more affordable options had a mixture of synthetic fabrics.
Favorite colors for lingerie were white, pink, cream and peach, but ladies also experimented with black, blue and purple hues. Lace trimming was used to decorate these items. All-in-one corsets were popular for smoothing down bulges on the waistline. It was often worn with a dress to provide a foundation and give the much desired long and lean silhouette. Unlike corsets of yesteryears that were restrictive, newer corsets were more flexible as stretchy material like lastex was used with silk.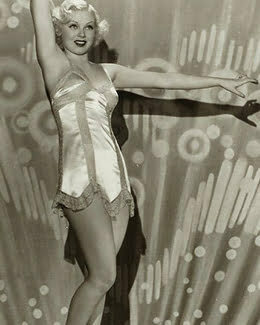 A corselet was a one-piece that combined a bra and a girdle. It was popularly worn with backless halter neck gowns. It was also transformed into sexy evening wear in the bedroom.
Slips were also worn under dresses to help achieve a draping look and a snug fit. A looser fit was preferred for the slip, which made it comfortable enough to sleep in as well. Slips came with thin straps, and V or scoop necklines. Sexy designs had lace trimming on the bustline and hem. The length of the slip was preferred to be at least 2 inches shorter than the outer dress hem. The slip was also flared from the knee down for freer movement.
One of the sexier slip designs was the taffeta slip with its ruffled hem. It was usually worn under long afternoon or evening gowns, and came in a variety of colors to match these gowns.
The 1930s women's fashion had a very good trend, despite the financial difficulties of the decade. W...