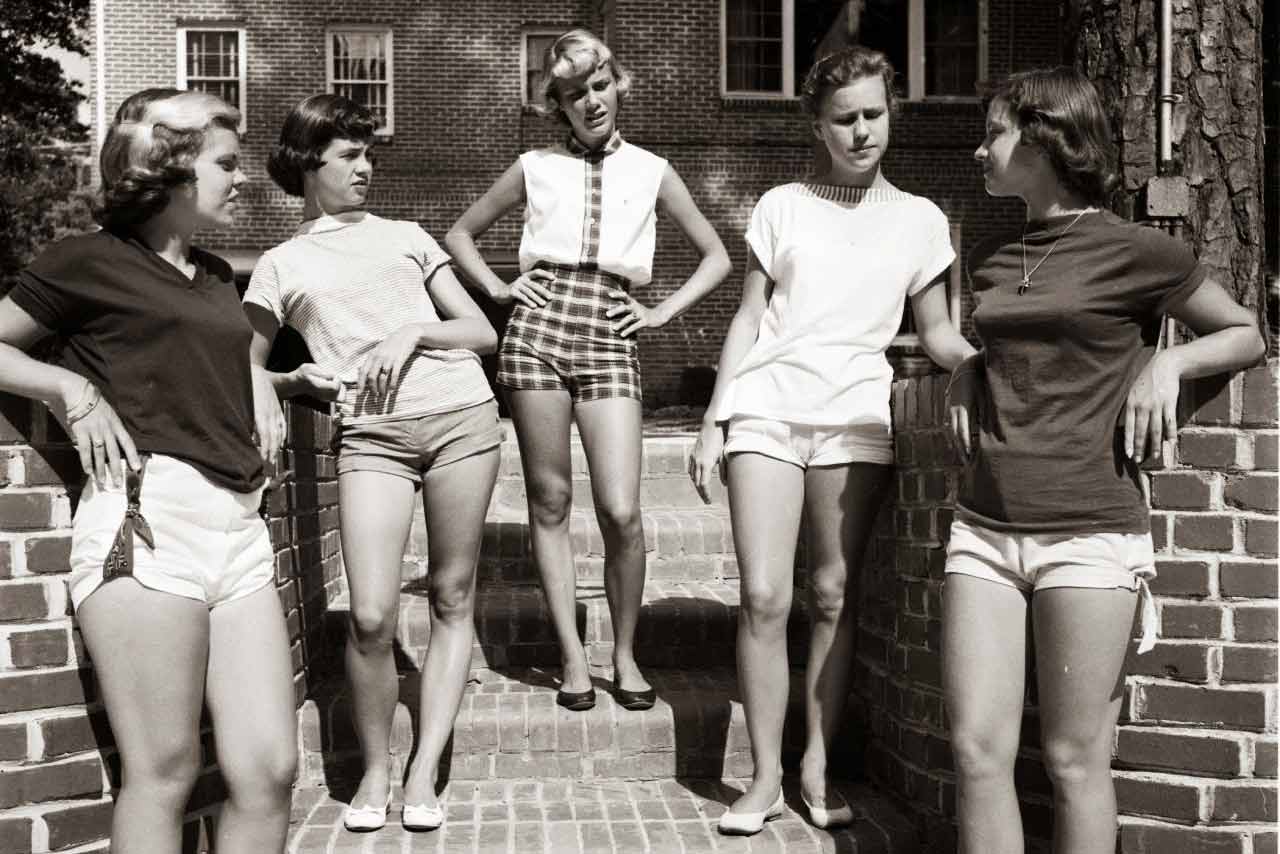 Women were more uninhibited when it came to fashion in the 1950s but not to the level of walking down the street in hot pants. The formal chic look was in vogue in the 50s with a bias towards high fashion. Shorts were still largely worn at home, on the sports field the beach. Teenagers and college girls pushed the limits a bit; the occasional bold girl could step out in shorts while in the neighborhood. Dungaree shorts were especially popular with teenage girls.
Shorts were considered leisurewear which was fast becoming popular in the 1950s women's fashion. Women's shorts were worn in different lengths depending on the occasion. The mid-thigh short shorts were for wearing at home or on the beach. The Bermuda short reached slightly above the knee and was worn when out shopping during a vacation or on a lazy Sunday shopping trip. The calf-length capri pants and pedal pushers were worn as part of a chic outfit for attending a friend's tea party or a kid's birthday party.
Short shorts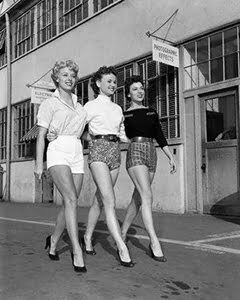 These mid-thigh shorts had a high waist and came with side zippers. A medium pair reached about 6 inches above the knee. Longer shorts with wider leg opening were called culottes. They were also high waisted with the legs flaring outward below the hips. Culottes were preferred by older women as they were more 'modest' and the high waist had a slimming effect on the waistline. This was the age of the new look when waspish waists were fashionable. Culottes were worn with a matching belt. Short shorts were for casual occasions like a Sunday afternoon barbecue. Some women wore short shorts under a short skirt for sports. Culottes were for more 'serious' casual events like a neighbor's house warming party. Blue colored culottes were trendy for the sailor look.
Bermuda shorts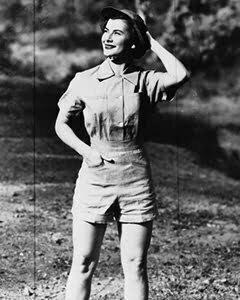 These were the most popular shorts for casual wear by older women. They reached about 3 inches above the knee. Styles were loose and baggy or fitting depending on tastes. Loose shorts were more practical and preferred for wearing while doing chores at home. The fitting designs did not have pockets to keep a smooth profile. Some came with stitch-on faux pockets. These figure-hugging shorts could be worn on a road trip or a beach outing.
Hiking shorts
Women on safari in the 1950s clothing style are often pictured in manly looking shorts, knee-length socks, and boots. These shorts were wide-legged, with a wide leg opening for better air circulation when walking. They were paired with a short-sleeved jacket and a leather belt.
Capris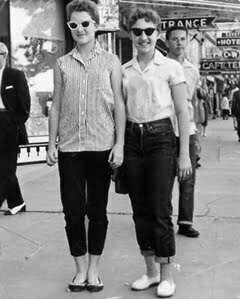 Capris petty much define the 50s smart casual look. These fell two to three inches below the knee, which was considered ok according to the modesty meter. Many women wore them for Saturday shopping, paired with a smart blouse top. They were high waisted with a narrow waistband. Bright colored capris were fashionable for color coordination with trendy tops. Clam diggers were shorter than capris, reaching to the knee or 1-2 inches below the knee. They were more casual and popular with teenagers.
Pedal pushers
The pedal pusher was in between shorting and full-legged pants. They were also called pirate pants, toreador pants, calypso pants, and motor scooter slacks because women wore them for a variety of everyday chores. They dropped 2-5 inches below the knee in wide straight legs. The leg openings were cuffed. Women cyclists and motor scooter riders wore narrow-legged designs to avoid getting tangled.
Capri jeans were popular with teenagers and college girls. Some made DIY capris by rolling up their jeans to the mid-calf or cutting the denim legs. Designers picked up this trend and started making capris in this style.
It became more common to see women in shorts by the end of the 50s. Shorts gradually became shorter with some designs being only 2-3 inches below the crotch. Vacations and road trips were the perfect occasions for women to wear their trendy shorts. Most summer styles had bright tropical themes with bright colors such as lime green, orange, and sea blue.
Clothing companies picked on the growing popularity of women's shorts and started offering discount packs with matching long pants, shirts, culotte shorts, and peddle pushers. With this set, a woman could mix and match the items and be trendy as the occasion demanded.