The 50s is popularly referred to as the golden age because it was a period of unprecedented economic growth. It was the period after the Second World War and a sense of normalcy and rightness was returning to the world.  Things were looking up for all parts of the economy, including the fashion sphere.
In Britain, the living standards of people rose considerably, by the late 50s Britain became an affluent society. Unemployment became very low, the health of ordinary people greatly improved this paved way for the fashion industry to experience a boost as people could afford to indulge and invest in looking good.
WHAT WOMEN WORE IN THE 50S
Several European key designers and designer houses were producing high-end fashion in the fifties. Some of these designers include Christian Dior, Balenciaga, Coco Channel, Hubert De Givenchy, Balmain, Norman Hartnell, and Victor Stiebel.
In 1958, The Fashion House Group of London was formed. This group of British designers created collections to be sold in high street stores.
The 50s British woman indulged in looking fashionable. Dresses involved more rounded shoulders and more defined waists. Long narrow skirts or full circular skirts were worn, about 30 cm off the ground. The full skirts made a statement as they celebrated the end of post-war clothing restrictions.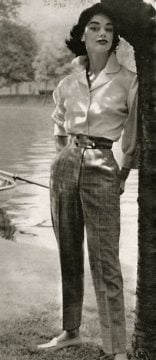 The stripped-down styles that were introduced as a necessity during the war remained by choice during peacetime and became even simpler.
For casual occasions in the 50s, British women wore trousers with tailored blouses or stripped blazers Three-quarter-length trousers that showed off the ankles were favored by women in the 50s as they gave a modern and young feel. The trousers were worn much higher than we do now and came with side zips, not a fly opening.
For formal settings, dresses were a must.  In the rave for dresses in the 50s, was the New look dress by Christian Dior, the dress had a tiny waist, fitted top half with pointy breast, and a full skirt just below the knee.  Evening gowns could also be made knee length for cocktail events or down to the ground for formal events.
Ready-to-wear ranges emerged in the 1950s; they made use of the new man-made materials such as Nylon, Crimplene, and Orlon. These materials meant that garments were easy to care for and require little or no ironing.
The playsuit was also a popular fashion item worn by women in the 50s. It was a leisure fashion item usually worn with a pair of edgy espadrilles.
The 50s were changing times and fashion items like hats and gloves were no longer compulsory items. But fashionable women still wore white fashion gloves for daytime and a decorative hat.
Accessories like sunglasses were becoming widespread, with women wearing them not just as a protective measure but as fashion items too. The cat-shaped frames were universal in both eyeglasses and sunglasses.
HOW TO DRESS BRITISH IN THE 50S
In the early 50s, women's fashion was dominated by the Dior "New Look" dress styles.
Another constant of the decade was the roaming waistline; it was fashionable to have a high waist, natural waist, low waist, or even no waistline.
Another prominent dress style in the 50s was the wiggle dress. They were the perfect vintage dresses for all occasions; they could be worn to work and still worn to dinner. The dress was a sexy and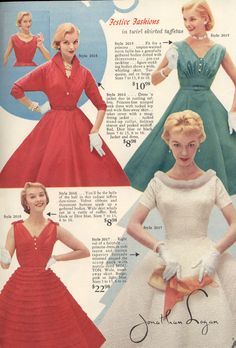 striking look, which when worn well with the right accessories could create a striking silhouette.
By the late 50s, fashion was heavily influenced by the Coco channel. Her designs featured short jackets with brass buttons and pockets that were always worn open to display the blouse.
WHAT TO WEAR ON CHRISTMAS DAY
Christmas Day, a day filled with festivities and activities. After the war, most women were stay-at-home wives thus Christmas day constituted of many chores like cooking, cleaning, and washing whilst bearing the festive spirit in mind. Women's fashion for Christmas day had to be practicable but still, Christmas spirit worthy.
50s style Christmas dresses include dress styles like the swing dress, snowfall dress, lace dress, three-quarter sleeve dress, and polka dots swing dress, probably in the red and white colors of Christmas.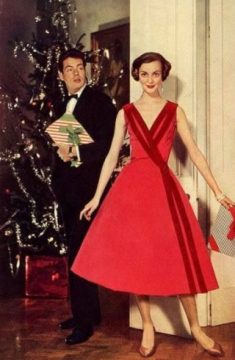 Dresses, like the Plaid Suspenders, Bow cold shoulder swing dress, and patchwork belt swing dress are also Christmas Vintage Dress styles.
Christmas Vintage Dresses were designed to be comfortable and elegant, for example, sweater dresses.  The dresses were usually made in festive colors like white, red, green, etc to reflect the joy of the season and also keep people warm from the cold of the season.
These dresses could be matched with simple Jewellery like a string or double string of graduated real pearls. This neckpiece gave off an elegant and simple look and was matched with large pearl button earrings.