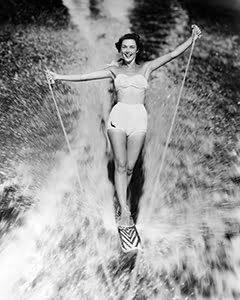 Seems like everyone readily agrees that a valid synonym of summertime is beach season. And so, the time says – swimsuit shopping O'clock because life is a beach and we are here to play.
Over the years, the fashion industry has witnessed several trends and styles of swimming suits for women. The famous two-piece bathing suits which are the reigning trend in the 21st century make its origin way back to the 1950s style. The two-piece swimsuit is another evidence that fashion trends never die. They are only reborn.
Let's take a short trip down memory lane and revisit the 1950s women swimsuit and bathing suits styles. We'll see how they have made their way back to the industry today.
Swimwear of the 1950s and early 60s fashion followed the silhouette style mostly from the early 1930s. Beachwear style was very popular in the U.S and Europe, but this fashion originated in the French Riviera.
Here are some 1950s two-piece bathing suits you can rock in this summertime.
1950s BIKINI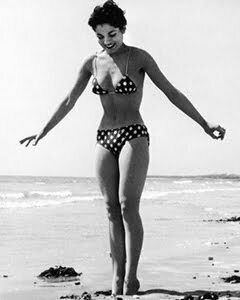 Bikini is an all-time favorite for every beach girl. It comes in numerous colors and styles suitable for all body shapes. Bikinis can come in form of microkini, striking, tankini, and the likes.
It is one sexy swimsuit that all ladies want to storm the beach with. It is readily available, and actually very common. Getting one for yourself won't be a problem.
1950s Style SLING SWIMSUIT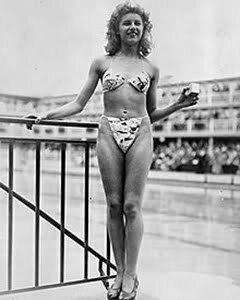 This is also known as sling bikini. It is a one-piece swimsuit that has an attractive and bold look. It comes mostly in the halter neck style and sometimes as a deep V-neck plunge.
Its style makes it garner a lot of attention and make you stand out in the crowd. It is best for those who don't have many natural curves. It comes in different patterns, ranging from deep shapes to fringes, and ring slingshot.
RUFFLE SWIMSUIT in 1950s
Ruffles swimsuit is perfect for achieving a busty look. It especially looks good on ladies with smaller busts. It adds a flirtatious vibe to any girl's beach dress-up.
This swimsuit is also perfect for ladies with more fat around the lower body. It comes in different colors and styles. The ruffle swimsuit is fashionable in nylon, polyamide, and spandex.
You can get them on Amazon or any clothing store.
POSING FOR PICTURES IN YOUR Vintage SWIMSUIT
One of the most important things to do on a day out at the beach is to take tons of pictures. Tons of pictures in the right pose. Posing for pictures in these amazing swimsuit is such an experience you wouldn't want to miss.
Below are a few tips you can follow:
Watch your posture. Adjust your posture and ensure you move your shoulders to the back. Moving your shoulders to the back makes you appear taller than you are, a bit thinner and graceful too.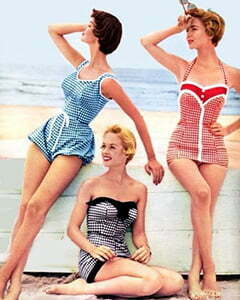 Stand at an angle. Standing at an angle whilst putting one leg right in front of the other leg makes your legs appear longer than it does when you put both legs side-by-side. This posture also creates the perfect leading line for the rest of your body!
Lean away from the camera. Leaning away from the camera makes your stomach looks flat and more slimmed out. However, if you have to take a group picture, you would need to move closer to the camera because it creates a connection with the camera.
If you're sitting in the sand, tilt your head back a little, cross your legs such that one looks longer than the other, and let your hands support you from behind. Resting backward on your hands makes your bust appear slightly bigger and your stomach flattened out. Crossing your legs slightly makes your look a lot shapelier than you are.
Stand with your feet crossed and let one shoulder be a little higher than the other. Then, add something more natural to it, like hands-on your waist or in your hair. Make sure to raise your chin slightly. This pose accentuates your figure a lot; and raising your chin prevents shadows from being cast over your eyes.
For plus size ladies, get your photographer to stand a little farther from you. Being far from the camera makes you look taller. Stick one hip out, let your toes dig into the sand a little, and smile at the camera. Click-click!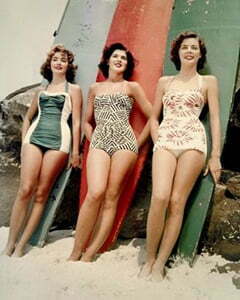 To disguise your tummy, get yourself a large scarf to tie around your waist. It could be a silk or net scarf, whichever. And if not, get a high-waist bikini instead.
For makeup, wear the most minimal as possible. Enough water-proof mascara to pop your eyelashes and enough lip gloss, lip balm, or lipstick to accentuate your lips.
Taking pictures and getting the right poses isn't much of a hassle (I mean who doesn't want flattering pictures). Ensure that your friends can take good pictures too. That's really important. Ha-ha.