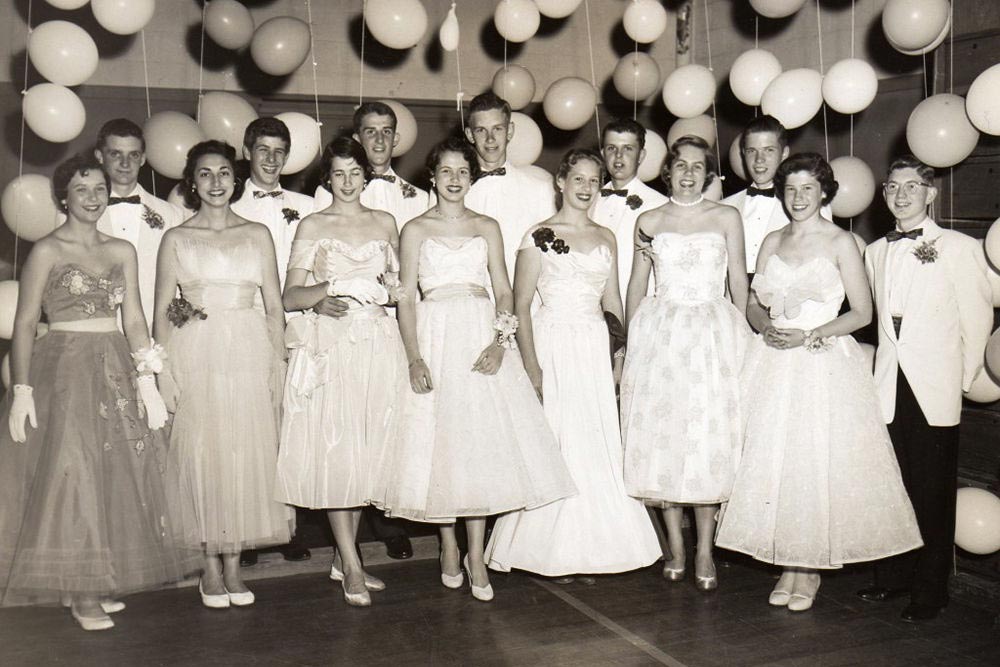 The prom dress was the most important dress every 1950s high school girl would wear, hence, just any dress did not suffice – It definitely had to be stunning and unique. Even as in the 1950s, glamour was first and foremost the priority when it came to prom. The decade had introduced innocent, romantic, and glamorous designs suitable for events such as prom, and inspired mostly by the natural female figure and retro styles. However, the decade had modesty as an important feature.
See 50s style dresses here. Check out 1950s clothing style and 1950s women's fashion here.
The 1950s prom dresses which emphasized femininity were made of amazing fabrics which included mostly lace, silk, and net. They were also decorated with beads, flowers, and embroidery. Long gowns having really full skirts with hoop skirts and petticoats to increase their circumferences, were, however, the most popular prom trends of the decade. The 1939 "Gone with the Wind" fashion style had greatly influenced the prom trend which featured different lengths and colors including short prom dresses, long prom dresses, white prom dresses, and others.
Below are some of the 1950s prom dress features in detail. If you're looking for some inspiration, you will surely get one from this list. And even if you don't wear them as is, you can leapfrog from what you have here. Just be sure you look stunning in your prom dress. Now over to the list.
1. Victorian Inspired Ballgowns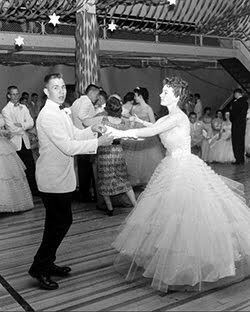 Prom style inspirations were also gotten from the mid-nineteenth century Victorian age, with long ball gowns held firm at the waist. They were usually strapless and fitted with the tight waist adding volume to the hips and below. Most of them were also laced and decorated with glittering embroidery. Meanwhile, the accessories had a major part to play in the gorgeous looks.
2. Tulle/Nets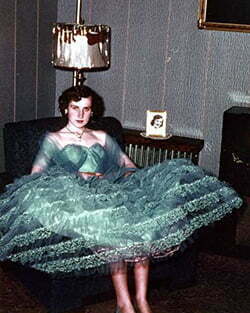 Tulle and nets were major materials for the season as lots of dresses in formal balls were seen to have yards and layers of tulle or net. They often were in designs of ruffles or frills and velvet bows. Pastels made them even more pretty. Other fabrics such as organza, silk, taffeta, and satin were used when tulle or net wasn't.
3. Petticoats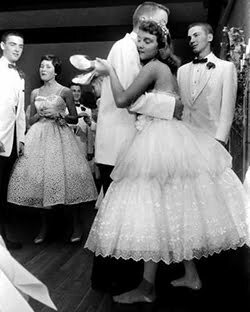 The decade had also led a step up in the petticoat game. To achieve wider circumference, layers of petticoats were required. Various materials were used for petticoats. They included lace, traditional cotton, crinoline, paper nets, nylon, and even taffeta; all to get the desired fullness of the skirts. The petticoats were made firmer by applying starch.
4. Details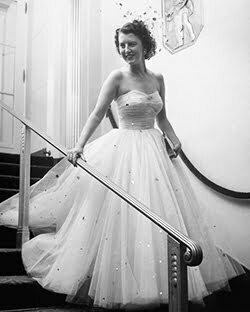 The prom dresses usually never lacked adequate detailing. They were mostly adorned with glitters, flowers, rhinestones, applique, sequins, frills, and intricate beadings. The details of the dresses often emphasized their uniqueness and sometimes, as in the case of the long prom dresses, the more the details the better.
5. Colors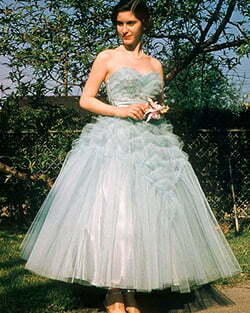 Femininity was a major inspiration in the selection of colors. Even though pink seemed to be the hottest prom color, other shades of pastels were beautifully worn. For those who wanted to be different, lighter shades like white prom dresses, violet, mint, and butter, were just efficient.
6. Hoop Skirts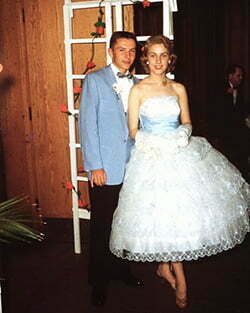 Hoop skirts also helped in giving the desired volume of skirts as petticoats. They were worn under the skirts to increase their fullness. Even though hoop skirts did not necessarily guarantee maximum comfort in walking, dancing, and other movements, they were definitely worth it.
Also, the backs of these beautiful dresses were not left out as they were often designed with gathers, draping, and cascading bows. Nevertheless, under the bust was also an option for these designs.
In conclusion, many prom dresses of the 1950s remain timeless and are still being worn today. Wearing retro styles as these just gives you that unique look you always dreamt of. So if you are thinking of what to wear to prom and you want to stand out, you may just need to look to the above styles for some inspiration. Or perhaps, your daughter has asked you to help her out. Instead of just suggesting what you wore to prom in your time which may not suit her (as she may look perfect in a short prom dress but you wore a long prom dress), widen your scope with some of these styles and pick one that's just perfect for her.