Fashion saw a major change from the 1940s to the 1950s. This change took place due to a fabric rationing in the 40s caused by a lack of resources. From the 1950s, fashion saw an entirely different look, starting with female dresses and then to the shoes.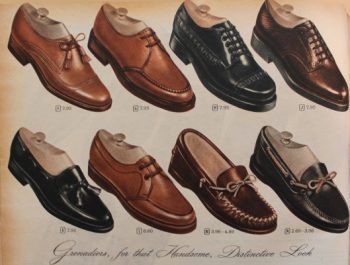 Female dresses were made fuller, with more fabric, gathering and designs. They were now in bolder and brighter colours and patterns. Other aspects of clothing followed suit and became just as vibrant. The improvement in clothing designs made shoes become a lot simpler.
Male and Female Shoe Categories
Male and Female shoes had different categories, however, one iconic shoe category that was typical for both men and women was the Saddle shoe.
These were the craze of the 50s. Initially worn in the 1920s but gained more publicity in the 50s. They were ideal for children, men and women. They were two-toned black and white shoes that had rubber soles. They were initially worn only by men in the 20s, and in the 40s they became a regular for teenage girls.
From the 50s, everyone began wearing saddle shoes. They became more improved, they had red soles. Teenage girls who constantly wore saddle shoes with ankle-high socks were known as bobbysoxers. Saddle shoes for men had the white and brown combination and the brown and tan combination. While women saddle shoes had different styles like; white bucks, Joyce shoes and Mary Janes.
Saddle shoes were also worn as gym shoes and home cleaning shoes. Their reign in the fashion industry went downhill from the 1960s.
Other shoes in the men's category are;
–       Oxfords
These were the most official shoes for men in the 50s. They were subdivided into lace-up and slip-on shoes.
The lace-up shoes included; Oxfords, Derbys and Blutchers. They were leather shoes with either rubber or leather soles found in black or brown.
Slip-on shoes were not considered aesthetic but they were convenient and easy to wear. They included shoes like shu-locks, snapjacks and flapjacks which had a tongue at the back that snapped up and down. The other variety was the snap-latch which had a buckle at the top of the shoe. They came in black, white and brown.
Two-toned shoes: These shoes had two colours, a lot like the saddle shoes, but in different designs. There were two-toned oxfords, moc toes, cap toes, wingtips, tassel loafers, penny loafers, boat shoes and two-lace dress shoes and some boots. The two colours could either be both leather or leather and mesh.
Rockability shoes
These were also known as rebel boots or rebel shoes. They were mostly engineered boots that were used by firemen and motorcycle riders.
These were mostly converse or 'chucks' as they were commonly called. They were inspired and mostly worn by male athletes.
There are the Chelsea boots formerly called Australian bush boot which was a slim ankle-high boot with two elastic side panels and no laces, and Chukka boots which was a high-ankle boot with few lace holes made of leather or suede.
Female shoe category
Female dresses became bigger, hairstyles became taller and accessories became bolder, this made shoes a lot simpler. The shoe categories were;
There were different kinds of sandals available then. The flip flops had rubber soles and were mostly worn by children, evening sandals had low heels and thin straps that showed off most of the foot, and daywear sandals that had chunky heels and a small strap around the ankle.
Female flats have low heels and had different types like Ballet flats which had the lowest heels with 1 to 2-inch heels, Ghillies which resembled men's oxford shoes and ballet flats, Espadrilles which were a lot more casual than Ghillies and had laces around the ankle.
There were different kinds of pumps. They included;
Stiletto-heeled and court shoes had about 4-inch thin heels and were not permitted in some areas but were mostly worn with formal wears.
Kitten heel pumps had low thin heels and were suitable for comfortable formal dressing.
Baby doll shoes had low or medium length and were known to go with every outfit.
There were different kinds of boots worn in the 50s. There were the rain boots, Western boots, Ankle-high boots, boot covers and rubber boots.
Complete 1950s Look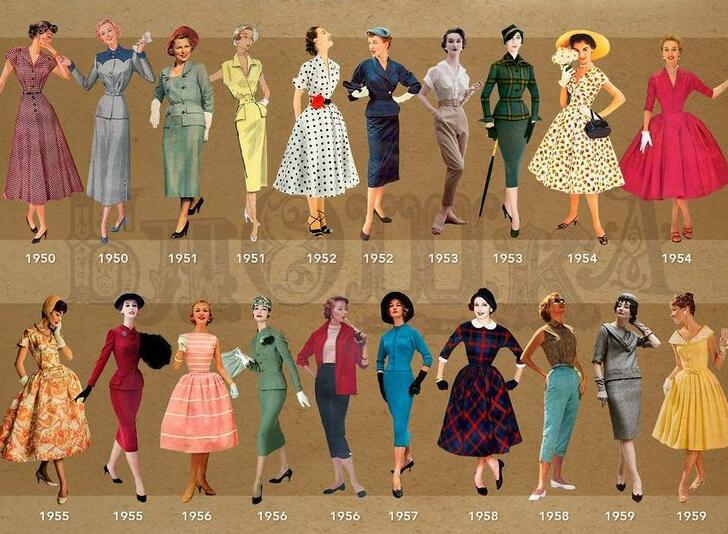 There were different styles of fashion in the 50s. The prominent ones for women were;
The rockability style was influenced by rock music. It had poodle and pencil skirts and swing dresses.
Pinup fashion was a more seductive style that had bikinis, halter neck dresses and other tight fitted clothing.
Greaser fashion was inspired by the Grease movie and was a combination of both rockability and pin-up fashion
The 50s styles for men were known as Preppy. The Preppy style comprised of suits, bomber jackets, oversize shirts, and leather jackets.