The beginning of the 1920s was a recovery from the First World War. This period came with a lot of change to society, culture and tradition. The new culture came with a change in the clothing of both men and women.
Clothing in the Early 20s was known for its simplicity. Designers like Coco Chanel popularized the flapper fashion which was a simple low waisted, high hemmed fashion that the 20s was known for.
Up until the end of the 20s, ladies were known for wearing these simple dresses with extravagant accessories like beads and pearls, flashy hairdos and headgears. These dresses were sometimes adorned with expensive sequin, beadworks, and embroideries.
There was a distinction between day wears and night wears, as the daywear had higher hemlines, while evening wears had lover hemlines and was adorned with more flashy designs than the simple daywear.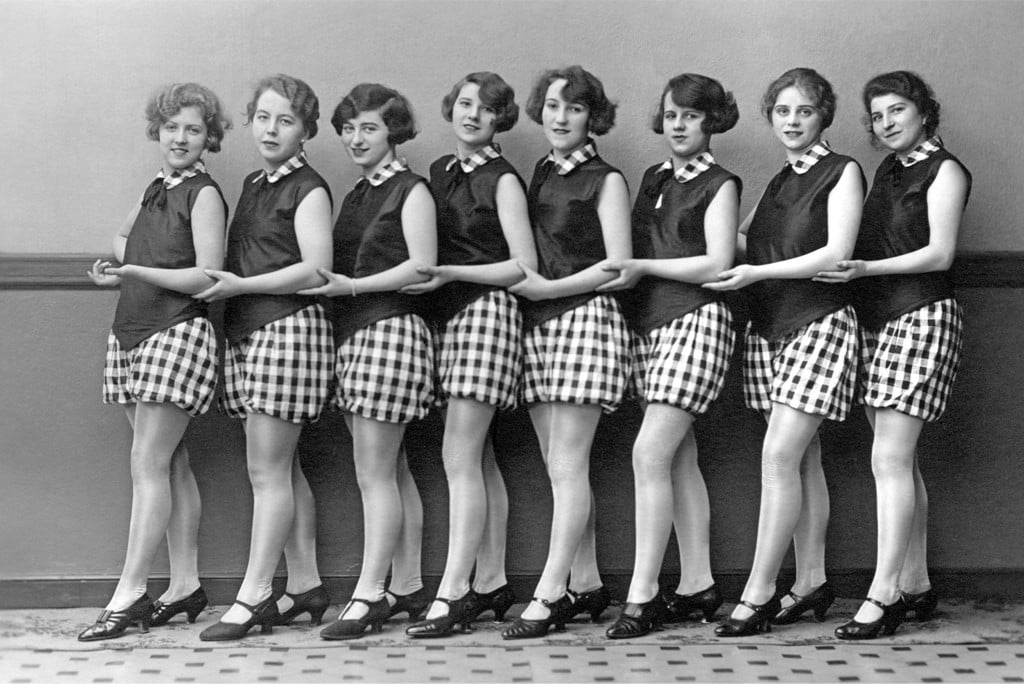 Jeanne Lanvin also became popular in the 20s for a style relatively different from that of Coco Chanel's flapper style. Jeanne's style had long full skirts that emphasized a more feminine and mature look than the child-like flapper style. His designs came in light pastels and dark colours, he had both days wears with straw hats and dinner dresses.
Sportswear also became a common fashion at the time. At first, it was popular for men, but in the 20s, it became popular for women to wear sportswear as the day wears. Designers like Jane Regny and Jean Patou had a role to play in the popularity of sportswear fashion in the 20s.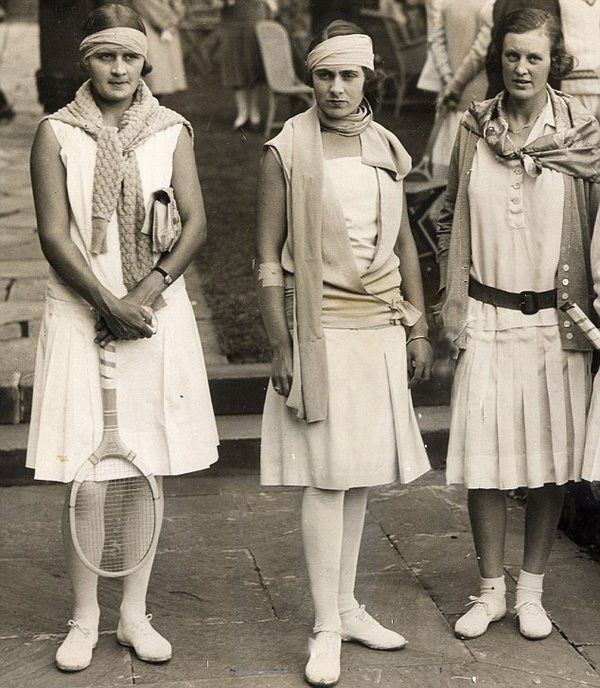 Tennis sportswear became popular fashion trends. Through the influence of sports ladies like Suzanne Lenglen, tennis pleated skirts and dresses with a bandeau became popular and were worn comfortably as the day wears for events and were almost used until late in the afternoons.
The androgynous dress styles of the 20s flapper girls also influenced their hairstyles. The short and medium bob were more popular than other hairstyles. However, as the decade was coming to an end, the hemlines of dresses began to get longer and the hairs began to get longer.
Although there were a number of designers in the 20s like the ones mentioned above and more, some ladies who couldn't afford the dresses in departmental stores and designer shops were able to make their own dresses. These simple fashionable dresses were easy to create with simple fabrics and inexpensive materials. Creating these dresses was so simple that it was believed that clothing was no longer proof of social status.
Shoes Worn in the 1920s
Fashion in the 20s, as mentioned above, was mostly about liberation. Most times, when clothing becomes simple, shoes become flashy and that was the situation in the 20s. The shoes worn commonly by ladies were Mary Janes, Pumps and T-straps, there were also Oxfords and Tennis shoes.
Mary Janes
This was one of the most popular shoes of the 20s. The shoe was perfect for evening dancing parties due to its comfort and luxurious appeal. It was low-heeled and had a single strap going across the vamp and was a popular shoe for celebrities such as Louise Brooks and others.
There were different styles of Mary Jane shoes. Some with thin straps, others with thicker straps around the vamp. Some Mary Jane shoes had thick and sturdy heels, while others had thinner kitten style heels. Some Mary Janes in the 20s had floral cutouts at the upperparts and other unique designs.
T Strap Shoes
These shoes were as popular as the Mary Janes in the 20s. They were considered a bit more comfortable than the Mary Janes, as they had a "T" strap cut across the vamp. These shoes had low curved heels and a sturdy feel, making them fit for dancing.
Within the 20s, the T strap shoes saw a simple evolution. While they had pointed toe boxes at the beginning of the 20s, towards the end of the 20s they began to become more rounded. These round toe boxes which had almond shapes took over the late 20s and became the new fad. Celebrities who endorsed these T strap heels in the 20s were Joan Crawford, Louise Brooks and Gloria Sawson. These ladies were noted to be seen on-screen and off-screen wearing these T strap shoes.
Oxford Shoes
This was considered an everyday shoe for ladies in the 20s. They remained a classic among female attire up until the 40s, and even today these shoes still have a place in every ladies wardrobe.
Oxfords are laced up covered shoes with low or Louise heels which typically come in natural leather or canvas colours. They came in different patterns and designs. Some had faux lace fronts, while others came with unique hole patterns.
Tennis Shoes
As tennis fashion became a trend in the 20s, so did tennis shoes. These tennis shoes which gained attraction from the tennis courts made their way to become everyday shoes worn by ladies and over the decades have continued to find their way into every fashion style.