Vintage Mary Jane Shoes History
If you want comfort, go for Mary Jane's shoes.
If you want a modest and balanced heel, go for Mary Jane's shoes.
If you want shoes that can help reduce stress on the foot, still go for Mary Jane.
These reasons and more are why many love Mary Jane's shoes.
Mary Jane's shoes became trendy in the 1920s. Initially, it was a school shoe, mostly worn by schoolchildren of that time.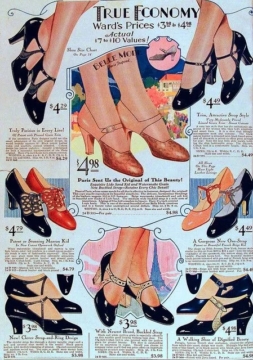 However, later in the years, the status changed when the designer Manolo Blahnik upgraded the design and function of the shoes. Thus, its function went beyond just being a school shoe.
It started to gain more popularity even as a formal shoe for occasions and work.
It also became trendy among teenagers, young and older adults. Its functional and secured straps made it a better choice over other competing shoes.
Well, not many liked the shoe because it was not a fancy one. But who will choose looks over stability and comfort?
Even more interesting is the fact that it is a great all-around shoe. It can fit almost anyone and is a perfect fit for skinny jeans and pencil skirts.
For kids, anything from gowns to pantyhose, tights, socks, skirts, etc., is a good match. Since then even until now, Mary Jane's shoes have become a timeless piece in fashion.
Why are Mary Jane shoes called that?
The first Mary Jane I have ever known was my classmate. When I learned about this shoe, I begin to wonder why it was not any other name, or at least even a generic name.
If you have often wondered why the shoe bears the name Mary Jane, just relax and get the full story.
Richard Felton Outcault was an American Cartoonist, well known since 1902 for his comic strip Buster Brown.
Buster Brown (a boy) had a sister called Mary Jane, and a dog called Tige. There were the main characters of the comic strip.
As the comic gained widespread popularity, Richard Felton Outcault decided to sell his license to companies to use the Buster Brown character for their products.
Brown Shoe Company bought the license and used it to produce the famous shoes we know about today.
Therefore, while Buster Brown served as a mascot for the boy's shoes, the company also used the Mary Jane characters style to reproduce shoes for the girls.
Styles of Mary Jane Shoes
Identifying a Mary Jane shoe is simple, even though it comes in varieties of styles.
The low-cut shoe comes with a single, double, crossover, asymmetrical, T-strap, or removable strap. You simply fasten the strap(s) across the instep.
It comes in many forms but one of my all-time favorites is the ever-evolving Platform Mary Jane shoes. Forget about the big sole unit. It is sturdy and is fast becoming a major trend in fashion.
You can see them trending all over Instagram. Amazon and Etsy are as well making huge sales on them. So why not seize this opportunity to enjoy one of the most iconic shoes ever?