Victorian-Style Wedding Fashion History
The white wedding dress fashion became a trend during the Victorian era. Queen Victoria herself was the first person to wear a white wedding dress during her wedding. She became famous for her bridal style and her love for white dresses and shoes.
For her wedding, Queen Victoria wore a white satin dress with Honiton lace trimmings, her shoes were white satin flats with ribbons made specifically for her by Gundry & Sun.
Queen Victoria also wore other fashionable attires like her famous white boots with elastic sides, which were adopted by brides of the time for their weddings.

At the beginning of the 20th Century, the Victorian-style
shoes and wedding boots trend began to come to an end. There were shoes made with heels and lace-up designs fit for wedding attires. Wedding dresses also experienced a rapid change and new styles were utilized for hemlines and the entire style.
In recent times, we have bridal shoes from Jimmy Choo, Miu Miu, Vera Wong, Christian Louboutin, and others. Some of these shoes are inspired by wedding shoes of the past; however, unlike the times in history, they are not bound by tradition or rules.
Wedding boots that had been out of fashion for a long while have found their way back into fashion as brides are constantly searching for ways to maintain comfort on their big day.
Wedding Dresses of the 1920s
A major influence of Queen Victoria's white wedding dress had been a spark for individual taste. The 20s were a time where women paid more attention to what they wore in terms of accessories.
Wedding dresses have oftentimes not only depicted the taste of the bride, but also the wealth of her family. The wealthy families selected wedding dresses inexpensive fabrics while the not-so-wealthy families had fewer options.
The 20s fashion was known for comfort and free-fitting dresses. The flapper fashion was adapted for wedding dresses in its overly accessorized fashion and child-like design.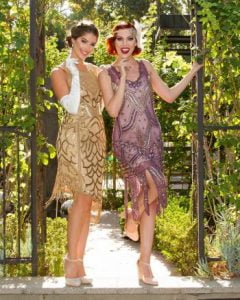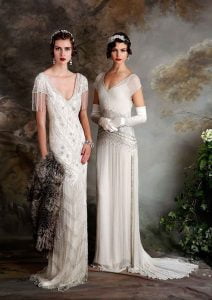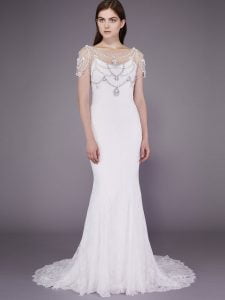 Wedding dresses of the 20s were mostly short. The hems were usually uneven from front to back. White was the general color for the dress, however, there were other off-white colors used like ivory, ecru, and eggshell hues.
Some ladies who weren't fond of showing off their legs would wear longer dresses in silk, satin, or pastel color. The top of these dresses was a bodice or a cap sleeve. The majority of these dresses had either gold or silver adornments and their backs either had silk or silk covered buttons.
Wedding Shoes of the 1920s
The 1920s wedding shoes were typically simple to compliment the heavily adorned dresses and large bouquets. Ladies in the 20s wore;
Low-heeled Mary Janes: These shoes were like typical Mary Janes with kitten heels. They had a single strap and a curved front.
T-strap shoes: These were just as common as the Mary Janes. They had curved fronts and a single strap that ran from the front to the strap at the ankle.
Pumps: These were not as common as Mary Janes. They were kitten heels most times with no straps.