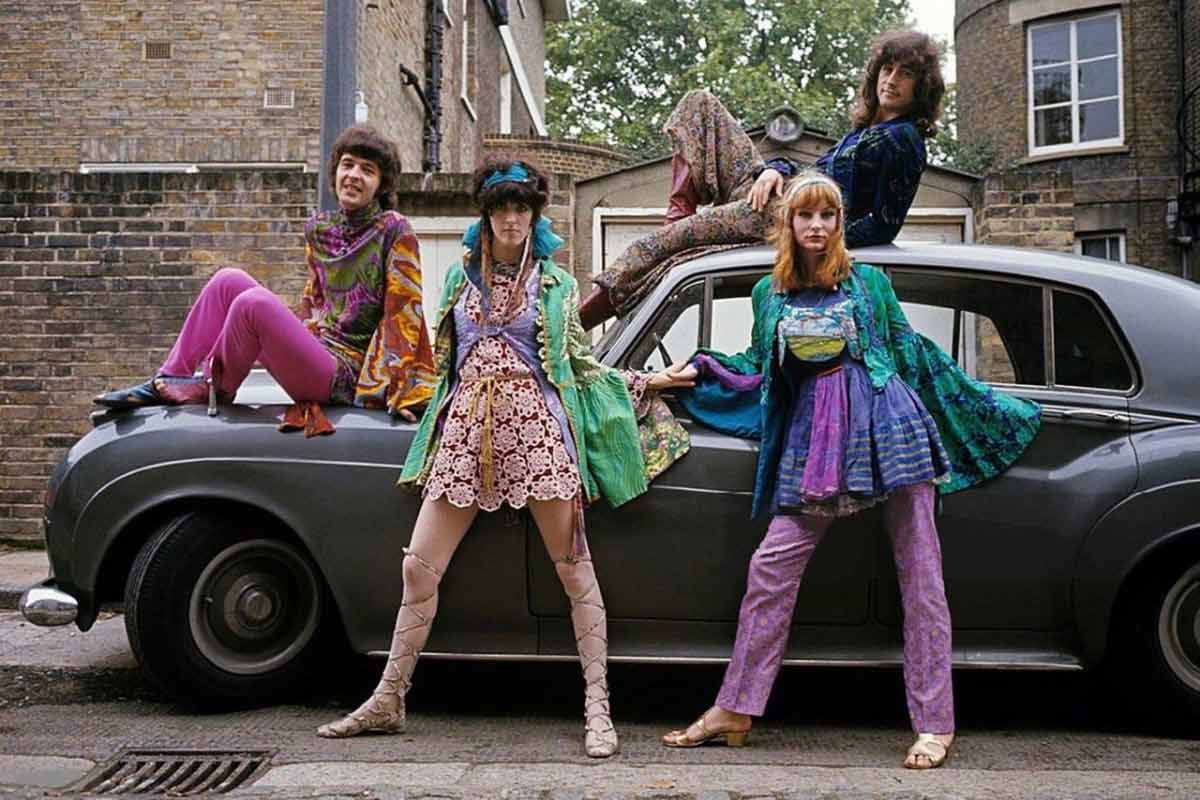 The fashion of all times has always seemed to be influenced by various factors; including culture, ethnicity, customs and traditions as well as music of that specific geographical region.
Music has a huge impact on our lives. We often heard that "Music is the Food for Soul". From the choices we make to the decisions we take; our way of living and our style sense; every aspect has always been influenced by music.
When we look through the 20th century, in particular, the most powerful impact of the culture of a group of nonconformists, also known as hippies, who introduced the hippie culture, can be seen in music, fashion, and lifestyle of people of the decade 1960s.
The decade of the 1960s brought a drastic change in the fashion statement of the 20th century. The lifestyle and dressing sense were largely influenced by hippie culture.
Hippie culture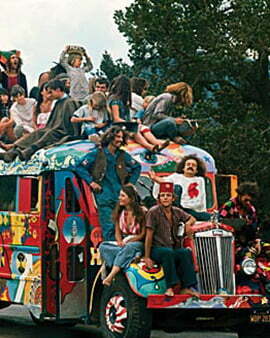 Hippies were a group of young people that opposed the war and malice largely by rejecting the social customs of that time and promoted peace.
The way to show their opposition to social norms and the war was by their unusual appearance. All of them sported commonplace attire as they wore lose clothes, specifically bell-bottomed blue jeans with tie-dyed tee shirts and had long hair.
It also became famous as an "Anti-Fashion" culture because of much simpler choices in dressing, rugged look, least decorative stuff, handmade accessories and definitely no embellishments. They emphasized the love of nature by wearing flowers in their hair, which later became famous as "Flower Power Fashion".
Effect of hippie culture on music and fashion
Decade 1960s is referred to as the best decade for music. The pop music, jazz, folk and rock-n-roll were all a hit and people followed them like true die-hard fans. The hippie culture had an immense impact on the music industry just like they had on culture, television, arts and fashion.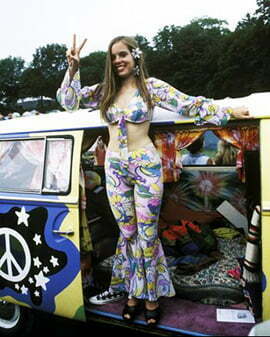 The fashion statement of the 20th century was revolutionized in the 1960s. This was the decade that broke the traditional fashion trends and enhanced the rebellious sense of style among youth. The fashion took a major turn. Bolder and strikingly bright colors in womenswear were introduced.
The norms of the fashion industry of half of the 20th century were strongly rejected and the 1960s made a debut with more mod, beatnik and hippie look, all of which promoted self-expression and freedom to style in a more fun way.
Prominent designers of the 60s era were Mary Quant and Biba label which designed dresses especially for young people, in which mini-skirts were introduced and adopted for the very first time and which broke all the conservative dressing norms of the century. However, older or conservative women continued to wear long skirts under jackets, coats and tops.
Hair was mostly styled straight and long, with mostly hand-made accessories like bands of the same matching cloth used for dress and decorated with flowers.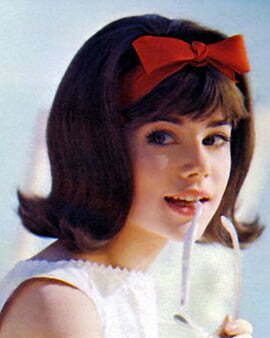 The hairstyles of 60s were very classy and bold. They were so versatile that they are still adopted by women of today.
Women styled their hair in various ways. From big bouffant hairdos and shoulder-length flip to iconic Mary Quant signature geometric cut bobs and Bohemian bangs; this decade gave many invincible hairdos looks for people of centuries to come.
Long, straight and natural hippie style was also one of the trendiest hairstyles of the 60s. Women with very curly hair and afro-textured waves were also encouraged to grow and carry their hair proudly.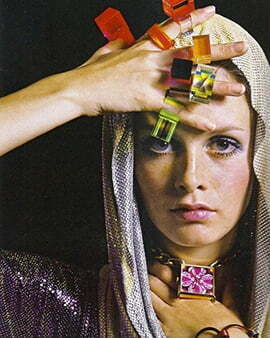 Jewelry trends also changed drastically in the 1960s. The trends went from conservative, heavily embellished queen-like jewelry too much simpler ones. It was made of much brighter eye-catching colors and lighter material like plastic, feathers or cloth fabric, instead of heavy pearls.
In the late 60s, hippie styled jewelry dominated and more flower and stone jewelry made way to women jewelry boxes. The hippie styled ornaments included handcrafted headbands, long beaded necklaces, peace-symbol necklaces, large earrings, huge stone rings, and silver bangles. Flowers were worn on hair or hats, especially Daisies.
Since music was the primary part of hippie culture, they also wore pendants and necklaces that made music such as bells and jangly bracelets and anklets.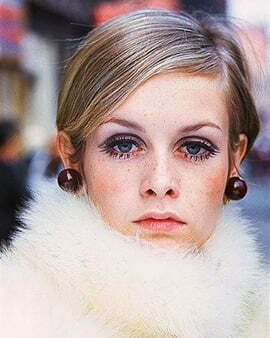 1960s makeup look was all about eyes detailing to make them appear bigger; with the use of kohl, big fake eyelashes and thick winged eyeliner. The lip color was chosen pale and nude, the foundation became matte and subtle. Some women also used cool tone eye shadows like blue, silver, etc by following Twiggy makeup look. Additionally, eyebrows were styled natural and groomed.
However, hippie culture followers generally avoided makeup as they promoted everything natural, but for special events and sit-ins, they enjoyed painting their faces with images of flowers especially daisies, unicorns and rainbows. They also painted the whole body into a canvas, but this body art was washable, unlike tattoos.
1960s MEN'S FASHION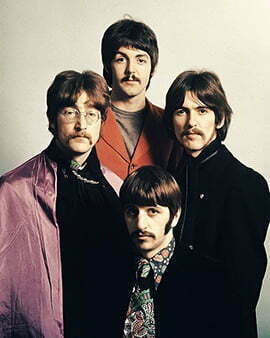 The most incredible change in the fashion history for men took place in the 1960s where the dress code for men that continued for literally 150 years came to an end. The plain, sober and light colored suits were replaced by new colorful choices. The men's clothing was introduced with new options like collarless jackets, bell-bottomed jeans, slim-fit pants and boots.
The followers of the hippie movement wore tie-dyed t-shirts made of simple fabric but extravagant colors . Pea coats were so in trend in the mid-60s.
The dressing in the late 1960s was strongly influenced by the Beatles band. This band was the most impactful band of all time, which included John Lennon, Paul McCartney, George Harrison, and Ringo Starr, as the band members, which created a new fashion statement among men. They brought straight cut suits, skin-fit ties and iconic haircuts in fashion.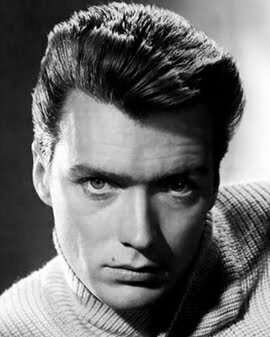 This decade brought some amazing hairstyles in men's fashion history. The most popular look sported by men was Mop-Top (that included long bangs) which was famous because of the Beatles band, as well as rock groups including The Rolling Stones, The Doors and Herman's Hermits.
However, the businessmen and sober conservative boys sported Crew cut or Flat-top haircut. Also, Rockabilly which was also known as Pompadour was in trend, which was introduced by music stars of the 60s, Elvis Presley and Johnny Cash, in which hair was kept short from back and long from the front. Beeswax was applied on the front long hair to set them in place.
1960s CHILDREN'S FASHION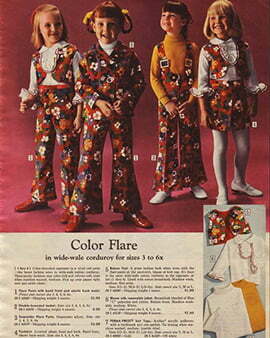 Children's fashion moved at a slower pace as compared to their adults. In the early part of the decade, they followed the same fashion trends of the last decade, but more bright colors were introduced than before. The fabric of the clothes became more comfortable and stretchable.
But as the time moved forward, plaids and bolder prints with floral patterns were introduced in girl clothing. The style became more simple, brighter and casual. The length of the dresses was also reduced to knee-length or even shorter.
Boys started wearing denim, plaid printed pants, cuffed jeans with polo shirts. Shorts also made way in the kids' wardrobe for a more casual look. Turtlenecks were also a hit in the 1960s among young boys. Bright colors and patterns in children's wear were also accepted.
But kids fashion was not influenced by hippie fashion a lot except for the very few who began to wear bell-bottoms for fashion only.
Influence of 1960s fashion on today's fashion industry
The fashion of the 1960s is so impactful that it is still influencing today's fashion trends. The fashion icons of the 1960s including Emilio Pucci, Jackie Kennedy, Audrey Hepburn, Twiggy, Jean Shrimpton are still looked up to by the fashion icons of today's industry. The freedom and self- expression offered by 60s fashion have still occupied the hearts of people. The hippie style made a comeback by the name of Bohemian style. Floral prints and plaids are still a hit in Modern fashion shows and summer collections.