Following the Art Deco period of the 1920s and 1930s fashion and the Retro period of the '40s and '50s, jewelry and fashion designs expanded greatly, with different trends taking center stage. Thus, it became less about the era. However, the 1960s saw some wedding rings for women trends and designs, Some of the designs will be discussed in this vintage jewelry guide.
WEDDING RINGS IN THE 1960s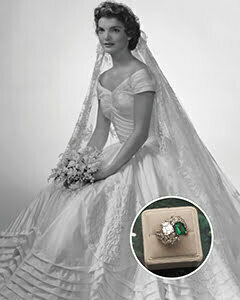 After the hugely successful retro period, things got better and better in the 1960s for couples. There were more and more rings to pick from and the diamonds got bigger and bigger. The classic engagement ring style became even more popular in the 1960s fashion. More and more designers incorporated colored gemstones into their rings, such as emerald and onyx.
RING STYLES IN THE 1960s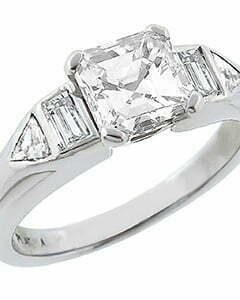 The 1960s was a decade which saw celebrity engagements heavily influence the styles of engagement and wedding rings. The asscher quickly became the diamond shape in vogue for wedding rings for women after Elizabeth Burton engaged Elizabeth Taylor with a glittery 33-carat asscher engagement ring. Following Jackie Kennedy's beautiful emerald engagement ring, mixed gemstone rings made of diamond and emeralds also became popular.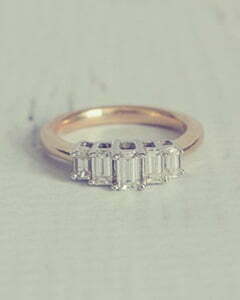 Marilyn Monroe's famous marriage to Joe DiMaggio saw her fingers wear the baguette diamond eternity band. The elegant and classic masterpiece of jewelry was a true throwback to the Art Deco era—sort of renaissance that became one of the most popular designs of that decade when it came to wedding bands.
Jackie Kennedy, former first Lady of the United States, also got one of the most defining rings of that era when John F Kennedy proposed to her using a diamond blue topaz ring, similar to what Ricky Ricardo gifted Lucille Ball upon their engagement. These two rings helped re-start the dying culture of colored gemstone rings as the mainstay of wedding rings for women in this vintage jewelry guide.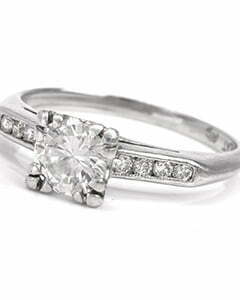 This was another popular style of wedding rings for women, although this style was more common among middle class members of society. The classic vintage diamond engagement and wedding rings were crafted with solid platinum, highlighting a centered brilliant-cut diamond.
Other styles also came to light in the 1960s as rings were achieved all-time peak popularity levels. One of these designs is the Sapphire and Diamond ring which was a bold and striking design in sapphire and diamonds. Most Sapphire and diamond rings were made of round cut sapphire and flanked by high-quality brilliant cut diamonds.
Ruby and Diamond rings were also popular in the 1960s as vintage designers produced masterpieces of fine jewelry with ruby pave cluster rings surrounded by old cut diamonds. Although not as popular as sapphire diamond rings or platinum diamond rings, ruby and diamond rings were alluring jewelry used by couples
Although the 1960s were dominated by issues such as the Vietnam war and Watergate, this vintage jewelry guide revealed the engagement and wedding rings of the 1960s which also made it one of the best decades of all time in the area of jewelry designed for couples!