Before and during the 1920s, advertising in magazines have been a main source of marketing products. Magazine readership reached its peak as the prices become more affordable with the heavy dependence on advertising. This resulted in the emergence of many fashion magazines. Those fashion magazines influenced the 1920s fashion trend in a way.
In the 1920s, three major women's fashion magazines appeared: Vogue, The Queen, and Harper's Bazaar. Garments were drawn illustrations. These magazines marketed towards women's desires for glamour with illustrative designs and were at the forefront of popular styles and fashion trends. Do you know what popular women's fashion magazines were in the roaring 20s. Below are a brief introduction to 9 fashion magazines.
Harper's Bazaar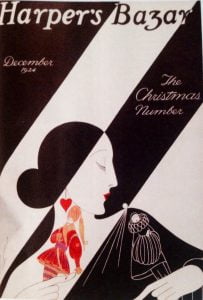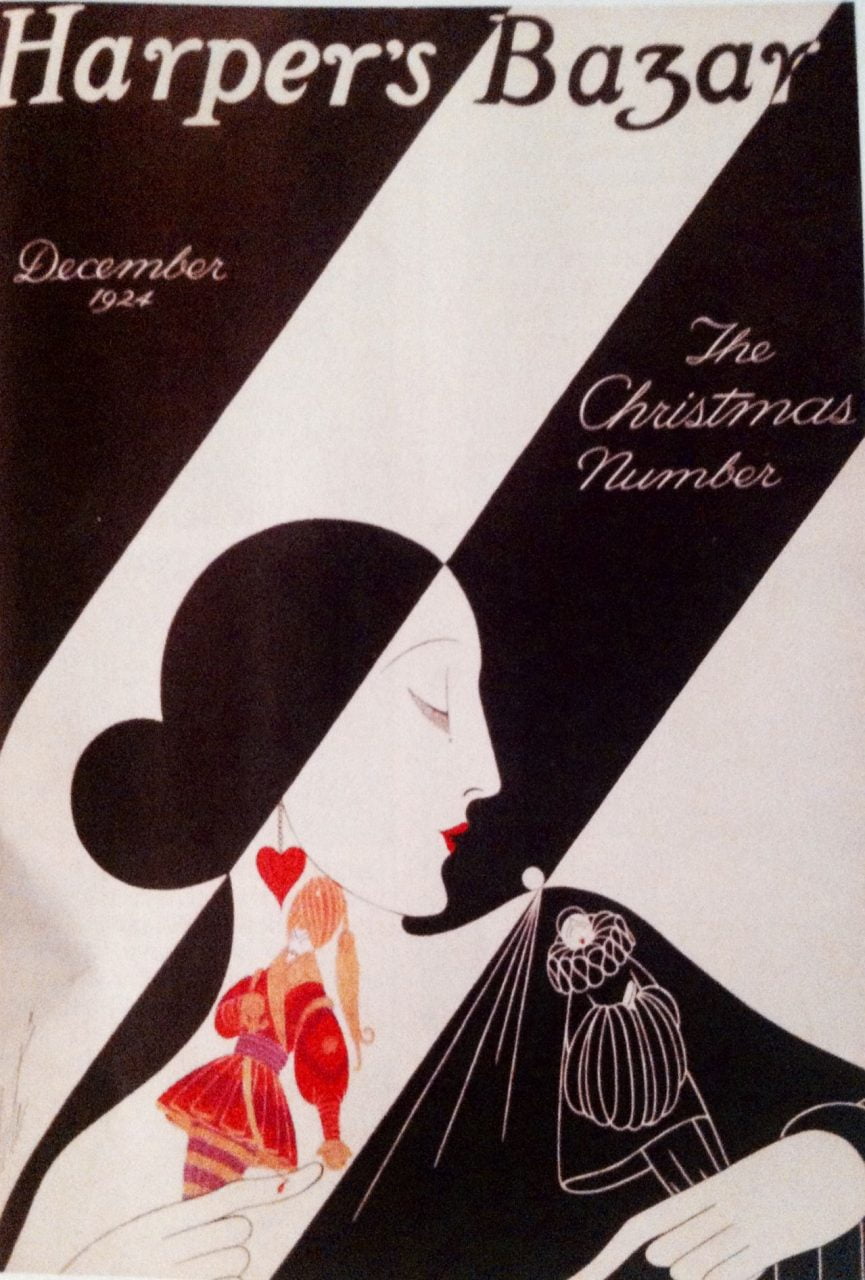 Publication Date: 1867 to present
Harper's Bazaar is an American monthly women's fashion magazine but at the very first was a weekly magazine. It was well known for being sophisticated and elegant.
Harper's Bazaar considers itself to be the style resource for "women who are the first to buy the best, from casual to couture". Aimed at what it calls "discerning ladies", Bazaar is published monthly with the slogan, motto, theme and tag line its World and American's No. 1 Fashion Magazine.
In 1867, it was as the America's first fashion magazine. As the turn-of-the-century began in America, Harper's Bazaar began featuring both illustrations and photographs for its covers and inside features of high society and increasingly of fashion. During the late Victorian period, as the women's suffrage movement was gaining momentum, the introduction of more tailored dresses and jackets coincided with women's new sense of feminism. American women did not all win the right to vote until 1920 with the passing of the 19th Amendment.
McCall's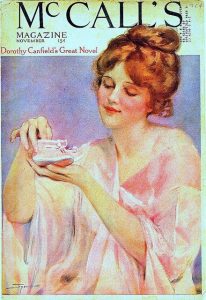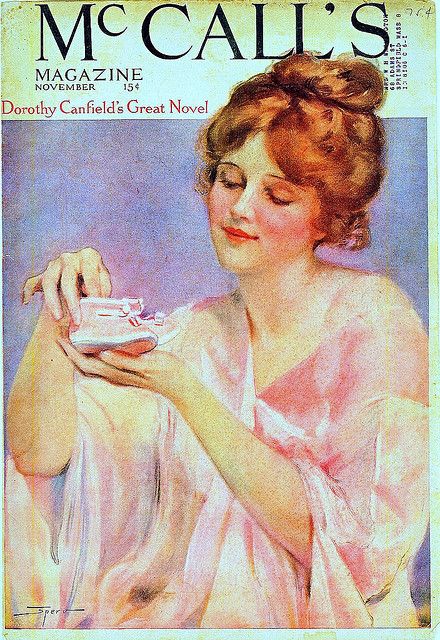 Publication Date: 1873 to 2001
McCall's was a monthly American women's magazine, featured fiction, editorial, health, beauty, and foreign travel columns. It enjoyed great popularity through much of the 20th century, peaking at a readership of 8.4 million in the early 1960s. It was established as a small-format magazine called The Queen in 1873. In 1897 it was renamed McCall's Magazine. It was one of the "Seven Sisters" group of women's service magazines.
In 1928, the 23-year-old associate editor, Otis Wiese, was promoted to editor. He believed "women were ready for more significant fiction than Gene Stratton-Porter". He suggested that McCall's sell Burton's acquisitions of popular fiction to Ladies Home Journal and Woman's Home Companion. Because of such radical ideas, Wiese was fired at least six times within his first year as editor. But he was always rehired because, as he put it, "there was no one else around the place with ideas."
Vogue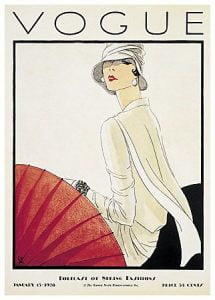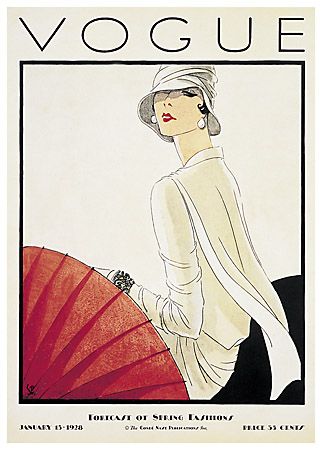 Publication Date: 1892 to present
Vogue is an American monthly women's fashion and lifestyle magazine focused on fashion and beauty. It covers many topics including fashion, beauty, culture, living, and runway based in New York City.
For the fashion lover, there is no publication quite like Vogue. Available articles include the observations of a princess on her travels to Turkey, "The Rise of Rude," and the wedding announcement of Mrs. Prescott Sheldon Bush–the mother of President George Herbert Walker Bush. There is little doubt that these articles will intrigue you as you learn more about the fashion and culture of the early 1900s.
Redbook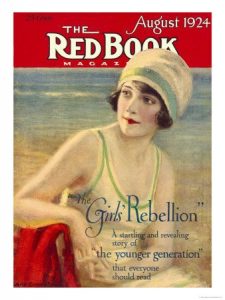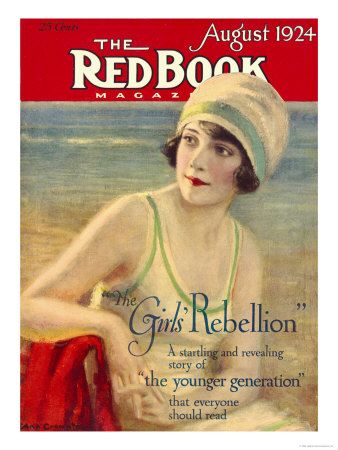 Publication Date: 1903 to present
Redbook is a general interest women's magazine with a focus on fashion and beauty. It is one of the "Seven Sisters", a group of women's service magazines.
The magazine was first published in May 1903 as The Red Book Illustrated by Stumer, Rosenthal and Eckstein, a firm of Chicago retail merchants. The name was changed to The Red Book Magazine shortly thereafter.
Trumbull White is the first editor. He wrote that the name was appropriate because, "Red is the color of cheerfulness, of brightness, of gaiety."
In its early years, the magazine published short fiction by well-known authors, including many women writers, along with photographs of popular actresses and other women of note. Within two years the magazine had become a success, climbing to a circulation of 300,000.
The Gazette du Bon Ton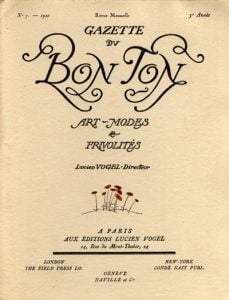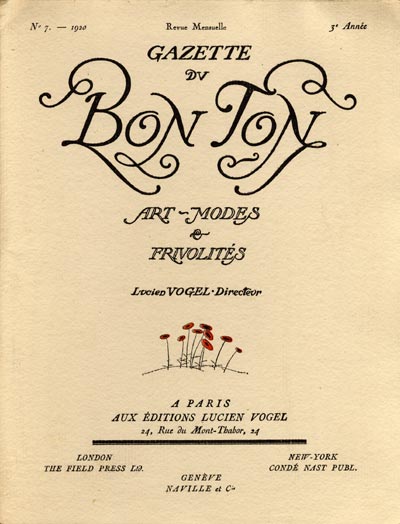 Publication Date: 1912 to 1925
The Gazette du Bon Ton was a small but influential fashion magazine published in France from 1912 to 1925. Founded by Lucien Vogel, the short-lived publication reflected the latest developments in fashion, lifestyle and beauty during a period of revolutionary change in art and society. Distributed by Condé Nast, the magazine was issued as the Gazette du Bon Genre in the USA. Both titles roughly translate as "Journal of Good Taste" or "Journal of Good Style."
The centerpiece of the Gazette was its fashion illustrations. Each issue featured ten full-page fashion plates printed with the color pochoir technique. Seven depicting couture designs and three inspired by couture but designed solely by the illustrators.
It employed many of the most famous Art Deco artists and illustrators of the day, such as Etienne Drian, Georges Barbier. These artists, rather than simply drawing models in outfits, depicted them in various dramatic and narrative situations.
Vanity Fair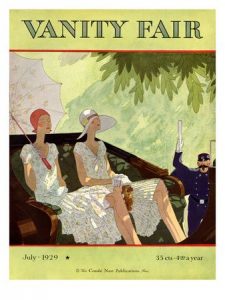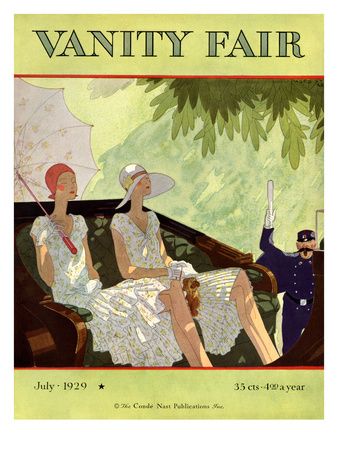 Publication Date: 1913 to present
Vanity Fair is a monthly women's magazine of popular culture, fashion, and current affairs.
Condé Montrose Nast began his empire by purchasing the men's fashion magazine Dress in 1913. He renamed the magazine Dress and Vanity Fair and published four issues in 1913. It continued to thrive into the twenties. However, it became a casualty of the Great Depression and declining advertising revenues, although its circulation, at 90,000 copies, was at its peak. Condé Nast announced in December 1935 that Vanity Fair would be folded into Vogue.
Charm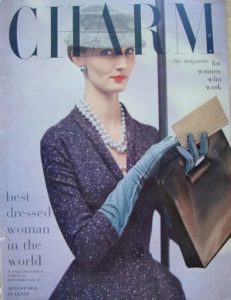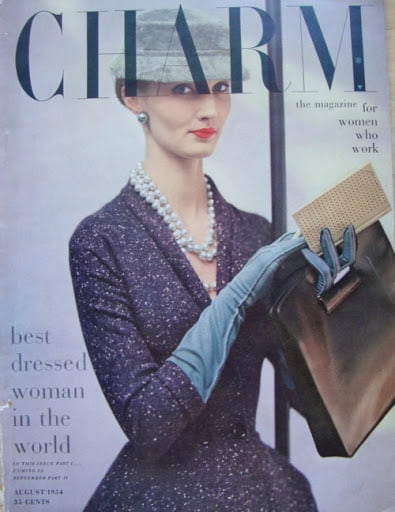 Publication Date: 1915 to 1959
A fashion and beauty magazine for the "business girl" that was absorbed by Glamour in November 1959.
Charm magazine came into its own in 1950, when it relaunched as "The Magazine for Women Who Work," and hired Cipe Pineles as art director. Pineles is a legendary designer who earlier art directed Seventeen and Glamour. Charm was the first magazine for working women, and the covers featured a sharp, stylish take on the working woman's lifestyle.
Ladies'Home Journal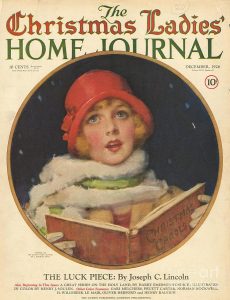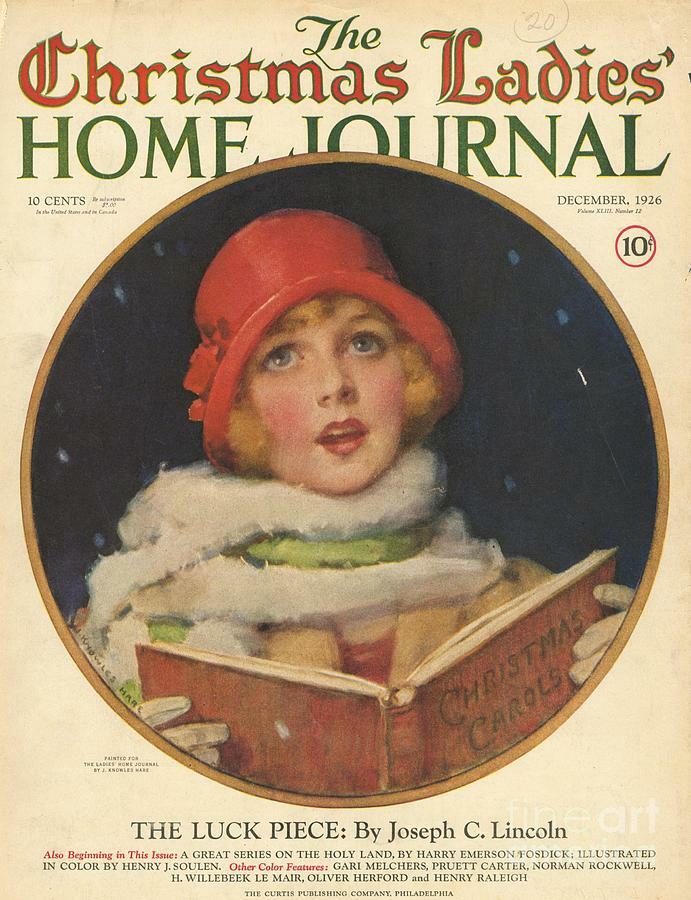 Publication Date: 1883 to present
A conservative voice for the role of women in society, featuring beauty and fashion tips, relationship advice, and domestic advice. The magazine has been continuously published since 1883 and has the longest running magazine column, entitled "Can this marriage be saved?" Ladies' Home Journal was one of the Seven Sisters, as a group of women's service magazines were known. The name was derived from the Greek myth of the "seven sisters", also known as the Pleiades.
Ladies' Home Journal was an American magazine published by the Meredith Corporation. It was first published on February 16, 1883, and eventually became one of the leading women's magazines of the 20th century in the United States. From 1891 it was published in Philadelphia by the Curtis Publishing Company. In 1903, it was the first American magazine to reach one million subscribers.
Femina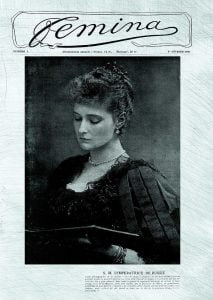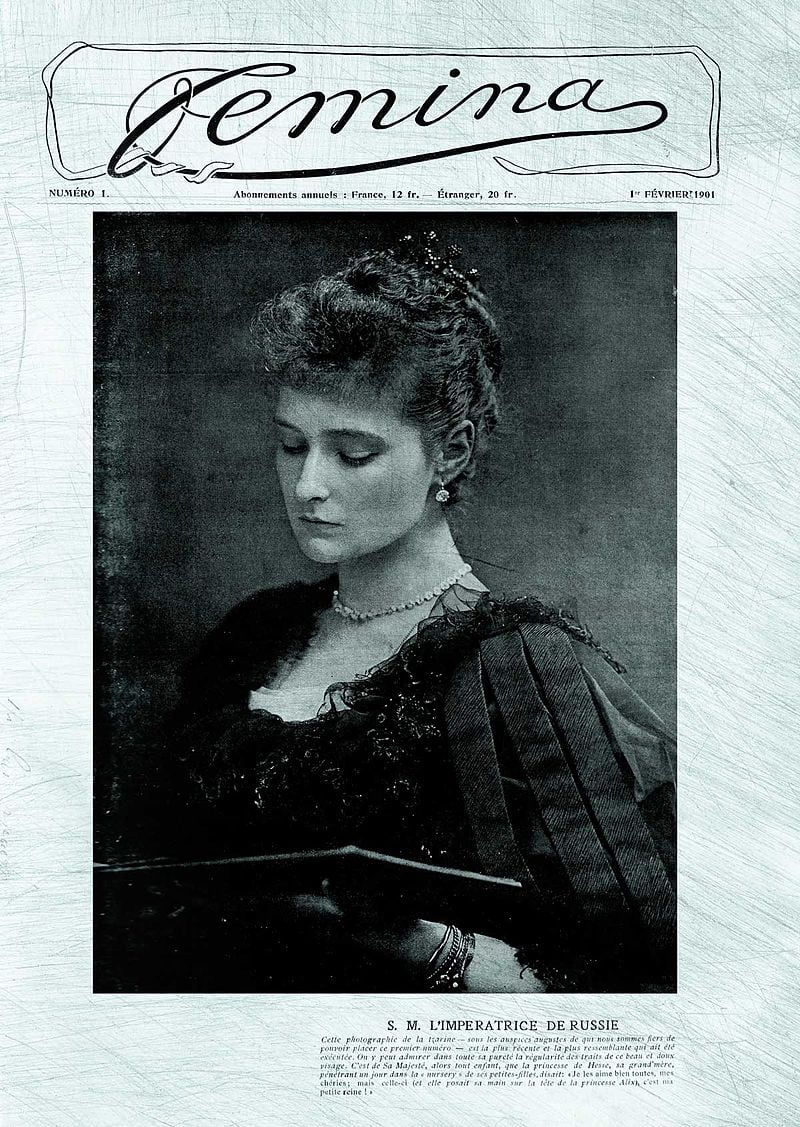 Publication Date: 1901 to 1954
Femina is a French magazine created on February 1, 1901 by Pierre Lafitte. The title gave its name to the Femina award from 1922. The title of this illustrated periodical is taken from the Latin word femina for "woman". It was subtitled "La revue idéale de la femme et de la jeune fille" (The ideal magazine for women and girls). It was an early French magazine format targeting a female readership of the bourgeoisie, with generous coverage of leisure activities, especially sports.
Conclusion
Today the merging of fashion and visual design sources its art from the 1920s, encouraging our modern artists to be more innovative to design and create textile designs, fashion illustrations and photographs.