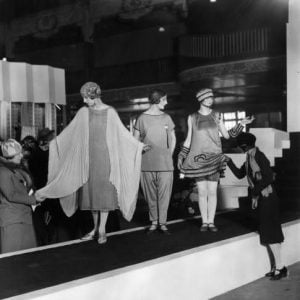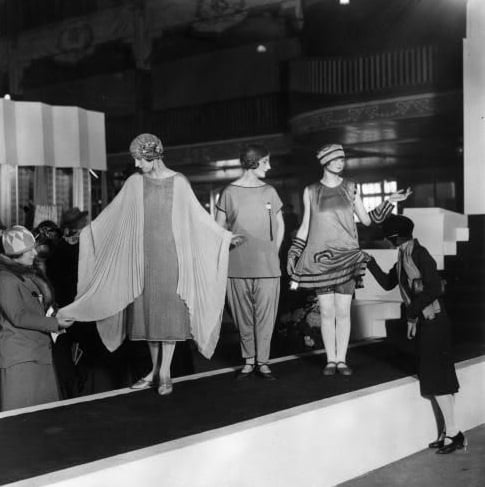 The 1920s was not only the era of flappers, but also an era for departmrnt store fashion show. It saw the dawn golden age of haute couture in Paris. Powerful women such as Gabrielle Coco Chanel, Madeleine Vionnet, queen of the bias cut, and Elsa Schiaparelli were the dominance. During the 1920s, department store fashion shows became common. Those department stoe fashion show emphasized on exotic themes such as Russian, Chinese, Persian. One of the features of the roaring 20s fashion history is that the department-store shows were wildly popular, drawing crowds in the thousands. The fashion show played an important role on the development of the American department store and thus to the rise of American consumer culture.
Origin of 1920s department fashion show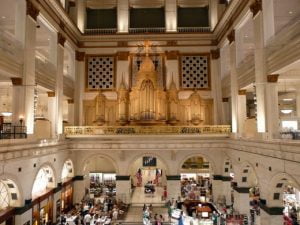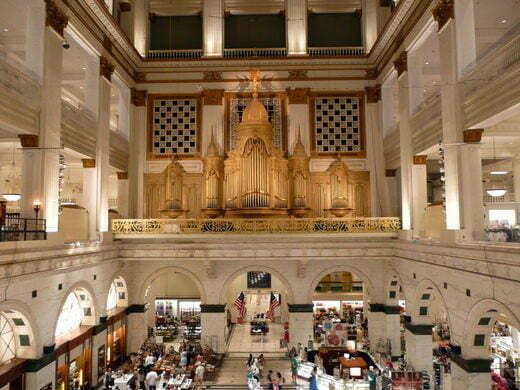 In 1903, a New York City shop called Ehrich Brothers put on what is thought to have been the country's first fashion show to lure middle-class women into the store. By 1910, many big department stores were holding shows of their own. It is likely that American retailers saw the "fashion parades" in couture salons, and decided to use the idea. These "parades" were an effective way to promote stores, and improve their status.
In America, department stores, such as Wanamakers in Philadelphia, started holding regular fashion shows in 1910 and gradually broadened the audience for such fashion display.
Development of 1920s department fashion show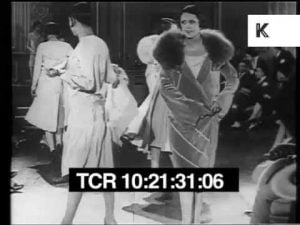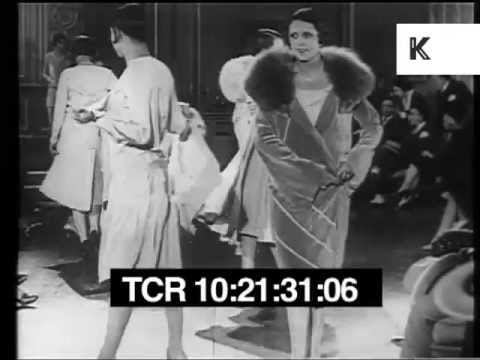 By the 1920s, the fashion show had gone mainstream. Retailers throughout the country staged shows, often in a store's restaurant during lunch or teatime. These early shows were often more theatrical than those of today. They were frequently organized around themes and often presented with narrative commentary. Those theme included Parisian, Persian, Chinese, Russian, and Mexican shows, Leach notes.
In addition, by the 1920s, the fashion show had been used by retailers across the country. They were staged, and often held in the shop's restaurant during lunch or teatime. These shows were usually more theatrical than those of today, heavily based upon a single theme, and accompanied with a narrative commentary. The shows were hugely popular, enticing crowds in their thousands.
Influence of the popularity of department store fashion show
As the fashion show became more popular, fashion industry brought other careers' development, such as models. In 1923 John Robert Powers established the first modeling agency in New York, which served to professionalize the industry and positioned modeling as a more socially acceptable career.
Otherwise, designers in the 1920s also had a set routine and started by showing sports and day clothes, then evening wear.
Department store: Neiman Marcus
Originally opening in 1907, Neiman Marcus was a high-end department store in Texas. With initial success via wealthy oil-rich customers, the shop saw a rise to power in 1927 after expanding and premiering the first weekly retail fashion show in the United States.
Department store: Bakers of Kensington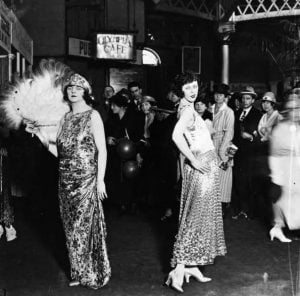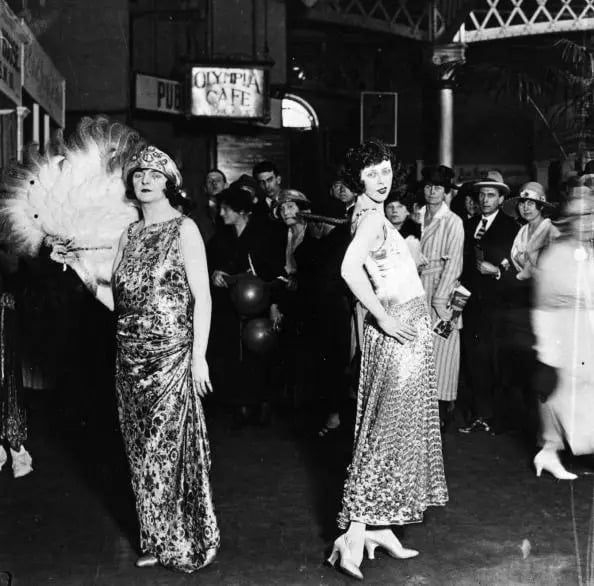 In the 1920s, Barkers department store Kensington, London, was a monument to Art Deco design and radical new thinking about retail as entertainment for the leisure classes. Regular fashion shows were held there in their specially constructed Fashion Display Hall, featuring exclusive Paris fashions, modelled by society mannequins. Barkers used the 1920s super models to seduce customers. They wore Paris haute couture featuring brands such as: Bernard, Chanel, Martial Armand, Molyneux, Barogue, Louise Boulangère, Lanvin, Lelong, Phillipe et Gaston, Patou and Premet.