Are you wondering what to wear with your plaids this fall? It is easy to think of the classic plaid and denim combos, but this gets boring with time. Plaid is a classic favorite and has remained so over the decades. If you are looking for vintage fashion ideas, it is hard to ignore plaid. It has been trendy on and off; in the 40s, in the 60s, the late 90s, and early 00s. But you can wear plaid at any time without looking dated. You can pull off a variety of looks with plaid from the outdoors person to the preppy teen look. While the fall's cool weather goes well with the heavy plaids, you can wear lighter plaids all-year-long. Here are some outfit ideas you should try out.
Skirt ideas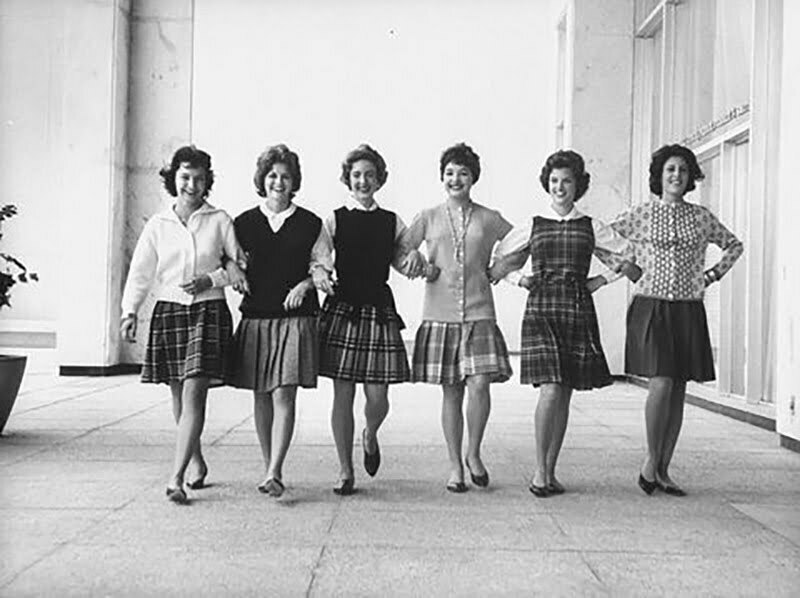 Women's plaid skirts are the most versatile of the lot; you can be the sophisticated executive with the slim-fit plaid suit matching a hip-length blazer and a pencil skirt. The grungy look has a slim-fit leather jacket and plaid mini skirt. The A-line plaid skirt of the 40s works well for the out-and-about mom look. It is also easy to match with a denim shirt or a blouse and sweater in colder weather. For a cold-beating outfit, match the skirt with a scarf of matching patterns and a pair of ankle boots. But you can also wear plaid skirts in warmer weather. A classic plaid skirt with a plain white or blacktop is simple yet classy enough for a summer outing. Wear a plaid pencil skirt with a peplum top for a dress down Friday, or a semi-formal look.
Plaid shirt ideas
Women's plaid shirts come in many varieties, but plaid shirt men's styles can also work if you pick the right size. You can pair plaid shirts with jeans, leather pants, or matching plaid pants for a full plaid suit. The simple and classic plaid shirt and blue jeans remain popular and forever trendy. It works well with almost all colors. Try the skinny jeans and plaid shirt with the shirttails tucked in for a casual look.
For the older business lady look, pair a bright colored plaid shirt with high-waist black linen or cotton pants. A plunging neckline keeps the look sufficiently feminine. On the other end, tuck a plaid shirt into a pair of leather pants and boots for a Mad Max girl look, or tuck it into a leather miniskirt for a punk look.
A plaid shirt worn over a t-shirt and paired with a denim mini-shorts and sneakers is the perfect college girl look. Wear it for a short hike or a road trip. You can wrap the shirt around the waist to notch up the cool-factor.
Plaid dress ideas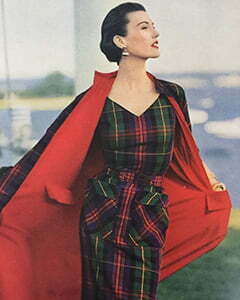 Plaid shirt dresses are easy and practical to wear around the house. Transform easily into the girl-about-town look by adding on a fedora hat and a pair of lace-up leather boots. You can also wear a plaid dress with thigh-high or ankle boots in colder weather, or a night out. Wear it with a black leather jacket and sneakers for an alternative night-out look. You can switch the classic pointy pumps for a 1960s fashion look. A loose plaid dress with a pair of tight leggings and ankle boots also works well for colder weather.
Plaid coat ideas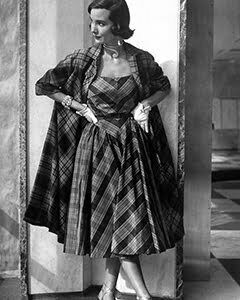 Why wear a plain coat when you can make things more interesting with a plaid coat? The good thing with plaid is that the prints are not too heavy, which keeps you from being too loud and tacky. The prints will catch the eye but are subtle enough to keep your look simple and elegant.
Wear your plaid coat with skinny jeans and leather ankle boots for a French chic look. The classic grey plaid coat is good for formal occasions. Wear with a white blouse and black pants for the office look.
Plaid pants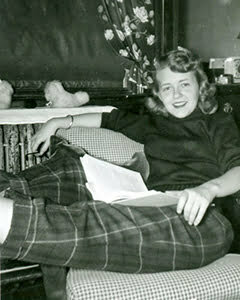 Plaid pants are perfect for a tomboy look. Tuck them into military boots. Wear with a plain bright colored sweater, and a beret for a mod look. You can go for an entire pantsuit ensemble with a matching plaid jacket or blazer. This outfit works well for casual and semi-formal occasions like the end-year party at the office.
Other plaid ideas
Plaid bathing suits were popular in the 40s and the 50s women's fashion. Try a mother-and-daughter look with matching bathing suits. You can also pick plaid for other items such as scarves, hats, and handbags. You can accessorize with these plaids, for example, a matching handbag when you are in a plaid shirtdress or a plaid hat with plaid pants. As a rule of the thumb, keep it simple with not more than 2 plaid accessories. The tricks are keeping the prints matched well and light enough on the eye.