The Background of 50s Fashion
After the war decade of the 1940s, the world faced a new era of clothing and a rebranding of fashion accessories and textures. The 50s fashion was severely affected by this change. Men, women, and children's fashion saw a major shift from what it used to be before and during the wars, to a new style that was quickly accepted in society.
Although there had been a variety of fashion attires for men available since the 1920s, the 50s fashion became a lot more inclusive and colorful. Male fashion of the 50s had new fabric and new clothing designs were a lot more casual than the previous decades. Leisure clothing had become a common style in the 50s. The increase in prices of fabrics during and after the war leads to the creation of new affordable fabrics.
Men's fashion of the 50s had a variety of items. These items included:
As stated earlier, casual/leisure fashion styles for men in the 50s were popular. It was not always business as usual in this decade and the outfits represented that. There were casual t-shirts that were popular mostly with young people, casual button-down shirts in Hawaiian prints, knitted shirts, and shirt jackets.
Colors had become a thing in this decade so all fabrics for clothing came in a variety of bold and playful colors for both men and women.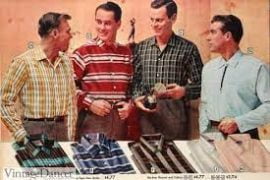 Unlike the usual business suits, these sport coats had a splash of playfulness on them that prevented the complete business-like look. They came in a variety of colors and were rarely seen in plain colors without a design on them.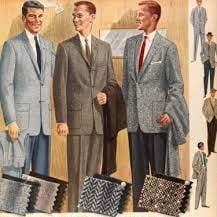 Men's shorts became part of everyday leisure wears. No longer were they set aside as the only beachwear, but casual outing wears for men. Combined with high stockings, men wore shorts for unofficial gatherings, running errands, and lounging at home.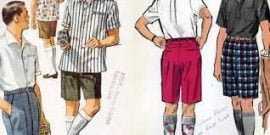 In the 50s, a lot of things like suspenders and pleated slacks had gone out of fashion. Male trousers were a lot like sports coats. They came in a variety of colors and fabrics to suit every occasion. Slacks were made from polyester, wool, and light fabrics and have maintained a similar style with a zipper and button, up until today.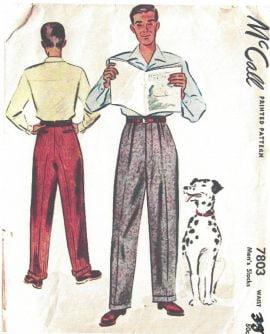 Outerwear like sweaters and bomber jackets became popular in the 50s. The Greaser fashion style made leather bumper jackets quite popular at the time. V-neck sweaters worn outside formal attire were also a norm. Although men maintained their formal suits at work, they could easily switch to leisure attire by changing their outerwear.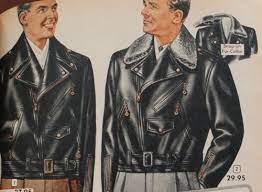 Although men from the onset have not been known to accessorize as much as women do, they make up for it by possessing a variety of hats in different styles, colors, and patterns. For work and business-related events, there were walking hats, fedoras, Panama, and porkpie hats, while caps were available for regular events.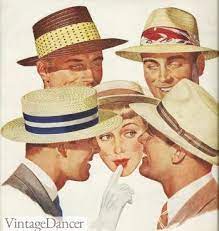 Shoes in the 50s remained as they were in other decades. There were slip-on shoes and Oxfords.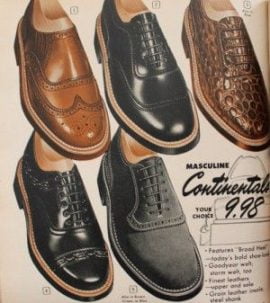 Fashion Styles of the 50s
Fashion styles have always been based on individual preferences. There were youthful styles like;
Ivy League or Preppy fashion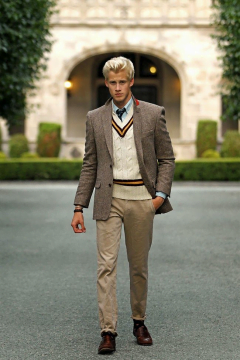 Ivy League or Preppy fashion began to gain popularity in the 50s and as the name implies, it began with students at Ivy League universities like Harvard, Yale, and Princeton.
This look was meant to be formal but not too formal. The men wore outer sweaters, Oxford shirts, and Polo's, Khaki, and chinos pants. They also wore sports coats, penny loafers, and blazers. The look was considered professional and sporty.
Greaser or Bad boy or Rebel Cool fashion
This fashion style was inspired by movies like 'Grease', 'West Side Story', 'The Wild One' and 'Rebel without a Cause'. This style was iconic for younger people as it involved leather bumper jackets, denim pants, white or black t-shirts, and sometimes turtlenecks, leather boots, or Chuck Taylor All-stars.
Greaser Fashion was considered a Rebel or Bad boy look as it included different iconic hairstyles that mimicked the styles of certain celebrities.
Other mature fashion styles were: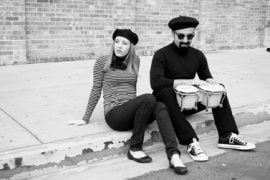 This style began to gain popularity in the early 50s. It was a form of post-war rebel against corporate wear. It included all black or black and white striped shirts or turtlenecks, oversize sweaters or jackets, and skinny trousers. They were usually untucked, wearing sunglasses and loafers.
This style was most common in England. It was a development on the Edwardian style fashion and was a considerably mature look which had long jackets, suede shoes, narrow trousers, and vests. It was a wealthy-looking style that was accessorized with handkerchiefs, and velvet or satin-trimmed jackets.