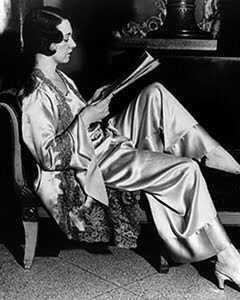 Nightwear has been a strong part of female fashion for decades. Its connection to personal comfort and the expression of sexuality has made it popular among women over the years. Women enjoy wearing all kinds of nightwear, ranging from lingerie to fancy bralettes. The concept of a certain kind of fancy nightwear for women became popular first during the 1920s.
Women had very different and modest ideas about expressing their sexuality. This is why nightwear before the 1920s was almost always limited to full-bodied chemises with long sleeves. Short, thin nightwear was not common, and the only shapewear that was available was uncomfortably tight corsets.
Learn about roaring 20s fashion here.
The evolution of nightwear during The 1920s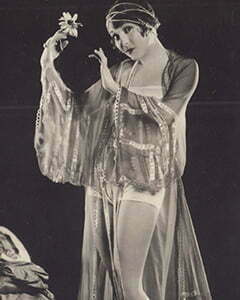 Despite the more modest nightwear choices before the 1920s, women made some bold nightwear choices during the decade. Nightwear went from drab, white, and modest to bold, colorful, and somewhat revealing. This was largely due to various women's empowerment movements and the evolution of female fashion. This evolution allowed female fashion to be more revealing and bold. Due to this, women started making amends in their personal lives as well. They started choosing different kinds of nightwear.
Popular fabrics used for women's nightwear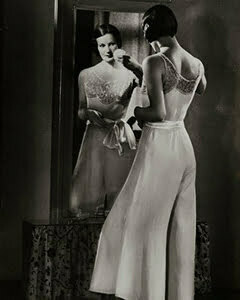 Some popular fabrics used for 1920s women's nightwear include cotton, silk, satin, and shantung. These fabrics are the epitome of luxury and comfort, which is why it was a great idea to make women's nightwear out of them. Also, nightwear made from these fabrics, especially satin and silk, were not only comfortable but also looked very smooth and shiny. Women who liked to stay in style during the 1920s would buy this nightwear to look gorgeous even in the comfort of their own homes.
Popular nightwear colors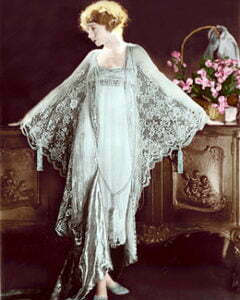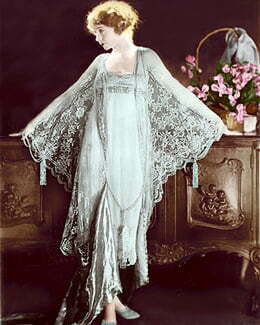 Since nightwear was supposed to be worn in the comfort and privacy of your own home, women did not choose bright, eye-catching colors for it. Popular nightwear colors during the 1920s included pastel colors like lights pinks and blues. White was also a very popular color. Creamy colors like beige, flesh, and pastel green were also very popular. Some women still choose softer, creamier colors for their nightwear. However, nightwear colors have evolved since the 1920s, and women wear all kinds of bright and bold colors at bedtime.
Different kinds of nightwear in the 1920s
1. Corsets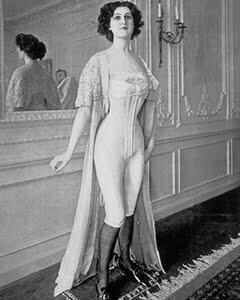 Despite their restrictive properties, corsets were very popular as a nightwear option for women in the 1920s. Their popularity was carried down from the Victorian Era, and women liked wearing corsets that defined their shape, even to bed. Some women even believed that tight corsets would accentuate their curves. Even though corsets became less popular as the decade progressed, some popular types of corsets were the boned corset, corselette, and underbust corsets.
2. Chemises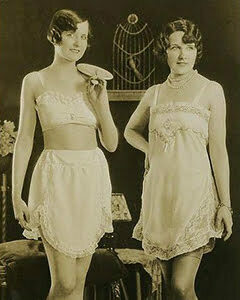 Chemises were one of the most popular types of nightwear options. They were usually made up of satin, cotton, or silk. Chemises were worn above the corsets. However, some women would forego the corset altogether and just wear the chemise to bed. Chemises were popular because they were soft, airy, and comfortable. And since women in the 1920s were all about personal comfort, they loved chemises.
3. Brasseries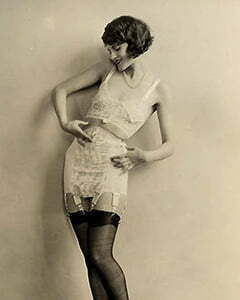 Bras or Brasseries were popular amongst women who did not like wearing restrictive corsets. They were shorter than corsets and were not very tight either. Bras were popular in light, pastel colors, and had edges that were often trimmed with lace or some kind of embroidery. Unlike corsets, Bras were supposed to flatten the breasts and make them feel comfortable and manageable. However, for heavier breasts, brasseries often had extra strong straps for support. The straps were usually made from cloth and elastic.
4. Knickers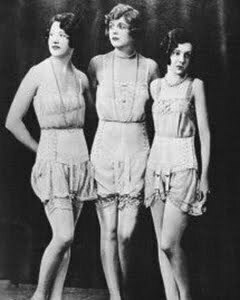 Knickers were larger panties in the 1920s. They were usually made of cotton and silk and were extremely airy and comfortable. Also known as a bloomer, knickers were made from light material and came in all kinds of colors. From pastels to dark oranges and even blacks. A specific color of knickers was not particularly popular. Knickers for women were usually sold separately. Also, for people who liked a two-in-one, cami-bloomers combined the knickers and chemise to make a single undergarment.
Nightwear today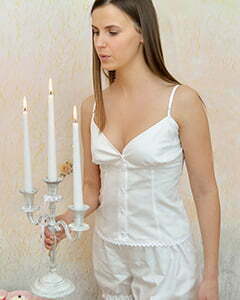 Nightwear today has taken inspiration from the nightwear of the 1920s. Bras, Bloomers, and Chemises have evolved into a very different kind of lingerie for women today. Despite the change, some things are constant. For example, the need for comfortable nightclothes is still present. Women like attractive clothing that is also very comfortable so that they can easily sleep in it. If you love buying night clothes for yourself, take some inspiration from the ladies of the 1920s and go buy some amazing lingerie right now!