There's always one old soul trapped in the body of a human being living in the 21st century who enjoys things from the time before. These are the people who will throw a 1920s birthday themed party, and invite you over dressed up in vintage. See the styles of roaring 20s fashion here.
Choosing an outfit from 1920's used to be hard before but not anymore. Thanks to online series like Peaky Blinders, Boardwalk Empire and number of films set back in the 20's time period, we have a lot of fashion inspiration to look at and can decide our own costume for a Gatsby-themed birthday party.
1920's was the era of fashion with modesty for all. If you were to travel back to the twenties, you would probably see women dressed up in long and dresses mostly below the knees with a slight tug around the waist.
Men, on the other hand, wore suits to work and on casual days out as well, they would be well dressed from head to toe. The male community wore hats and caps where the rich and upper-class men wore hats ranging from Fedora hats, Boater hats, Gambler hats, and Derby hats and the young boys or lower-class men wore Newsboy caps and Flat caps.
So if you're looking for tips and suggestions for costumes belonging from the twenties to attend a Gatsby-themed birthday party, there is a specific set of guidelines which if you follow will lead you to slay in your costume at the party.
Guidelines for the Ladies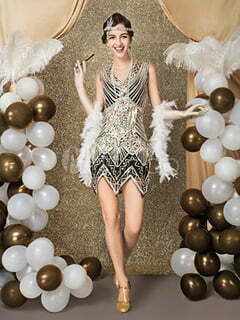 Ladies, you need to loosen up. Ditch your tight crop tops and short skirts and bring out the shapeless dresses that you've shoved way back in your closet. In the '20s, women wore loose, shape-less and simple dresses which allowed them to easily move about the house and do chores outside the house as well.
For a party dress from the 1920's you need to make sure that your dress has lots of fringes and sequins on it. It can be sleeveless too if you want to look a little fancy for the night. If you can arrange for feathers and a beady scarf, that'll be perfect.
For accessories, you need to think of diamonds and pearls. Necklaces and earrings should be shining with big stones of diamonds and pearls around the neck will go along with the simplicity of the dress. Lastly adding a feather boa will be the ideal 1920's touch.
Guidelines for Men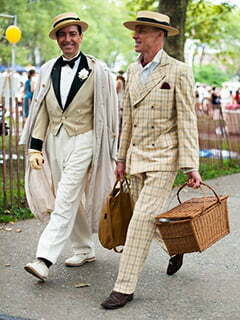 Where women reveled in their party dresses, men dashed up in their dinner jackets and suits. Solid colored suits like white or stripes and plaid suits we more appreciated in the twenties. Oh and don't forget the hats too.
For a more casual looking outfit, you can go for button-down shirts with suspenders and caps like mentioned above. You can also take things to another level dressing up in a handsome looking tuxedo.