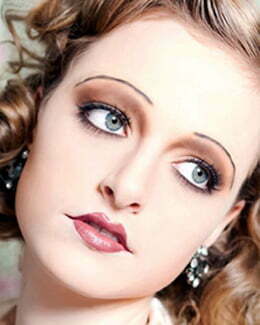 The world of makeup as truly evolved. Cosmetics have been used by women for over a century, however, let's have a sneak peek into the golden era of the 1920s.
With changing fashion and makeup- this was definitely an era of evolving beauty regimes. So how different was this era's makeup from what we do right now?
Face powder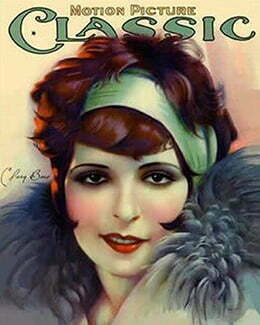 There wasn't a lot of heavy foundation and concealer back then. However, face powder was, without a doubt very popular.
The loose powder was usually kept in small metal jars instead of having compacts. These jars were easy to keep on your person, especially on the go and for touch-ups.
The powders did not have a lot of coverage, but did help with evening out your tone and controlling excess oil. It could be applied with a powder puff, all over your face and neck.
Some Rouge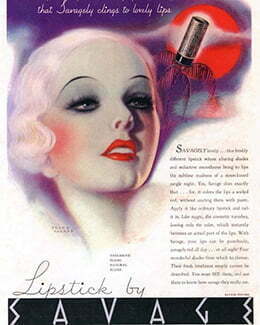 Rouge or now known as a blush-on, was every 1920s women's fashion. That rosy flush in the cheeks, which could also be used as a lip tint.
The pink cheeks were very popular back then. Every look was incomplete without some rosy cheeks that gave you a blushing look.
The usual way to go was dabbing some rouge pomade on the high points of your cheekbones, it gave women a more lifted and youthful look!
There wasn't a lot of contouring, so women played around with rouge when it came to different face types. Longer faces needed some blush on their chin, wider faces would apply it near their noses and narrow faces would apply it on their cheekbones.
Darken Those Brows!
Hard to believe, but filling in your brows is almost a century old! The eyebrow arch was growing popular during those times. Bold and fierce eyebrows were a growing trend.
Petroleum jelly was used to keep the brows in place. It also made your brow pencil glide on smoother. People chose a pencil shade that matched their natural hair color.
It can cover gray hair, as well as give you that lift! Blonde women used more of taupe color while brunettes went for dark brown to black!
Bold Eyes!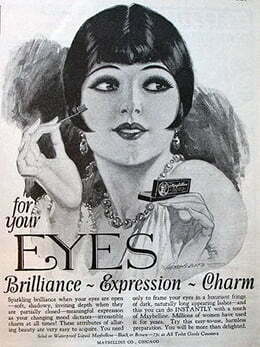 Bold eyes were really a trend back then. People usually used black kohl eyeliner and smudged it out for a smokey effect. It gave the eyes pop, especially when blue or green pencils could be used as well.
Similarly, mascara was also a thing back then! However, it wasn't those tubes we see today. That mascara came in a cake form. This cake was picked up with a spoolie and brushed through the lashes.
Fuller and longer lashes were definitely a thing, and people would also use petroleum jelly and water to brush their lashes upwards.
Interestingly, people used their natural eye color to be a guide to what eye shadows they would use! Green and blue eyes people went for vibrant colors, while people with brown or black eyes went for muted plum and red tones.