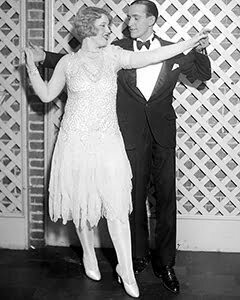 The roaring 20s was decadent and hedonistic; big parties, lots of jazz music, and increasing freedoms for women were some of the social changes that included fashion. Women had discarded the layered fabric look in favor of the simpler sheath-style dress. The hemline went up in party dresses to allow easier movement, making the popular 'flapper dress.' Women dressed for glamour and glitz for the large parties happening in speakeasies and ballrooms. The ball gown dress for these events was richly decorated with sequins, frills, and fringes as a fashion statement for opulence and the decadence. Designers went overboard with embellishments because more expensive translated to more class and elegance.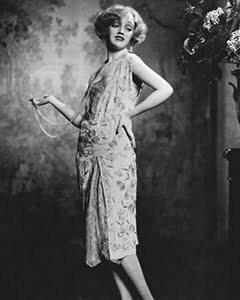 The boyish or masculine look was popular in the 20s as women were not willing to go back to the layered look of the 1910s. Taking up more roles had also given them an air of more confidence to wear to make fashionable choices. The straight simple look became popular as an all-purpose design. The silhouette was flat and slim with a flattened bust. The waist was dropped and loosely tied with a sash belt. The hemline was at the mid-calf and roomy to allow fancy Charleston moves. Contrary to popular belief, the knee-length flapper dress was not usually worn in polite company but was worn in more risqué occasions.
Evening Ball Gown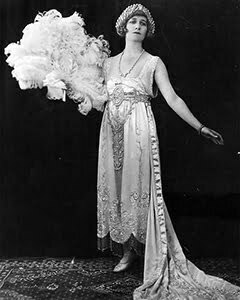 It was practical to wear during the day and could be restyled as evening wear. Cocktail dresses and ball gown dresses quickly adopted this basic design and embellished it for more class and elegance. Ball gowns had a long straight profile dropping to the ankle level, while the cocktail dress was much shorter and often sleeveless. The ball gown was for more 'formal' parties like the Mayor's ball.
The art deco movement had become popular especially the Egyptian themes that came with the discovery of ancient tombs of King Tut in Egypt. The Egyptian goddess theme was popular for evening gowns. It draped the body to make a queenly profile ala Nefertiti.
The dropped waist was at the mid-hip or lower, tied with a sash belt and bow at the front or side. Pleats and gathers were used to make fancy embellishments at the waist level. Pins and clips were also added to add a sparkle.
Evening dresses had a v-shaped, low square, or scoop neckline. Bold ladies wore a deep v-neckline that reached to the waist but with a fabric panel in it to retain a bit of modesty. Showing the cleavage was unthinkable in polite company and designs without the fabric panel were for the wildest parties.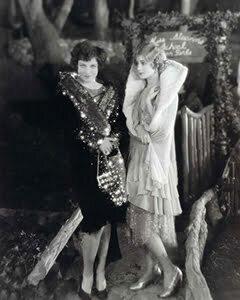 The bareback evening gown was very elegant and popular. The skin was borne by cutting a low scoop or a deep V neckline that reached to the middle back. A fur shawl was used to add intrigue in colder weather. It could be taken off when the room was warm enough to show a bit of tanned skin.
Some evening gowns had Asian art which featured a variety of geometric shapes. Bead decorations were done on more affordable dresses while more expensive fringes were on expensive garments. Decorative hemlines were also done on the fancier dresses, the decorations were done with contrasting embroidery, beadwork, or fringe trim the hemline was given some heft to make it sway during motion and compliment dance moves.
While many movies and TV shows of the roaring 20s fashion show generous use of fringes on dresses, this was not true. Decorating with fringes was done by hand-stitching which made it expensive. Fringes were used sparingly on the bustline or hemline. Most dresses were decorated with lace frills and beadwork. Decorating with feathers was also common with large ostrich feathers being very popular. Sequins were also added flair to a dress.
Evening gowns were made from luxurious fabrics such as silk, satin, velvet, lamé, and chiffon. The more luxurious and expensive the fabric the better. Bold, bright, and sparkling colors were also preferred. Metallic gold and silver were the height of opulence, while more affordable dresses had pastel and cream tones. Black was beginning to be liked as it was seen as a mourning color before the 1920s. The Paris fashion scene was the trendsetter in fashion matters in both Europe and America. Fashion-conscious women spent hours poring fashion catalogs for the latest pick to the next ball.