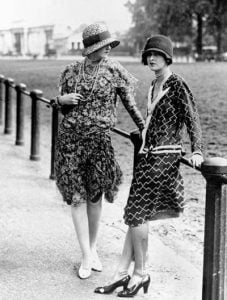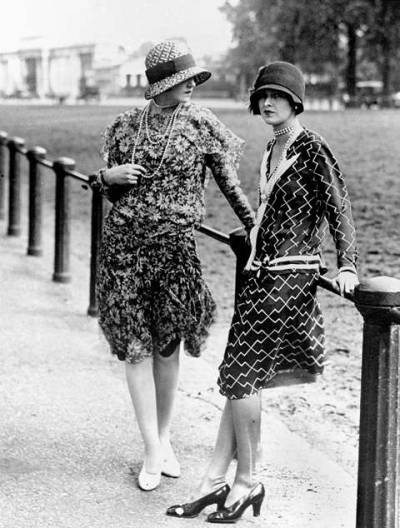 The First World War's social impacts lasted into the 1920s with women's fashion taking on a more convenient and practical style. The multi-layered way of dressing had been discarded as women took on more roles in the war. This uninhibited style grew into the androgynous women's fashion in the 20s seen in the simple straight profile dresses that were light and comfortable.  The "la garconne" look featured a straight silhouette, low waistlines, and hems at slightly below the knee.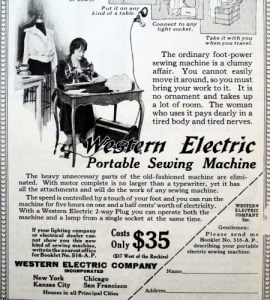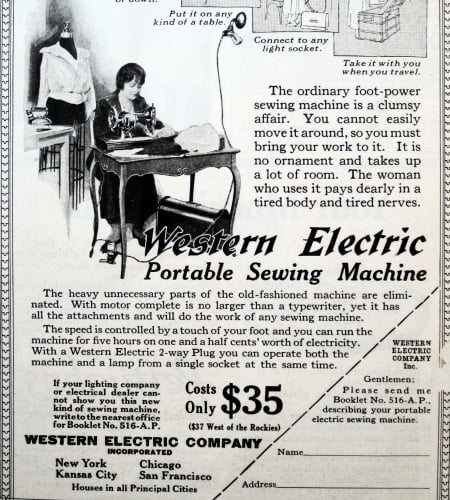 The emergence of the electric sewing machine had a big impact on 1920s women's fashion. The majority of women had good sewing skills, as it was the desired homemaking skill. The electrical sewing machine made it easier to experiment with different designs at home. Mail-order catalogs picked up this trend and started including sewing patterns in their fashion sections. These were usually artistic drawings with the requisite measurements. Women kept a fresh sense of style by exchanging these patterns for different outfits.
1920s House dress Sewing Patterns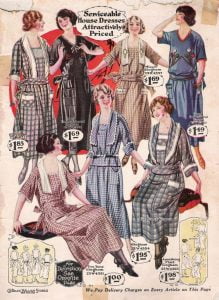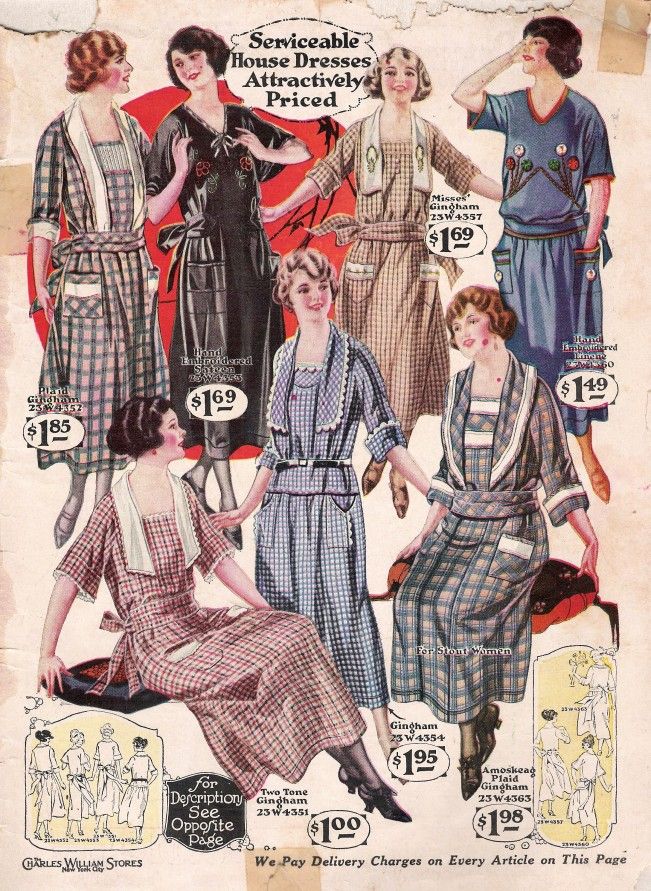 A woman in the 20s would spend the largest share of her time in a house dress because her role was primarily that of a housewife. This called for a practical and comfortable dress. It was usually a simple cotton dress with a white-collar. This dress was slipped on or removed over the head. A woman would sew several house dresses for herself because they were very easy to make.
Cotton chambray with heaviness close to light denim was often preferred to make durable dresses. Cotton broadcloth and cotton percale, which is softer, were also used because cotton was able to absorb sweat and kitchen moisture. Linen was also used to make house dresses for warmer summer weather, while winter house dresses had some wool blend. These dresses were in varying colors; darker or neutral colors were seen in colder weather e.g. brown, black, and grey. Summer dresses were brighter in peach, light blue, lime green, and pink hues. Dresses in America were of more varied and brighter colors than in Europe where they preferred darker colors, especially in the cities.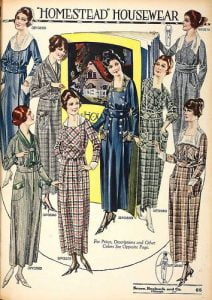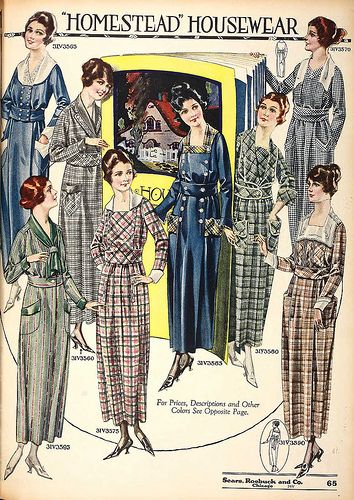 House dresses of the early 20s had large peter pan style collars. Some had masculine notched lapel collars or tuxedo collars. Pockets were also large and deep. Craft trim was popular with white piping and contrasting binding on collars, sleeves, and pockets.
Wide sashes were used in place of belts for house dresses in the early 20s. The sash moved lower to the mid hipline in the mid-20s when thin fabric belts started gaining popularity.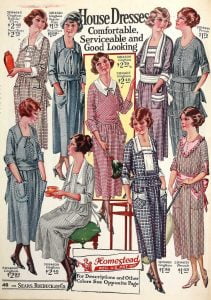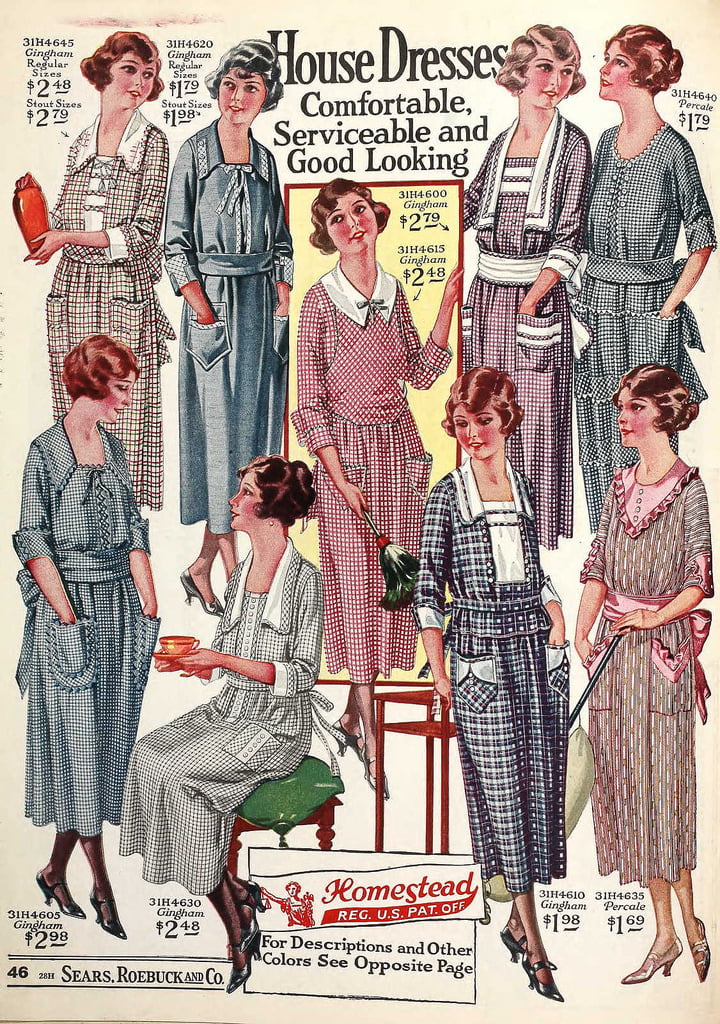 The house dress was given a makeover in the mid-20s to double up as a dress for going out for shopping or the occasional tea party. It became more fitting, with a smaller collar, a narrower belt, and larger prints in solid color. Overall, it became more complex to sew at home.
House dresses were usually worn with handmade aprons or smocks. This was very basic in design and made of durable and washable material to take on dust, mud, soups, and other hazards of housekeeping.
1920s Flapper look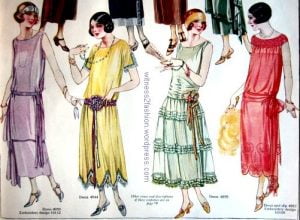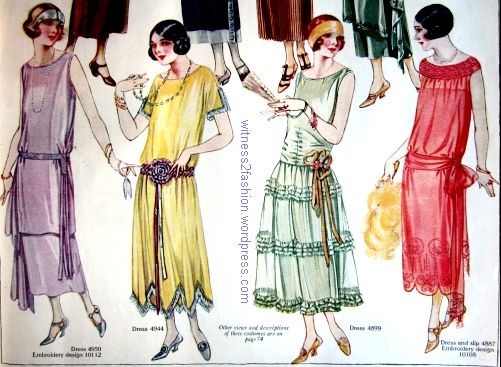 The flapper look was big in the roaring 20s fashion. This was a tubular dress that fit loosely. It was sleeveless, with straps that showed more skin in the back. It also had a lowered waistline and a higher hem than dresses of the 1910s. The higher hem was suitable for kicking up the leg when doing the Charleston.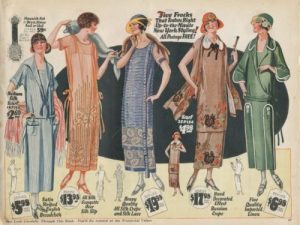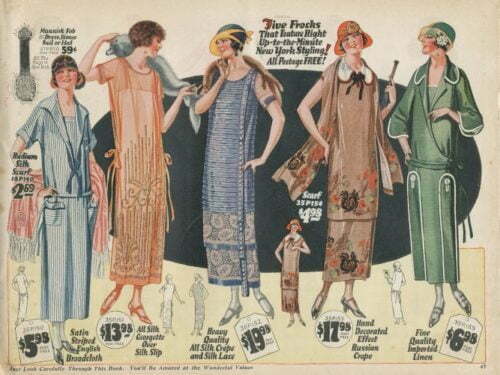 The late 20s dress came with pleats, drapes, or tiers on the skirts to make the silhouette look longer. Rows of buttons and vertical pintucks also added to this vertical effect. The waist dropped again starting about 1926 and stayed low till the end of the decade.