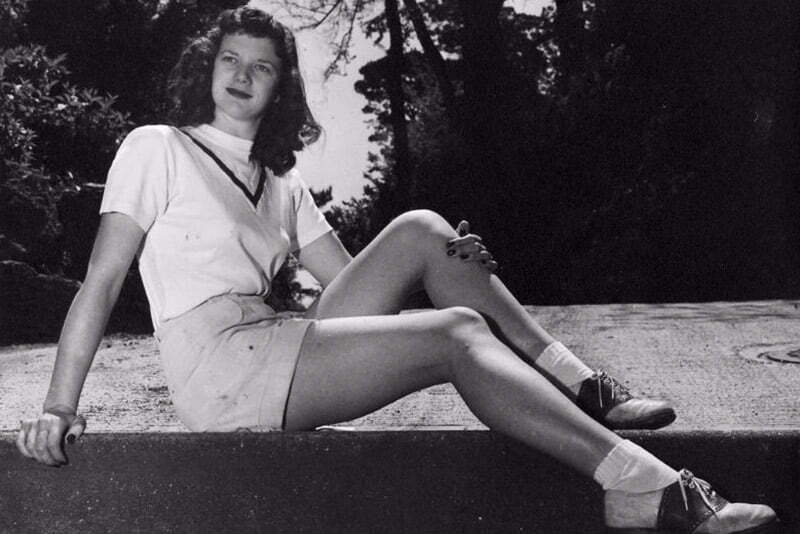 The concept of women wearing pants and shorts had not yet caught on proper in the early 40s. Women wore shorts at home in familiar company or on the sports field. Women tennis players made the sports shorts famous with legends such as Gertrude Moran and Pauline Betz looking glamorous in tennis shorts on and off the court.
Sports shorts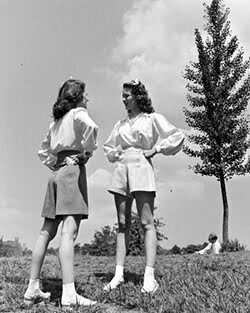 Women sports caught on in the 40s as the men were away at war. It was an opportunity to experiment with their felinity and mix it with active athleticism. Tennis and golf were the most popular games for women. Garments worn to these events had to be practical and flexible enough for active movement. Ankle-length skirts were worn by many women who couldn't yet get around the idea of being in shorts. Tennis players were the boldest groups and pioneer short wearers.
Wearing shorts outside of sports was almost exclusive to teenage girls, fashion catalog pinup girls, and Hollywood stars. The 30s had seen skirt-like shorts that had a high wide waist and pleated legs. They reached the mid-thigh and made from denim, corduroy, cotton, or rayon. Colors varied; white, blue, tan, and green were the most popular.
Women also wore shorts to the beach in place of the one-piece swimsuit. This short would be covered with a skirt or short fabric for modesty. This was more common in the summer and worn in a familiar company.
40s women's fashion had short overalls or short-alls. They looked like button-front shorts or blue jeans and were made of denim. They featured a leg press and cuffs at the hems.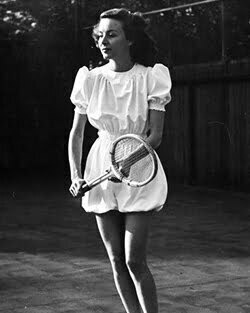 Post-war shorts discarded the pleating between the legs, making the separation clearer. Some had elastic waistbands but most had conventional belted waistbands. They looked like short trousers. Some styles copied children's shorts and had a pocket at the front. Slit pockets on the sides were desired.
Most of the early shorts were plain or striped. Prints and patterns with naval themes, tropical themes, and paisley patterns were seen in post-war shorts. These shorts were often worn with a matching top for a more elegant look.
The late 40s pedal pushers were a cross between shorts and long pants. They reached slightly below the knee. Pedal pushers were especially popular with teens and college girls. They were commonly worn with crop tops, denim shirts, and knit shirts. They remained popular casual wear until the 50s.
Shorts also gained popularity in America courtesy of women who had served in the reserves. They were issued with shorts which they promptly restyled for games and going to the beach. It increasingly became common to see women in short shorts on the beach after the war. These short shorts became popularly known as 'hot pants' and have remained trendy since then.
More conservative short designs were made by restyling the shirtwaist dress to make it look like men's overalls. This was more modest and women even in the rural areas could be spotted wearing them with cardigans or woolen sweaters outdoors.
Post-war shorts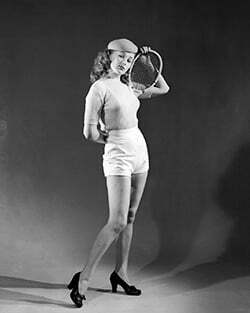 Shorts became more widespread after the war. Designers created more feminine and luxurious designs like Christian Dior's new look in 1947. These designs also restyled existing designs like the short-all to make them sexier and more feminine. There was a wave of leisurewear from American designers during the post-war 40s as more people adopted sportswear to casual daily wear. There were leisurewear designs that made available ready-to-wear sportswear including shorts. Designers such as Bonnie Cashin and Claire McCardell used inexpensive synthetics or blended fabrics to make these designs with sporty themes. Separates were wildly popular with the younger generation especially college kids. Clothing companies would later partner with sports teams to make branded sportswear in team colors for marketing to fans at affordable prices.
Leisurewear became more popular with American women, who were more utilitarian and involved in sports than their European counterparts. College women and other young women made it common to wear shorts outdoors. College girls in female only hostels and dorms could wear shorts freely and compare trends, which made shorts a big hit with young women. The trend quickly caught on other women. By the end of the 40s, women's shorts were widely marketed as leisurewear and many women had one or two pairs.