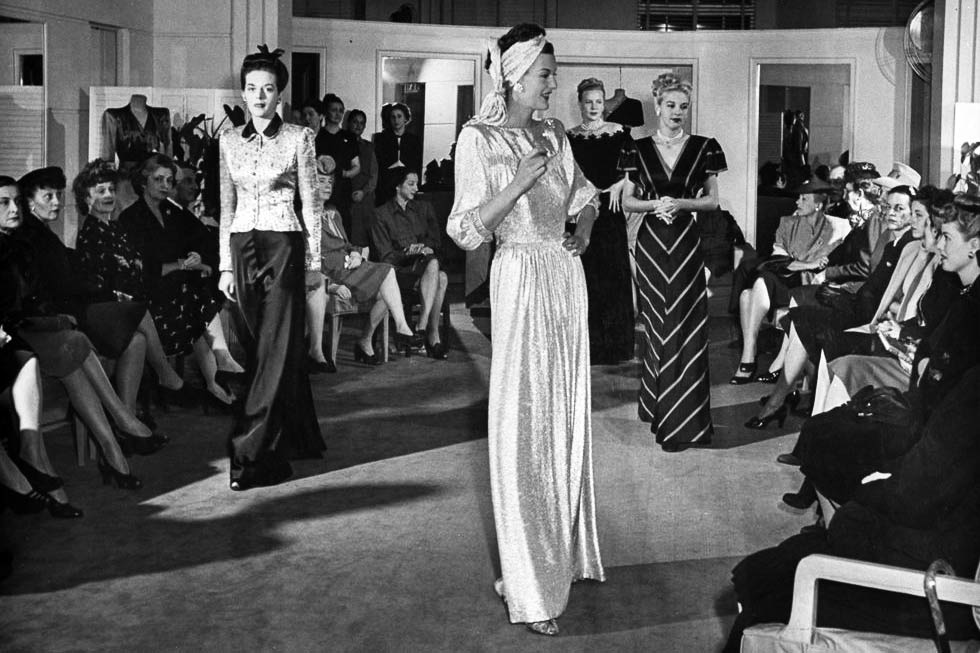 The early 40s were dominated by the Second World War and its deleterious effects on life including fashion. The early years of the decade saw fashion take a backseat as people's minds were on the war. The Paris fashion scene was quiet as designers fled to exile while the remaining designed on a very reduced scale. Their designs were largely unseen outside of France because of the war. The early 40s Women's fashion largely borrowed from the late 30s. The long sleek feminine silhouette of the 30s carried over to the early 40s, especially in party dresses. The fashion scene bounced back after the war with bolder designs like the strapless evening gown. The Paris fashion scene bounced back with the debut of Christian Dior's 'New Look.'
Rationing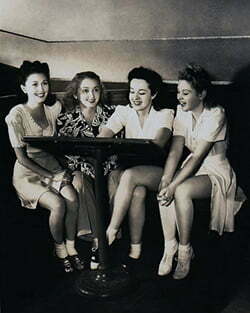 40s women's fashion in Europe and the US developed distinctly in the early years of the decade as levels of fabric rationing were different. Rationing was most severe in the UK in the early 40s. women were allocated the bare minimum in fabrics as strictly needed. There were no allocations for party dresses for women. The annual allocation was 66 coupons from which a woman could use 11 coupons for a dress, 7 for a skirt, 5 for a blouse, 4 for a pair of camiknickers, 2 for a bra, 5 for a pair of shoes, and 14 for an overcoat. It was not uncommon to see women in the UK wearing party dresses from the earlier decade to occasions such as weddings. Many brides borrowed their mothers' or grandmothers' wedding gowns.
Women in the UK wore the military-inspired utility dress. This dress was tailored to an economy of fabric. It was a short-sleeved simply tailored dress with round and small collars, thinly padded shoulders with a natural bust and waist. It reached to the knee level. This dress was worn for all occasions during the rationing years. It was worn to work, at home during off days, when visiting friends and for special occasions as well.
The Incorporated Society of London Fashion Designers or Inc.Soc took up the mandate to come up with more palatable designs for women. These designs were more colorful and attractive and could be worn like party dresses although parties were scarce.
The US fashion scene saw lower disruption in women's fashion because rationing was not as harsh as that in Europe. However, women's fashion was limited by some rationing aspects; skirt circumference could not exceed 84 inches, and hems were at a maximum of 2 inches. The rationing prescribed precise limits for fabric used in making garments including evening dresses whose maximum sweep was set at 144 inches.
Hollywood Designers
Hollywood designers continued having a big influence on American fashion in the late 30s to early 40s. Designers such as Gilbert Adrian, Claire McCardell, Hattie Carnegie, and Pauline Trigere developing a distinctly American look in their 40s style dresses. This was wide shoulders, slim hips, and rising hemlines. Glamorous Hollywood stars such as Carole Lombard, Marlene Dietrich, and Katherine Hepburn. These actresses kept fashion trends strong during the war years.
One interesting dress with oriental influences was the Cheongsam dress which has oriental influences. It was popularized by Asian movie stars like Li Li Hua and Yoshiko Yamaguchi. This dress was popular in the early 40s and was worn as a party dress by bold Non-Asian women.
Homegrown designs by Claire McCardell and Norman Norell were some of the most popular. Norell's restyled sheath dresses with colorful sequins were a hit in the early 40s as party dresses for women while McCardell's designs were innovative in their use of denim, wool, and seersucker fabrics to beat the fabric rationing. One of her most notable designs was the 'popover dress' which was a simple and chic garment made from denim. It quickly became a party dress for many women in the younger generation.