Marilyn Monroe is a big name not only in the film industry but in the fashion industry as well. She has served us looks that continue to influence the fashion industry even today. A blonde bombshell and a true 1950s women's fashion icon, Monroe has given rise to numerous fashion trends that are heavenly. Scroll down to know the extent of Marilyn Monroe's influence on the fashion industry:
1. The Day Wear Look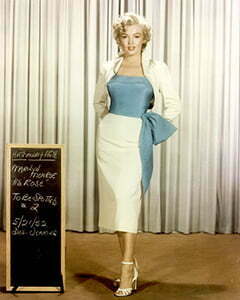 Marilyn's day wear look is not what one usually wears while running an errand, however, this look wooed hundreds of people and a major influence on the fashion industry can be attributed to this not-so-casual look. For this 1950s dress, you need a matching set of a complete dress that comes with a dramatic bow adorned at the waist and a matching bolero jacket. Wear your favorite white heels with this ideal look and you are all set to steal everyone's heart.
2. The Red Carpet Look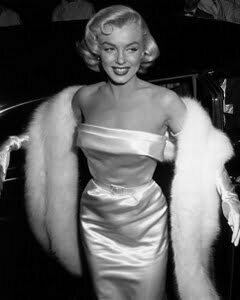 Marilyn Monroe's influence on the fashion industry can easily be seen in her red carpet look where she was captured wearing a sleeveless column gown along with a white fur shawl. Fur shawls were also Monroe's specialty and inspire people all the time. If you also want to look glamorous, get the look-alike of this 1950s dress and rest assured that you are going to live in every heart. With this dress, you can also wear your silk gloves to add perfection to your style.
3. The Chic Look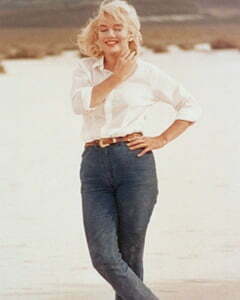 Marilyn's chic look wasn't too glittery but a simple one that incorporated a white collared shirt over blue jeans. This seemingly simple yet amazingly stylish look instantly became everyone's favorite. Today, if you are thinking of going for a simple but iconic look, you have to own a pair of blue jeans and a white shirt. With this look, you can wear your super comfortable booties and go out with style.
4. The One-Shoulder Look
The satin one-shoulder look that Marilyn once sported was as glamorous as anything. This majestic 1950s dress was considered to be the top example of the evening gowns and still holds its rank. This satin gown turns into an asymmetrical silhouette that is one-shouldered and continues to influence fashion even today. For this look, all you need to do is be as effortless as possible and put on this amazing dress to feel your best self.
5. The Iconic Look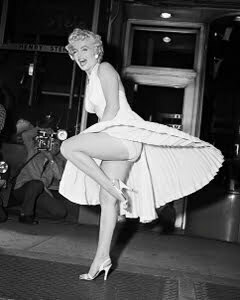 Whenever one thinks of Marilyn's influence on the 1950s women's fashion industry, the first thing that comes to mind is the white halter dress that she wore in Seven Year Itch. This dress has now become everyone's favorite whenever there is a Marilyn Monroe themed occasion. You can also achieve this effortless yet iconic look by opting for a white halter dress and pairing this dress with your favorite heels.
6. The Halter Look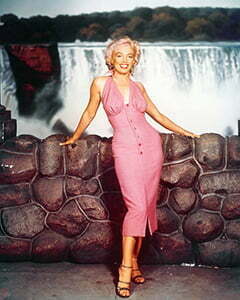 Marilyn not only carried the glamorous looks really well, but she was amazing with 1950s simple pink halter dress looks as well. This look was sported by Marilyn on the sets of Niagara and serves as a really well example of simple yet classic looks. The button detailing on this dress adds to the perfection of this dress and can make anyone stand out of the crowd in an instant. If you also want this look, all you have to do is look toward Monroe for your ultimate fashion inspo.
7. The Ruched Look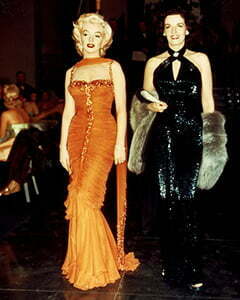 With Marilyn's ruched look, the 1950s women's fashion industry saw great inclination towards the ruched trend in fashion. Marilyn sported this look on the set of Gentlemen Prefer Blondes in beautiful ruched orange evening dress that mesmerized everyone. This look was accented with a matching floor-length shawl. For a classy and super stylish look, you can also wear this dress and leave a lasting impression on the minds of all those around you just like Marilyn has successfully done for so many years now.
8. The Off-Duty Look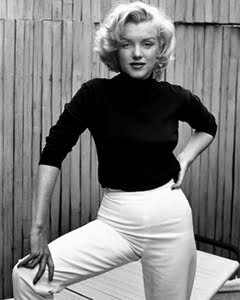 For a timeless look that needs no efforts, Marilyn made sure that she gave people something like that. This off-duty look is ideal for casual rounds around the city as well as for staying at home and chilling. If you also want this look, opt for white cigarette pants and simple black turtleneck. This look influenced many people in the past and continues to do so even today.
9. The Wiggle Look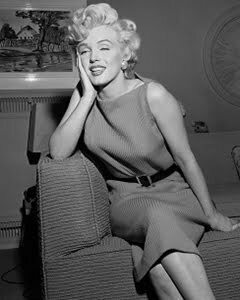 Marilyn's yet another influence on the 1950s women's fashion industry can be seen in her simple wiggle dresses. This one dress came with a crew neckline and a buckle belt that gave a flattering shape to her body. For an effortless and classic look, you can also wear this dress with your statement earrings and favorite footwear. Wear your hair the way Marilyn used to wear and put on that signature red lipstick for an ultimate iconic look.