The early 1940s were years of practicality as people made do with what little was available. The shoulder carried handbag emerged properly in the 1940s women'fashion as women had to carry more items in the bag. In the UK some bags were designed to include a gas mask! The shoulder carried handbag was more utilitarian and stayed out of the way as a woman handled different chores. The overall profile became larger and square.
This austerity and practicality extended to handbag materials. Homemade bags were made from leftover scraps of fabric. Many women also turned to carry knitted and crocheted bags. The drawstring was seen in many homemade bags as it was easy to install and easy to use for bigger bags. Wooden frames could also be seen in some bags. The more expensive evening bags were more ornate with jeweled frames, Bakelite or plastic handles, and richer fabric like satin or rayon.
1940s Envelope bags
This bag had a design inspired by the messenger bag. It had long handles and a deep purse with a width of about 12 inches. Some designs had a metal frame but most featured zippers because of metal rationing. It was designed for carrying over the shoulder for more practicality.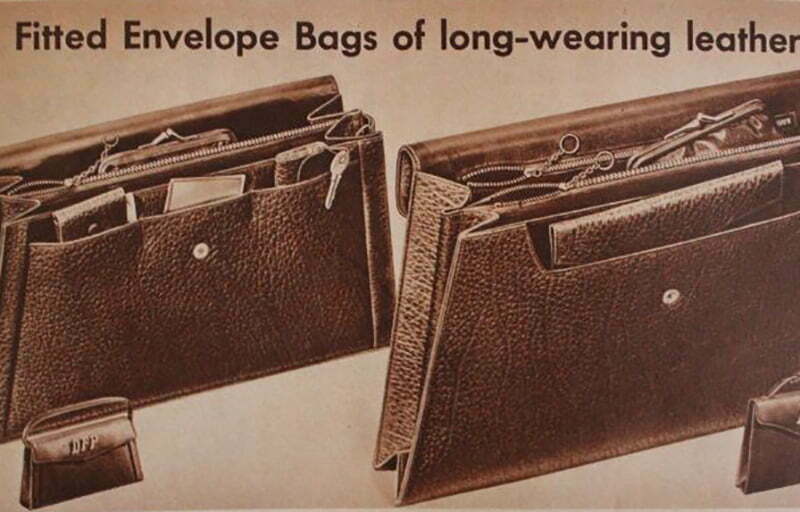 1940s Shell bag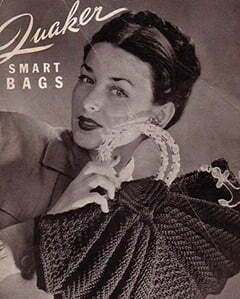 They were also known as scalloped bags. This bag was more pleasant to the eye than the envelope bag. The bottom was wide and round, gathering to a smaller top. It could have handles or not. Embellishing with ruching pleats added some detail to the eye.
1940s Wrist bag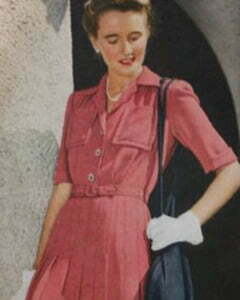 This was a brief fad in the 1940s style that did not last because it was a bit impractical. This was because though it was small, it hangs from the wrist in a single wide strap. This would not work for many women who had taken up more active roles. But this design inspired later bags that could be hung from the forearm, a design that is still popular today.
1940s Homemade bags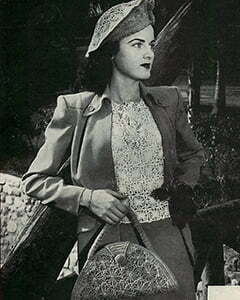 Many women took to making their own bags from leftover fabrics, yarn, and lining, simple handles, and fastening completed a functional bag. Many women knew how to knit and crochet, which gave rise to interesting designs as women experimented with different styles.
1940s Evening bag
The evening bag or purse design closely followed the envelope or shell styles but was smaller and made of more expensive material. Richer fabric like silky rayon, satin or rayon velvet made the purses. Some designs featured sparkling brocade and added some metal glint with a metallic clasp. These evening bags usually featured a short strap or none for the smallest purses. Some pouches had wrist straps to carry easier without having to change from hand to hand. More ornate evening bags came with Bakelite handles sometimes decorated with jewels.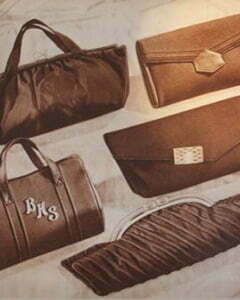 The late 40s saw experimentation with more designs as money and material became more available. Woven plastic designs, which mimicked knitted bags, became very popular. New profiles with circular or square looks were more common. The use of plastic materials also gave variety to color with bright reds, yellows, and greens gaining favor in the post-war era.