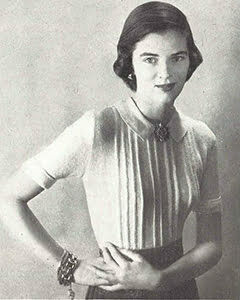 Casual wear for women was limited in the 40s. Skirts and blouse tops were the main garments for wearing at home or when out and about. Button-down tops with collars made from light cotton or chiffon were the most popular. Sweater tops were also worn during colder weather, as popularized by the 'sweater girl' look of a tight-fitting light sweater popular with young women. The peasant-style blouse was the most popular for wearing in hot summer weather. Tops were usually tucked into skirts, pants, or shorts.
Young women and girls also wore t-shirts with beach shorts or sailor pants for a trendy vacation look. They also wore crop (bolero) tops and knit tops. Post-war tops were in varied fabrics and also had very varied embellishments for wearing in different styles.
Wartime Tops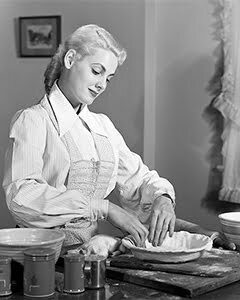 The early 40s fabric rationing disrupted fashion. Tops' design was restricted to only one pocket. Tops could be embellished with only one ruffle per sleeve and two bows. Pleats and ruffles could not be used together. However, puffs at the top of the sleeves were allowed, which made tops from this time wide in the shoulders.
Post-war blouse designs got feminine decorations back including embroidery, pleats, and gathers. Casual blouse tops were made in cotton for comfort doing chores. Tops for stepping out shopping or going to work were made from rayon.
Flag color tops in red, white and blue colors were popular with American women during the war years, to show their patriotism. Other popular colors included pastels, white, and cream. Western ranch style tops were usually in large plaids and earthy colors like tan and brown.
Collared tops were the most available in the 40s, with rounded or pointed collars. More feminine designs discarded the collar in favor of a trim neckline.
T-shirts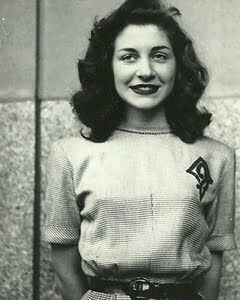 Young women looking for an alternative to the button-up tops went for t-shirts in warm weather. The ringer tee style t-shirt was the most popular with its short sleeves, knit neckline, and a wide ribbed waistband. It was usually tucked in a skirt or shorts.
Feminine polo shirts did not have the ribbed waistband. These could be worn untucked and most women preferred to wear them as sportswear with short skirts. White was the most popular color as well as wide stripes.
Knit tops were popularly known as sweaters. These did not have buttons and were commonly worn over a bra. They had round collars and sleeves with puffs. The sweater top fitted the upper silhouettes closely. The 'sweater girl' look wore a top one or two sizes small to make it fit tighter. This top could be worn with a stylish jacket or cardigan in cold weather. Favorite colors for sweater tops were red, yellow, and blue. Most were in plain colors.
Crop Tops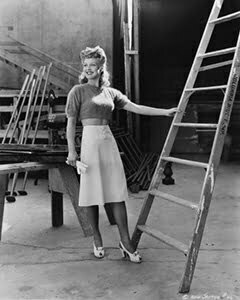 Crop tops were a big hit with teenage girls, college girls, and trendy pinup girls. Crop tops were also popularly known as bolero tops for their shortness. The crop top covered the midriff up to the lower rib cage, leaving about 2 inches of skin exposed. This was scandalous in this age when modesty was highly desirable but crop tops continued being popular. They were commonly seen on the beach, worn with shorts or pedal pushers.
There were also midriff stops which were restyled crop tops in the peasant style. These looked like peasant-style blouses that had the lower half cut off.
Peasant Tops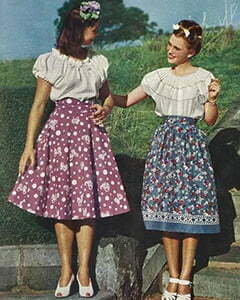 The peasant look had become very trendy in the early 40s women fashion in America. This was a loose-fitting cotton top with short sleeves gathered at the arms and puffed at the top. This design had strong ethnic Mexican influences because some clothing companies imported garments from Mexico. The neckline was square or scooped. Some designs were decorated with eyelets in the sleeves or neckline through which ribbons could be pulled and tied in decorative forms.
The peasant top was commonly worn with the equally popular peasant style skirt also known as the 'dirndl skirt.' This was a loose-fitting skirt with a wide and flowing hemline. It was brightly colored with floral patterns.
The late 40s had women wearing more leisurewear and more casual tops. T-shirts, polos, and blouse tops were worn in trendy casual outfits featuring jeans, shorts, and other trendy leisurewear.