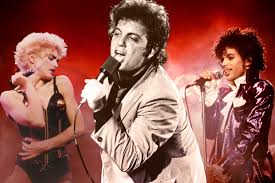 Everything in the 80s was all about the big and extravagant lifestyle, and love was not an exception. With the pop culture of the 80s, came some of the soul catching love songs that not only moved the decade but have remained some of the best love songs for years to come. These are songs that are still heard and played at wedding parties and will continue to make waves for decades to come. Love songs were found in every genre; from pop culture, to rock, soul and hip-hop.
80s Best Love Songs
Here are a list of love songs following the 80s fashion that will forever remain in our memory;
Diana Rossand Lionel Richie's endless love had to be the greatest love song of the 80s. What would you naturally expect from a song by the best of the 80s?
Marvin Gaye's Sexual healingwas his last memorable song, as he died 2 years later.
Madonna's Crazy for youwas memorable because it defied her popular personality at the time. No extravagance or no gimmicks, just her, her lyrics and her amazing vocals.
I would die 4 uby Prince was straight forward and pure love.
Cyndi Lauder's Time after timewas completely unlike her usual sounds. She made her use of her best vocals, with little restraint and amazing lyrics.
Tina Turna's what's love got to do with itwas her signature song. The song stemmed from the heart of a broken hearted woman as it came after her separation from Ike Turner.
Phil Collins' against all odds(take a look at me now) was a theme song for the movie against all odds and was an amazing reconciliation song.
Michael Jackson's the way you make me feelis one song from his album bad that has not been given enough accolades. He used his amazing video concept to win the hearts of many with this song about love.
A list of 80s love songs is nothing without the woman of love, Whitney Houston. Her song saving all my lovewas and still is an amazing sensation that has never been successfully reproduced.
Stevie wonder's I just called to say I love youwas a song of a simple gesture but a deep meaning.
I want to know what love isby Foreigner was a soul catching love song of the decade.
LL cool J set a hip-hop pace with his love song I need love. Hip-hop was hardly about love, but LL cool J found a way around rapping about it.
Lionel Richie intensely stalking a blind lady in his hit song Hellohas to be the true definition of 'love is blind'.
Michael Bolton's how am I suppose to live without youwas an iconic and unforgettable.
The Proclaimers' 500 mileswas an all time favorite of many, as it has been featured in movies of recent decades.