1970s Fashion History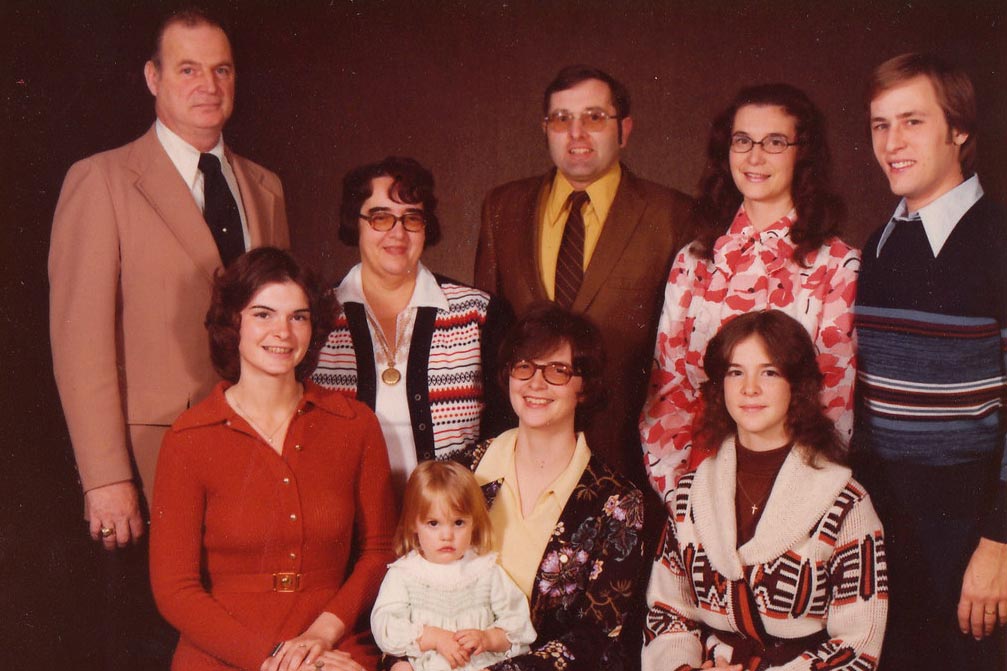 70s fashion was all about individuality. The hippy culture of the 60s and the belief in personal freedoms grew stronger, fashion designers experimented with more outrageous designs and synthetic fabrics, while some looked back to the 30s and 40s for inspiration. There was a rebellion culture against the war in Vietnam as well as global imperialism. The fashion scene drew heavy influences in heavy metal rock bands, the disco scene, and Hollywood. The feminist movement was getting stronger, with Margaret Thatcher being elected as the first woman Prime Minister in Europe at the end of that decade. Mass production of clothes gave more variety than ever, especially with higher use of synthetic fabrics, such that some designers were heard to nickname it as the decade of the polyester.
What did women wear in the 70s?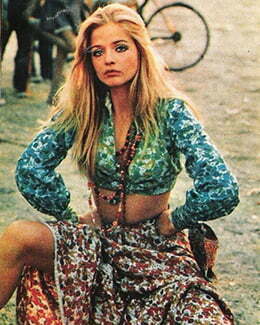 The hippie looks continued to be popular in the 70s women's fashion with ethnic flavors borrowing from the orient, Latin America and Africa. The Bohemian look was also a trendy sub-culture of the hippies. Some of the more popular attire pieces included ethnic blouses with Mexican or gypsy flavor, tie-dye, and batik fabrics, military jackets and shirts, ponchos, Kaftans, and even Indian saris. Bottoms included worn jeans, gauchos, ankle-length dresses, and pajama bottoms. Hippies were also big on handmade accessories including beaded necklaces, bracelets and earrings, made from earth-friendly materials like cowrie shells, wood, semi-precious stones, and leather. 'Jesus' sandals were very popular with hippies, while some preferred walking barefoot.
Interestingly, fashion designers adopted this hippy look and experimented with handcrafted leather, quilted fabrics, tie and dye fabrics, embroidered, crochet and knitted pieces. This trend also looked back to the past for inspiration with the mid-calf prairie dress making a comeback but with more floral patterns and brighter colors.
The glamorous look was also trendy in the 70s, for women who did not identify with the hippy look. this was largely influenced by the female celebrities of the time, especially Hollywood actresses. In the early 70s, this look featured flared pants, form-fitting blazers, hot pants worn with t-shirts, and midi and maxi dresses in soft colors such as white, pink, baby blue, peach, yellow, mauve, and gray. Sweaters were also popular, and they came in different varieties such as sweater dresses, sweater coats, and sometimes sweater suits. Faux furs were prominent on these sweaters. The glamorous look preferred more flashy accessories like gold chains, pearl necklaces, diamond earrings, and rhinestone clips. Footwear for this look included wedges, clogs, and platforms. The cloche hat also made a brief comeback.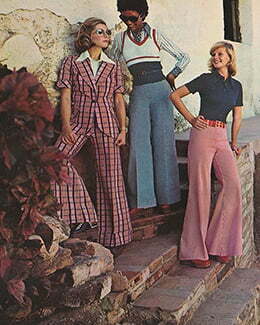 The casual look also grew popular as more women got into more physically active jobs as well as sports. Gauchos, khakis, and jeans became more popular, paired with t-shirts and sweaters. The t-shirt had made big strides and become more colorful, often with slogans, celebrities, and cheeky messages. The casual partisan peasant look featured flowing skirts, shirts with loose sleeves, and turbans. Platform shoes, loafers, sandals, and knee-high boots also went with this look.
The jumpsuit was very trendy in the 70s, with its flared bottoms and sleeveless top. Tracksuits, t-shirts, crop tops, and hip huggers were also popular for the active look. The swimsuit stayed as one piece but became tighter and tinier, showing off more skin, with deeper necklines and higher leg cuts. The disco look showed off more skin, more curves and attracted more attention. Sequined tops, spandex pants, thigh slits, and wrap dresses were a hit with party-goers.
The formal look continued trending as more women got into the workforce and business. Striped pantsuits, blazers, pencil skirts, suede coats, and backless dresses. The tailored suit was sometimes preferred by women in 'serious' professions such as lawyers. Yves Saint Laurent popularized the 'Le Smoking' power suit that came with silk lapels for the women smokers. The silk lapels were to keep falling ash from sticking. These power suits gradually took on a more masculine form as the equality feminist movement grew stronger and women shared more workspaces and job tasks with men.
Celebrities and socialites continued to influence the fashion world in a big way. Popular and glamorous ladies of the time included Bianca Jagger, Blondie singer Debbie Harry and actress Lauren Hutton. More TV and paparazzi coverage allowed their fans to follow their fashion pickings closely.
What did men wear in the 70s?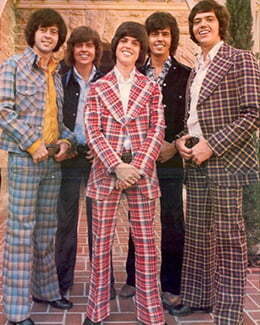 Longer hair, brighter colors and bolder prints were the hallmarks of the 70s men's fashion. The peacock revolution trended well into the 70s with its dandy look. This featured satin shirts with ruffles and laces on the cuffs, turtle necks, collarless (Nehru) jackets, striped blazers and elephant bell-bottoms. Unconventional colors and fabrics were used for suits including corduroy, crushed velvet, and wool blends.
The casual look for men was highly popular as the hippy look wore off, but the need to keep it simple and freer remained. This featured bell-bottom jeans, printed t-shirts, military jackets, and ethnic tie-dye shirts. other casual attire included chinos, corduroy pants, hip huggers, tracksuits, flannel shirts, and a variety of sweaters.
The glamorous or glam look was also big, especially in the UK. This featured tuxedo jackets Nehru jackets, leather jackets, satin shirts, kipper ties, scarfs and velvet coats worn with drainpipe straight jeans or khakis. Men's platform shoes were also trendy as popularized by icons such as David Bowie. Oriental and African influences were seen in the Mao, Nehru, and Safari jackets that became popular in Europe.
What did young people wear in the 70s?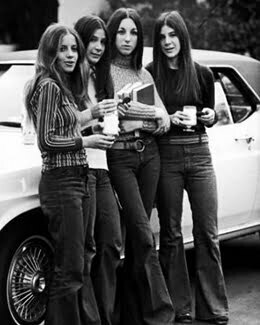 Fashion for young adults and teens came of age in the 70s. The teddy boy look made a comeback in Europe and the UK with brighter colors. The heavy metal scene gave rise to the greaser/biker look with faded blue jeans, ripped t-shirts, combat boots, berets, and leather studded belts. The hippy look caught among teenagers; surplus military wear was embellished with peace patches and flowers, hemp waistcoats, Baja jackets, and Bob Dylan caps became popular. The black power movement in the US was identified with their afros, black jackets, black gloves, and African ethnic jewelry.
The eclectic mix of the 1970s styles has made the decade one of the most outstanding of all time. No...
Read More
Emerging from leisure and conformity of the 1950s, the 10-year decade of the 70s witnessed an astonishing transformation in music...
Read More