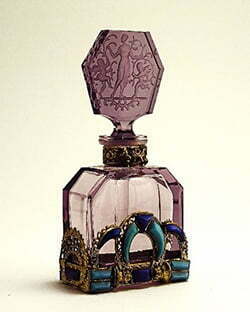 Despite the hardships of the 1930s, the fashion scene remained vibrant spurred on by vibrant designs from Paris, and projected to eager audiences by Hollywood. Many fashion designers and fashion houses were perfume makers as well. Many ordinary women could not afford expensive evening gowns from these designers but they could still save up to buy a bottle of perfume. Not surprisingly, French perfumes remained the most popular on both sides of the Atlantic.
Elsa Schiaparelli's designs excited the world of fashion with her surreal creations like 1930s insect necklaces and lobster 1930s dresses. She also pioneered the use of 'Shocking Pink', which was a color that demanded the attention of whoever laid eyes on it. Her bold creations extended to perfumes. In 1937, she released 'Shocking' which was part of her 'Circus' release in that year. The perfume was a collaboration of Schiaparelli and perfumer Jean Carles. The package featured imagery from Salvador Dali and Marcel Vertes, two of her surrealist friends, and the art deco movement.
The perfume had a jasmine base, and scents of roses, civet, sandalwood, ylang-ylang, bergamot, hyacinth, jasmine, honey, lily of the valley, rose, amber, patchouli, vetiver, oakmoss, peach, and incense. There are touches of leather and peaches as well. Some have said that the scent is raunchy with its honeyed and animal scents that have big hints of civet. On how she came up with the name Shocking, Schiaparelli writes in her autobiography that the color flashed in front of her eyes in a bright, impossible, and impudent form, something life-giving like all the birds and fish of the world combined. A color of China and Peru, but not of the west. It was shocking, pure, and undiluted.
Shocking was reformulated by Martin Gras in 1979. He strengthened lily of the valley scent and added hyacinth. He also toned down the animal scent in the dry down. Another reformulation was done in 1997 which made strengthened the notes of jasmine, honey, and peaches. The perfume has retained the femme fatale that made the original so popular.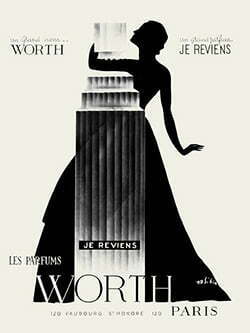 Jean Patou was known for his elaborate gown designs worn by Hollywood celebrities, but he created a perfume that was affordable to ordinary women. His 'So-Romantic' perfume was rich jasmine and rose fragrance that gave off the scent for the whole day with a few drops on the neck or wrists.
1932 saw a perfume launch by another French designer, Worth, who was also based in Paris. His label was 'Je revien' (I will be back) which was aimed at lifting the financially battered spirits of the wearers.
Spanish designer Dana's Tabu scent was widely received because it was highly sensual with bold scents of vanilla, patchouli, and carnation. There was a strong animal scent that smoldered from the wearer, which made it widely popular with the younger crowd. Dana also released another scent labeled Twenty Carats in 1933.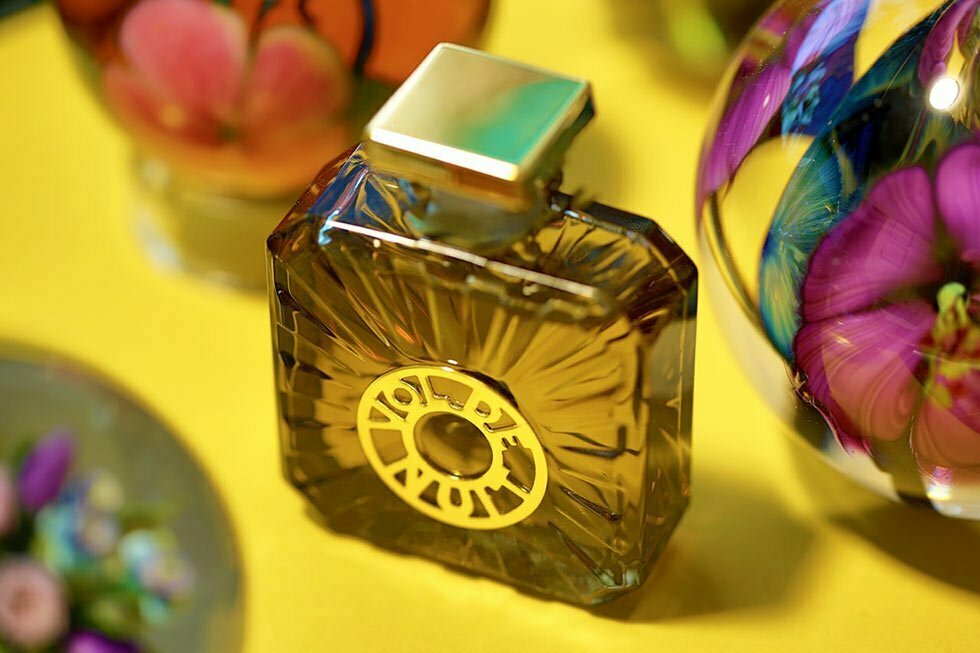 Another notable release of the 1930s was vol de Nuit (Night Flight) by the Jacques Guerlain. This was a dedication to French pilots of the Aeropostale which was a pioneer intercontinental mail service by French pilots. The chief pilot was Antoine de St. Exupéry, who wrote the book Night Flight after World War 1, and gave Guerlain the inspiration and name for this perfume. The package featured the insignia of the French Air Force.
This perfume had a citrus base with elements of cinnamon and musk. The original perfume also had notes of lemon, orange, orange blossom, mandarin, sandalwood, vanilla, jonquil, galbanum, orris, and aldehydes. Vol de Nuit had hints of wood and leather, giving it a somewhat masculine feel. It also evoked scents of beeswax and balsam, which combined with its citrus base to give it a distinctive baroque feel.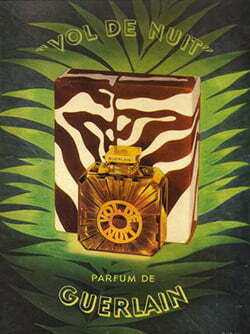 This perfume brand is still around but as an eau de toilette, that is thinner than the original but which retains the structure of the original perfume. It is lighter on the nose than the more concentrated original perfume.
French designers continued to dominate the perfume market. This was briefly disrupted by the second war two, which saw many French designers flee to the US and the UK. However, the connection between garment fashion and perfume continues to this day.