In a big city like San Diego, it is not a surprise to find some amazing thrift stores that have a huge collection of second-hand and vintage clothes, used furniture and other collectibles that you would love to possess. Even if you found only a $20 in your bag, you don't have to worry since San Diego offers a lot of thrift stores that would prove to be your lifesavers. These stores should be in your must-visit list whether you're a local or a visitor looking forward to an amazing shopping spree with great thrifting opportunities in San Diego.
You can find a range of amazing vintage products from these thrift stores, whether you're a fan of branded clothing or you want to get an exotic piece of fabric, we guarantee you will definitely score some unusual finds at these vintage stores. We have brought a list of best vintage clothing stores for you to make shopping in San Diego a thrilling experience for you:
Vintage Clothing Store#1: "Frock You!"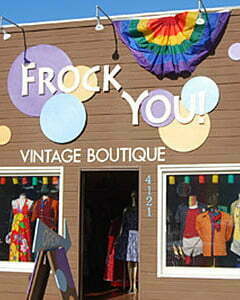 Considered as one of the finest vintage stores in San Diego, it is the right spot for you if you want to score some amazing clothes and accessories that will make you swoon. They have a terrific variety of vintage stuff especially from the 1960s and 1970s, but they also have a huge collection of vintage items from other decades too, which are arranged in the shop with respect to decades, neatly in shelves for an easier selection.
You will find great vintage items in mint condition and mouthwatering deals on retro dressing, purses, fun baubles as well as other matching accessories to complement your look. They also have an outdoor discounted rack with bargains, so we recommend you not to miss the deals there, as we are sure you will definitely score a vintage gem from there.
Also, just check out their social media page to know when they are going to have the sale so that you can visit at the right time to find great deals under $20.
Vintage Clothing Store#2: "Bad Madge & Company"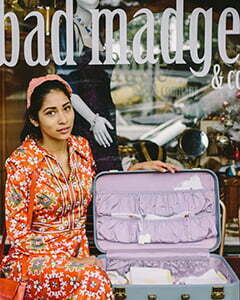 Bad Madge & Company is the hot spot for people who love to get a massive collection of exotic vintage finds because this store is owned by someone who has a strong background in fashion. So, the store is a place full of a carefully curated collection of vintage clothing, hats, home décor items, shoes, and other collectibles.
This store is also a source of inspiration as it is a piece of art itself, and you will surely find some outstanding quirky gifts and highly curated inventory from there.
Vintage Clothing Store#3: "San Diego Vintage Flea Market"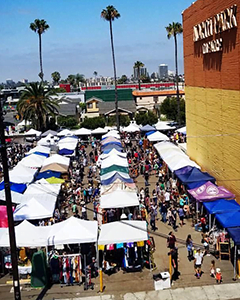 On the first Sunday every two months, the parking lot in Hipster Haven, North Park is transformed into a very large and coolest vintage flea market in San Diego. You can find absolutely anything you desire, whether it be bell-bottoms of the 60s era, graphic tees of hippies' era, an antique tea set, a pair of amazing love seats, or even a music player of early 20th century.
Always carry cash as most of the vendors don't accept cards. Mostly you have to do the digging yourself as peak hours result in ignore calls to the vendor when the rush is on the peak.
In addition, always remember to park in a garage across the street to save you from parking hassles, so you don't get stuck in traffic jams later.
Vintage Clothing Store#4: "Ms. Vintage Clothing Boutique"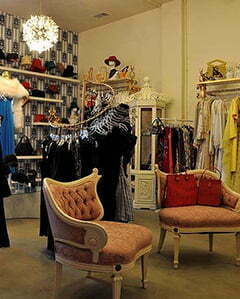 Ms. Vintage is the perfect spot for someone who loves to play with dresses for several decades. You will find some great deals of high-end pieces at affordable prices.
The shop offers a decent collection for every vintage lover, whether you are looking for a 70's Diane Keaton's style dress or seeking to get some stuff inspired by Jackie O. fashion statement.
Vintage Clothing Store#5: "Home"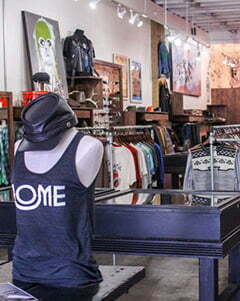 Home Clothing Store is one of the few stores on University Boulevard that has new clothing stuff for sale. It offers clothing for both men and women and is a house to cool brands of today, but it also features a wide variety of vintage clothes for those having a taste for retro clothing. They also offer their own re-worked apparel.
Vintage Clothing Store#6: "Luigi Vera"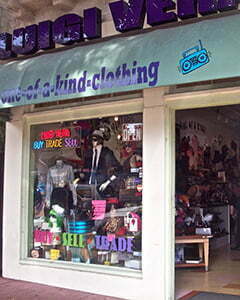 It is a small designer boutique in Hillcrest which offers a number of items for men and women, ranging from apparel and shoes to bags and wacky costume accessories.  You can find some extraordinary Italian brands in the men's section; including Prada, Gucci, Armani, etc., as well as a cute collection of premium denim for both men and women.
Vintage Clothing Store#7: "The Girl Can't Help It"
Located in North Park neighborhood, it features a huge variety of vintage clothing and accessories options for both men and women, consisting of pristine collection including designer frocks, bathing suits, etc.
You can also find some pretty hand-painted Mexican circle skirts from the 50s in the stock. Shopping here will make you feel like you're exploring a museum related to fashion history.
Vintage Clothing Store#8: "Flashbacks"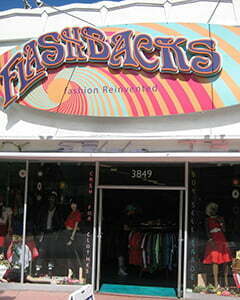 In Flashbacks vintage store, you cannot find only some amazing vintage designer collections and contemporary new dresses, but also a wide variety of crazy costumes and exotic groovy attire. It has emerged as a fierce competition for Buffalo Exchange located in the same neighborhood, which is one of the largest network chain consignment stores; Flashbacks is giving it a tough time which makes it something superior to it seems!
Conclusion:
Everyone loves a bargain, it's an undeniable fact! When it comes to shopping, we all love the thrill of scoring some amazing deals on all kinds of vintage treasures that we want to fill our house with, be it revamping our wardrobe or finding a good piece of furniture, even toys for our kids and video games. We are sure you will love the recommended list of vintage thrift stores in this article and will find some amazing deals at low prices.