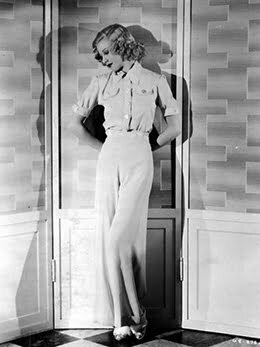 The 1930s saw more feminine designs, dropping 1920s 'flapper' look for more figure-hugging designs that emphasized the natural waist and hips. However, the conservatism of the period kept the designs modest with minimal skin showing. Women blouses came with high collars, puff sleeves, decorative buttons, floral patterns, and pastel hues. The collars were at times made from contrasting colors. At the beginning of the decade, blouses featured bows on the neck, full arms, wide wristbands, and ruffles on the front. The art deco movement of the 30s gave ornate decorations with designs worn by glamorous celebrities. The blouse was designed to fit snugly and was worn with a matching belt to accent the waist.
Pairing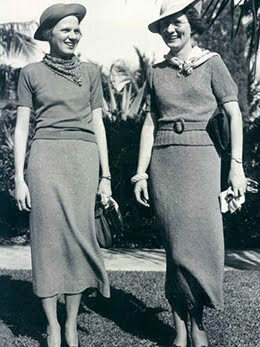 Blouses and sweaters were paired with skirts mostly, and occasionally with pants. Many women preferred the button-down blouse made from cotton fabric for its practicality and comfort. Puffed short sleeves became popular starting the mid-30s as women became more comfortable showing more skin. Necklines for blouses were shallow to maintain modesty, but lower necklines were worn with a neck scarf, which would be tucked into the blouse to keep things proper. The feminine designs were decorated with pintucks and colorful buttons to give a delicate and girly look. Women wore short and snug to allow for high waisted skirts and pants.
For daily wear around the house, women preferred simple button-down shirts in various colors and prints. This top was versatile as it could be paired with skirt separates, suits, or beach pajamas. White and pastel hues were popular as were stripes, paisley, polka dots, and plaid.  A popular look was to have a print blouse and a jacket with a lining material in matching color, worn with a matching skirt as well. These ensembles later included handbags, hats, and shoes of matching colors.
Wrap over blouses with fitted waistbands, bishop sleeves, or dolman sleeves were worn for fancier occasions like going to the nightclub. They came with exaggerated flounces, bows, ruffles, and dickies to add volume to the top and give accent to the waist. The shoulders and bust were accented by using shirrings. These blouses were made of pricier fabric; satin, silk or organdy. A matching belt completed the look.
Knit tops were worn for casual events like tea parties. These knit tops had collars and ties just like later polo shirts and fit snugly around the waist. Earlier designs featured button up plaquettes and later zippers. The knit top was worn untucked. The nautical look was big and was pulled off by pairing the knit top with wide-legged pants. Many women knew how to sew and knit and it was common to see women wearing their designs, taken from fashion magazines and knitted at home.
Sweaters and cardigans were also commonly worn especially in colder weather. They fit snugly with either long or short sleeves, and high necklines. They were decorated with ribbon flowers, tassel ties, and colorful buttons. The sweater was worn over a camisole or blouse for everyday chores like going to the market during winter.
Hollywood Fashion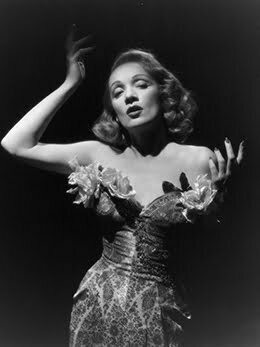 New fabrics like rayon and nylon were increasingly being used in the mass production of garments. More expensive pieces were made from liquid satins and silks. The Paris fashion scene still had a big following among women in the US and Europe, but Hollywood stars also became big influencers in fashion trends with glamorous stars such as Greta Garbo and Madeleine Dietrich being closely followed for fashion fads. Mass production of clothes made fashion trends spread faster and become more affordable even as 1930s women's fashion budgets were limited by the depression. Budget tops were made from cheaper nylon and rayon fabrics, but the designs were the chic trends promoted in fashion magazines and the cinema, enabling common women to remain fashionable in financial difficulties.
The 1930s also saw more innovations like the zipper and the bias cut promoted by Paris fashion designer Madeleine Vionnet. The Paris fashion scene competed with Hollywood designers, which kept things very interesting fashion-wise and saw eye-catching designs on celebrities and royalty on both sides of the Atlantic. At the same time, designers and clothes companies were forced to bring down prices because of the financial difficulties of the time, which saw the democratization of fashion among women of different social classes.