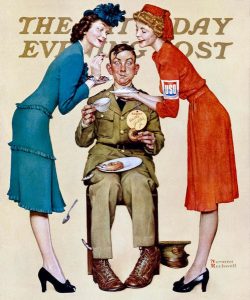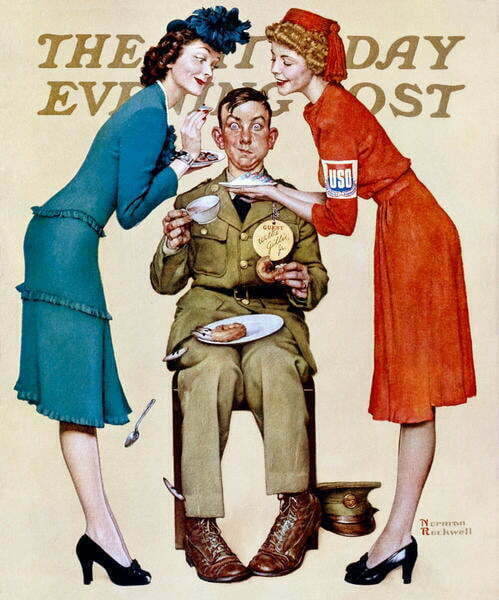 Fashion in the early 40s was muted as people focused on the war and a lot of rationing hampered creativity in fashion design. The pallets were neutral or tended to the dark hues. Interestingly, governments stepped up to add color and uplift citizens' morale. In the UK, the government worked with fashion designers to add a dash of color to the otherwise drab utilitarian clothing which was dominantly mono-colored. In the US, imaginary colorful war campaign characters like Willie Gillies appeared in bright primary colors to add a sparkle to the military toned olive, tan and brown hues.  Fashion designers worked with patterns and prints to compensate for the lack of variety in colors.
Colors returned to 40s fashion properly after the war, when fabrics were once again in abundance as well as the materials for making fabric dyes. Fashion designers like Dior experimented with new ways to work with color with women's fashion seeing a greater variety in pinks, pastels, blues, greens, yellow and orange hues.
Military colors-early 40s Trends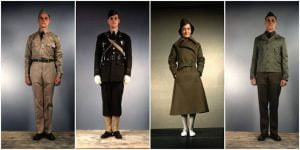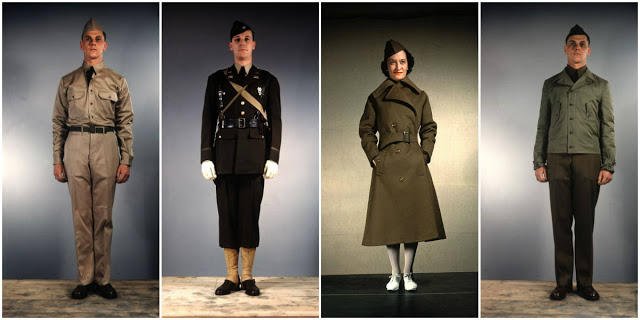 In the early 40s, almost every adult in Europe and America wore a military uniform at one point or another. Men between the ages of 18-51 years were drafted while women also volunteered to offer support services for the war. Military uniform for men was in olive, green, blue, and tan depending on their service units. The US women WAVES wore all white dresses with blue trim on the collars and skirt hems. British and Australian women pilots wore navy blue skirt suits with sky blue blouses. Their colleagues in the WACs wore olive skirt suits.
1940s Wartime civilian colors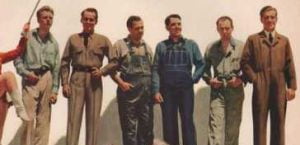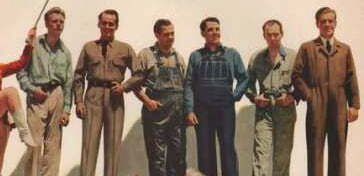 In the UK, the government introduced utility clothing which economized on everything; fabric, buttons, yarn, and dye. These outfits were muted in color with the main colors being sky blue, grey, green, black, and brown. In the US, fabric dyes were not rationed. Patriotic colored items in red, blue, and white were popular in a show of support.
Plaid Prints in 1940s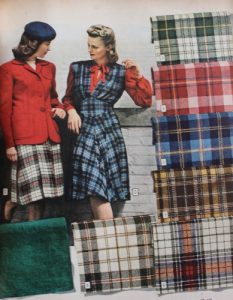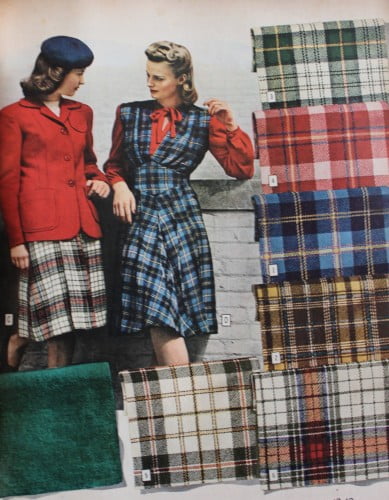 Plaid was popular in colder weather. Plaid was especially popular in casual wear for younger women. Plaid jumpers matched well with pinafore dresses that were popular at the time. Dark-colored plaids were preferred in the fall and pastel plaids for the springs.
Floral prints in 1940s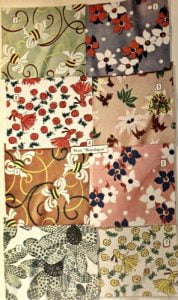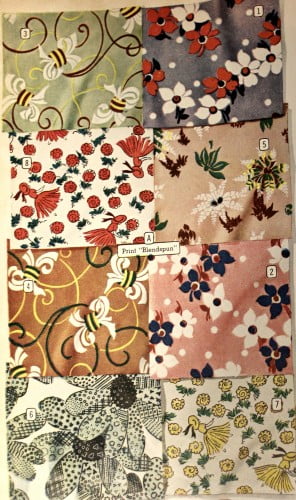 Small flower prints were very popular in vibrant colors and artistic rendering was on many 40s warm weather garments. The artistic rendering was done by splashing color for more imaginative than realistic flower prints. Late 40s floral prints gradually got larger.
40s Polka Dots


Polka dots had emerged in the 20s and remained popular even in the 40s. However, the size of the dots in the 40s was smaller for dark-colored clothing.  Summer clothing occasionally had large white dots over bright colors.
40s Checks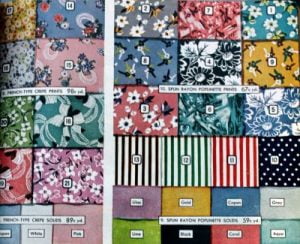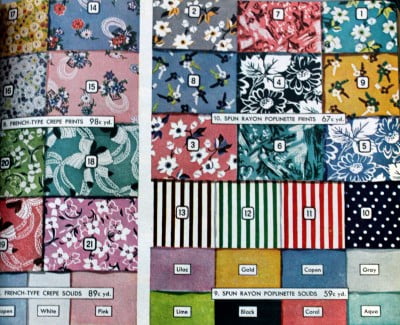 White and brown checks were seen on women's jackets and skirt suits. Equally popular were white and black checks. Gingham fabrics with very small checks were popular in the 40s. These were usually black on white.
40s Narrow Stripes
Stripes on white backgrounds were seen on many fabrics. Narrow stripes were preferred but not in very thin from. Summer wear saw stripes in bright colors like red, pink, green, and blue. Designs in the late 40s combined stripes with floral prints to make more interesting natural patterns.
40s Fashion -Abstract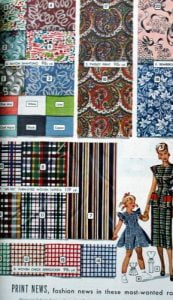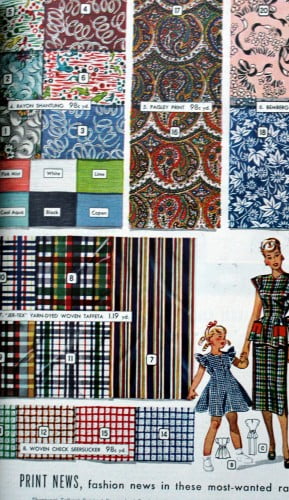 The art deco movement of the 30s influence could be seen in the abstract shapes of some 40s fashion items. These abstract prints had multicolored stripes, squiggly lines, and paisley patterns. Some patterns attempted to mimic nature in a distorted way. These patterns were popular at the tail end of the decade.