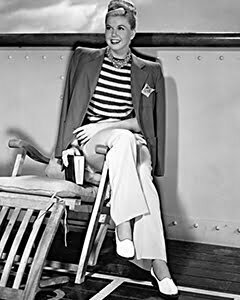 In true 40s fashion, Doris Day held her shoulders high, and together with other fashion icons of the time like Ava Gardner, helped shaped the 1940s Hollywood fashion world. The early 1940s was a time of gloom as the second world war was in action but even with everything going on, the fashion world must still go on.
Doris Day started becoming an iconic image in the later 40s as she stunned the world with her incredible and sonorous voice with her first hit in 1945 titled 'Sentimental Journey'. This American singer also entered the Hollywood glitz and glam later in the decade to act in musicals with "Romance on the High Seas" being her debut movie. These movies turned out to be blockbusters as the '40s couldn't get enough of Doris Day's beauty and voice.
Fashion designers in the 1940s Hollywood fashion were happy to style her on-screen because Doris knew how to make any dress look perfect with elegance on her body. The interesting and fascinating tidbit about Doris Day was her modesty and the beautiful way she kept dressing modestly and still looked sexy.
Her blonde hair was also a favorite of her ardent fans. Doris's hair was shiny blonde and was mostly worn styled in coils. Her hairdo was looked out for by the 40s women because back then, ladies looked up to Hollywood stars for style inspirations. The 40s fashion world was really influenced by Hollywood icons. For designers showcase their designs on them since they know that any style worn by the stars was the best.
Doris Day held her own in the 1940s fashion world with the rise of new stars popping out in the industry. Doris, who was known for her captivating cheerful behavior and her alluring personality, rocked beautiful styles from tomboyish style to princess style.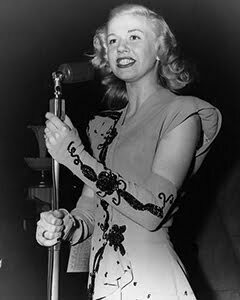 Doris Day once said, "I like joy; I want to be joyous; I want to have fun on the set; I want to wear beautiful clothes and look pretty. I want to smile, and I want to make people laugh. And that's all I want. I like it. I like being happy. I want to make others happy."
Since Day showed up in the later years of the 40s, more of her terrific fashion styles were in the later decades but still, she really carved a name for herself in the 1940s Hollywood fashion world. Some ladies in the 40s were happy to see someone like Day whose modesty in her fashion sense still revealed her elegance and sexiness.
Doris Day, who died recently, at the age of 97, is still much showered with adoration and respect for her huge impact in Hollywood and singing. She was tagged as the American dream girl because of her love of life and modesty. She loved animals and created her own animal foundation. You might not know it but  "Que Sera Sera" was still one of her best songs to date so, when you sing the tune in your head or anywhere, remember the iconic diva whose modest fashion was respected from the 40s fashion down to the 21st-century fashion world.