The 50s were a decade of recovery and prosperity. Men had a bit of money in their pockets and women were eager to show off their family's success by looking good and glamorous. Both men and women were not afraid of trying out newer and bolder fashion trends such as Dior's New Look. The men looked suave in formal suits and fedoras, women were in glamorous full skirts, and teenagers looked hip in their rockabilly outfits inspired by the emerging rock and roll culture.
The boxy utilitarian designs of the 40s had given way to softer and more rounded silhouettes. Dior's New Look of the late 40s had a big influence on the styles of the 50s. Bosoms were full, waists narrow and skirts full. Garments were designed with full more fabric and more elaborately embellished with bows, and ribbon trim. The late 50s saw the emergence of straighter profiles including the elegant pencil skirt.
The DIY spirit of the 40s when women sewed a lot of the family's garments at home, continued in the 50s. More women could afford electric sewing machines, and also had more time to work on their designs. There was more variety of fabric including synthetics. Sewing patterns could also be obtained from fashion magazines such as Vogue Patterns Magazine. The leeway to experiment with fashion led to an exciting fashion for all people; men, women, and children.
50s Dress Sewing Patterns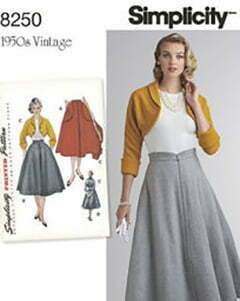 Exciting 50s dress designs like circle skirts, swing skirts, and sheath or pencil skirts are fashionable to date. Most women were homemakers, so the experimentation in the design of the house dress gave a variety of elegant, classy but practical dresses. The house dress was more feminine in brighter colors and patterns. Day dress sewing patterns included pretty plaid patterns done on durable cotton fabric. Checks, florals, and stripe patterns were also favored. These dresses were mostly worn with button-down shirts with short sleeves. Sewing patterns for aprons complemented day dresses to give an overall classy look for the lady of the house.
50s New look patterns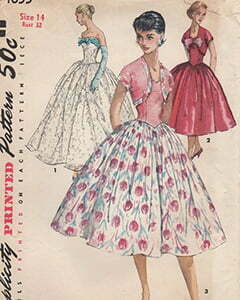 The New Look's romantic hourglass figure was popular through the 50s. The bosom was accented and pushed up with padded bras. The bullet bra had emerged in the 50s for sexier bosom profiles. The hourglass figure used crinolines, petticoats, pleats, and gathers to curve and flare out the hips. This made circle skirts trickier to sew. The petticoats and crinolines were hard to tailor if you did not have dressmaking skills.
Sheath dresses and pencil skirts were simpler, and versatile for formal events. These dresses were slimmer and simple. They were preferred as formal wear for office workers.
Evening dress sewing patterns were more elaborate and embellished than before. The princess gown made a comeback. Unlike the past decade when designers had less fabric to work with, they could use as much as 15 yards of fabric on a single dress. Evening dresses were decorated with rhinestones, sequins, and appliques. Preferred fabrics for evening dresses included silk and silk rayon, embellished with lace trim and tulle.
Whether you are designing for a vintage themed party or a vintage boutique, it is hard to overlook the 50s.