If you want to have a one-of-a-kind wedding, consider a rustic wedding theme. Rustic style refers to anything a little rough around the edges, a little more organic, and a little more boho.
For a wedding Consider forest weddings with leaves and branches as décor. Or farm weddings with organic produce woven throughout the floral arrangements. Boho and rustic weddings are quite natural-themed.
Rustic weddings are very simple and use everyday materials. It capitalizes on the beauty and neutrality of everyday items. They are personalized in every way and leave a warm impression on guests.
Rustic weddings are always a dreamy sight; hence it is important to know the chic trends for 2023.
What makes a wedding rustic?
A rustic wedding theme requires a color palette that is as natural as possible, with plenty of organic shapes and textures. Consider wood, lace, and hessian, as well as country flowers, grasses, and foliage. Rustic-inspired weddings are stunning and can be extremely romantic. They are ideal for barn weddings.
If you are looking for beautiful rustic ideas for a wedding, there are many things to consider.
Wedding venue-focused decorations-this is especially lovely because it is influenced by what would blend well with the wedding venue's environment, right down to the type of flower used. Depending on your budget, consider a local park, a national park, a barn, a lakeside, an open meadow, a vineyard, a ranch, or a mountain cabin. They all have a natural vibe to them, making them ideal for neutral themes and fun activities.
Colors– Unlike other wedding styles, which may include a variety of colors, rustic weddings focus on a simple neutral tone. This allows the couple and wedding guests to be the room's sole source of warm and bright colors. Colors such as dark green, white, burgundy, gold, and cobalt blue, among others, are beautiful yet cool and will blend with the theme.
Fun and Entertainment– Rustic weddings are always a lot of fun. There is usually an unusual activity planned in which everyone participates to have the most fun. Having fun is not a minor factor; it is a top priority.
Are rustic weddings still popular?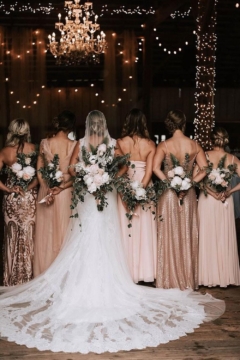 Recently, wedding trends have welcomed vintage wedding themes and a great deal of customization. This means that there has been an increase in the desire for unconventional weddings over the last four years.
Rustic weddings, which have a vintage feel and exude unconventionality, are one of the few trending weddings that have seen a significant increase in recent years.
Many influencers and celebrities have had rustic weddings, which has raised awareness of this unique wedding style. Rustic weddings are still popular and will be for the foreseeable future.
What does a rustic wedding look like?
A rustic wedding theme looks as natural as possible. As everything follows a cool theme, there is minimal use of decoration pieces that stand out. The use of neural colors creates an air of sophistication.
Now you know cool rustic wedding theme ideas, we can only anticipate its 2023 trend.