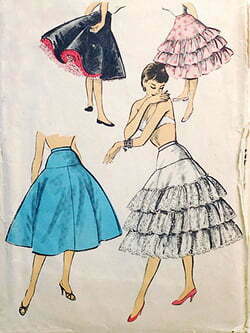 The 1950s was the era of true fashion, and it was the time when people went out to shop and got "ready to wear" dresses. It was the time when fashion took a life of its own. It was the time when mid-calf length frock and pencil skirts were in. These were usually paired with accessories as well as short gloves. For formal events, long length dresses were used.
One of the most prominent parts of the 50's dress was the petticoat that was worn underneath. No dress was complete without it. Take off the upper half of the dress you and you are left with the puffed-up bottom. These petty coats were layered with a starched net to make it gather volume. The best part is that these were easily worn under a pleated or gathered skirt. The main reason people preferred these petticoats were as they added fullness to their dress. Most of the time, these petticoats and the skirts over them were accompanied by a wide belt that gave it even more personality.
The 1950s women's fashion was full of the paper-doll look, and this wasn't possible without the layered petticoat. It was impossible to create that look with felt, cotton, or lace slips. To get the Victorian volume for the polka dot dress that was created with at least 5 yards of cloth, 5 net rings or can-cans were needed underneath the petticoat. These 5 layers of net meant 100 yards of cloth, you may think that's too much, but it was the fashion back then.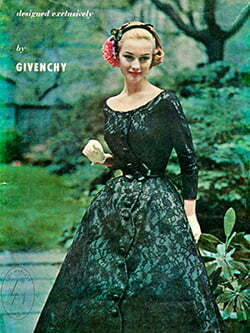 People prefer these net petticoats to go with their 50's dresses as they are easy to carry, easy to wear and pretty easy to create. In the '50s, not only the fashion was talked about there were numerous tips to keep the skirts and net layers stiff and tough.
Pressing the damp net petticoat was the most common and easy way of keeping it stiff. You can also use ironing wax to give it the perfect stiffness. These petticoats were the most famous bit of the 1950s and even in 2019 when people want to revive the theme of 50's thick and voluminous can-can layers are the first thing people think about.
All in all, to create the perfect look for the 50's it's important that you don't ignore the layering of the petticoat underneath your skirt of the dress. It's the only thing that will give your frock the perfect twirl.