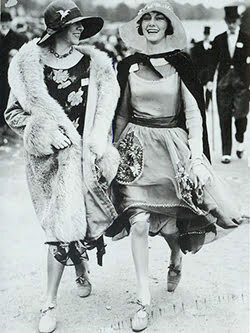 The famous novel 'Great Gatsby' by Scott Fitzgerald that was later adapted into the blockbuster movie had taken over the fashion world like a storm. The Great Gatsby fashion and style is one of the most inspirational and popular classic styles that have deep influences on fashion trends until the present time. The costumes and wardrobe styles by the characters of the movie are a true representation of the roaring 20s fashion trends. The modern women of the 1920s believed in women empowerment and there were many women who believed in wearing figure-flattering bold outfits, charming accessories and rock-like true party girls. Their charming fashion and styles are so inspirational that even today people look for dressing up like flapper girl of Great Gatsby. The mesmerizing fringed flapper dresses and sparkling accessories can bring someone in limelight effortlessly. Here we share all the tips and tricks you need to adopt and reinvent the fabulous outfit style of Great Gatsby.
Great Gatsby Prom Dresses
After the release of the movie Great Gatsby, we could view a vast range of romantic dresses ideas that could be worn as prom dresses or cocktail party dresses and many more. With prom season just around the corner, we can see roaring 1920s as the most popular theme of prom dresses. The modern dresses that are inspired by 1920s Great Gatsby fashion are much more exciting, romantic and glamorous as they are a combination of the original vintage trends and modern glamorous style. Here is some of stunning dress style that you must opt for as they are embellished with sequins and rhinestones to make your sparkle out of the crowd. These dresses perfectly fit into Great Gatsby themed parties.
Great Gatsby Lace Formal Dresses
Lace, chiffon, and tulle have been the latest most exciting fashion trends in the formal party dresses' styles. It is amazing to see the vintage Great Gatsby trends in making its way into the modern fashion world with the refreshing and innovative styles. Combining lace with the sequins, tassels, chiffon, and retro material into creating the modern dress styles have given new life to the vintage flapper girl styles. The following dresses showed in the pictures depict the sophisticated and classy 1920s style in the contemporary designs. The gorgeous lace mermaid gowns and fringed dresses are worth buying for the party ahead.
Daring Short Flapper Cocktail Dresses
Flapper girls of the 1920s were bold and gorgeous with scandalous attitudes. The short flapper dresses nowadays are a representation of bold and beautiful women seen in Great Gatsby and you can instantly opt to wear this head-turning style by wearing flapper cocktail dresses.