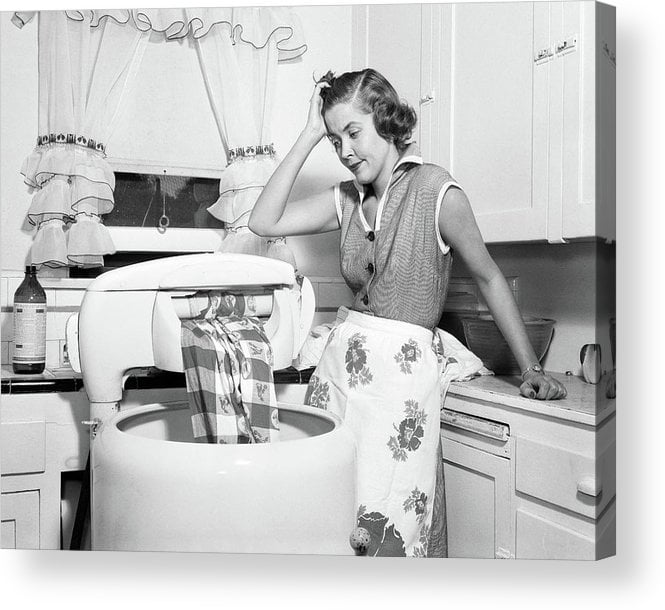 An apron is a protective piece of clothing that covers the front of the body. The word apron was gotten from the French word "napron", meaning 'a small piece of cloth'. An apron has been worn on the body since ancient times and served for both practical and decorative purposes; it could be worn as a uniform, an adornment or ceremonial garb.
Aprons took on a whole new role in the 50s; the apron became a mandatory part of the housewife's uniform. Many were still practical, designed to keep a woman clean and protected while she carried out her chores of maintaining the home but at the same time aprons were becoming prettier with more decorative details.
The 1950s apron became a novelty item. It came in a new fashion for every chore, season and holiday. Most women had a whole drawer of aprons she only wore once a day. Women took pride in wearing their aprons as it was a signal that they had slaved away in her house all day.
Housewives in the 50s wore their prettiest aprons to welcome their husbands and house guests to dinner. Having female children wear matching aprons with their mothers, was a sign that she was fulfilling her role, training the next generation for their responsibilities as perfect housewives.
Aprons were the first thing girls learned in their home economics class in the 50s. Mothers sewed aprons at home and it was also a form of raising money for community groups that they belonged to like church groups. They sold their homemade aprons at craft bazaars, adding decorations added value and price to the garment.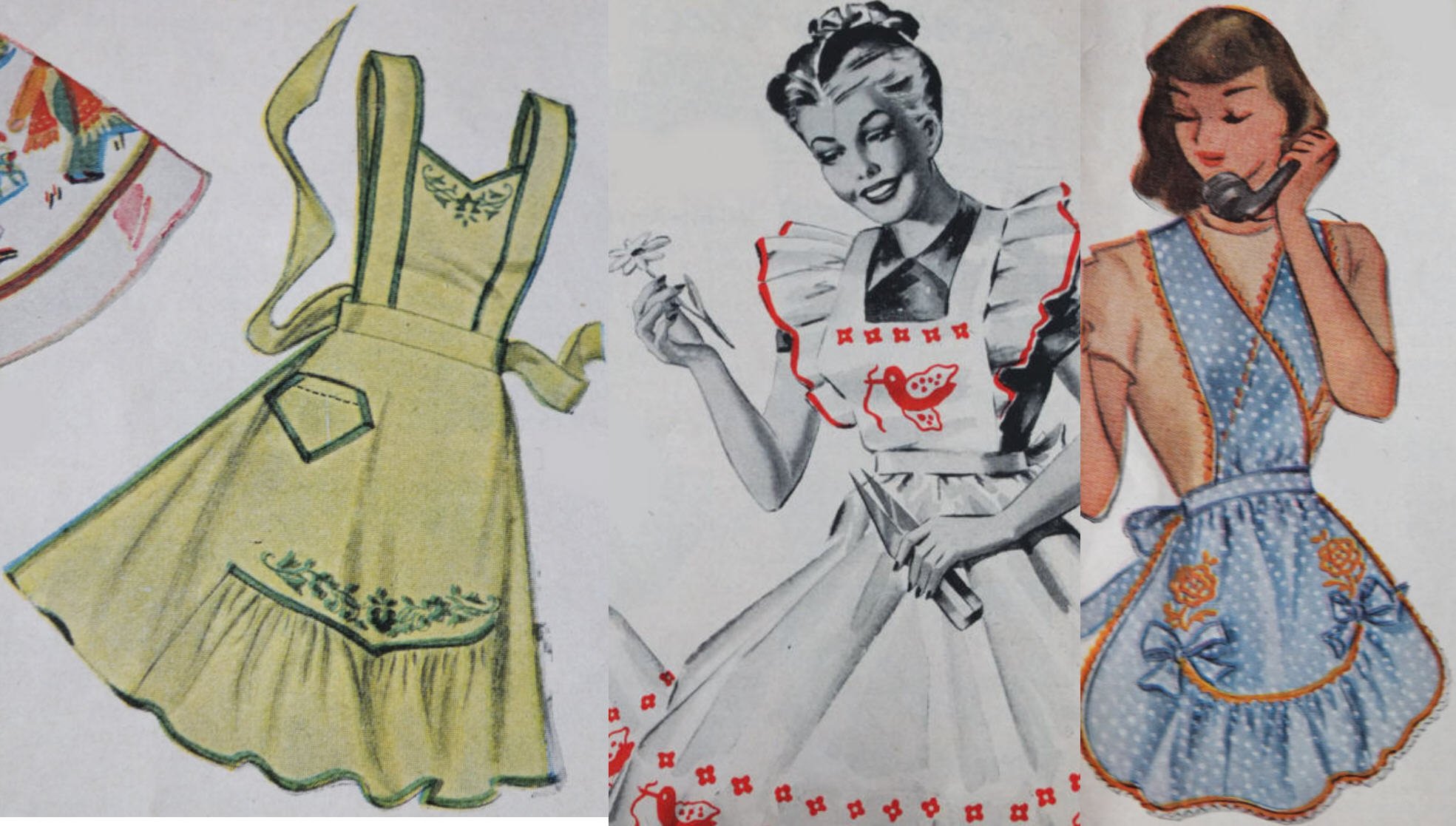 Fine embroidery, smocking, stenciling and appliqué were newer ways to add embellishments. Sewing rickrack around edges and adding pockets were easy, fast and frugal ways to spice up a plain apron.
Newspapers printed easy vintage apron patterns for women and children to sew at home, while more complicated patterns for vintage aprons were sold by McCall's or Simplicity. They featured recent designs and colour trends.
Plain designs for aprons were running out of fashion and was being replaced by new, original prints. Themes of Food, travel,  holidays reflected the trends and personality of the wearer. Plaids, stripes, polka dots, were among the variety of styles that were being used.
Men wore aprons in the 50s too, when barbecuing in the backyard. Their aprons had themes of barbecuing and bartending.
TYPE OF APRONS IN THE 50S
The 50s had the Cobbler Apron; this apron fully covered the top half of the body but covered only part of the skirt. It had the look of a dress bodice with side ties that brought in the wasp waist. Cobbler aprons had two or three large pockets that lined their front and were used in holding items and were very useful during laundry days.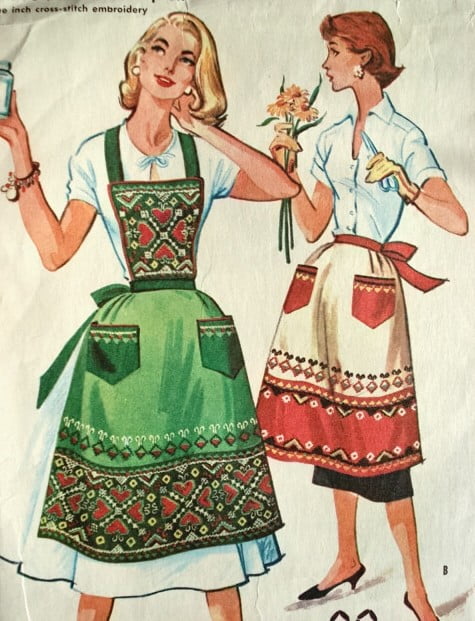 They became very popular in 1955 and their versions made out of plastic were used for messy chores.
Half aprons are also known as skirt aprons or server aprons were one of the most commonly used aprons in the 50s. They were made from absorbing materials like rayon, cotton, linen and were pleated or gathered and tied almost all the way around the waist. Its short style allowed for easy movement and made for a great gardening apron as it provided room for the women to keep their gardening tools at hand.
Half aprons fitted over full swing skirts and hung long enough to protect the dress but hardly ever fell to the hemline. Some were smaller, dainty half aprons that served other purposes.
The day to day choice apron also existed in the 50s. They were the most practical aprons with a full front bib and straight or ruffled shoulder straps and an a-line skirt.
As dress skirts widths grew during the decade so did the skirt of the aprons. Most aprons had two large pockets in the front and were shaped into novelty shapes like hearts, diamonds and triangles.
The 50s also had plastic Aprons; these were used for extra wet duties. They started trending when plastic linens, curtains and place settings bloomed. Plastic aprons were very practical and seldom needed to be washed, only wiped away.
Party Aprons are another set of aprons that existed in the 50s. They were the fanciest half aprons made of organic, chinz or net and were also referred to as dress, glamour, hostess or cocktail aprons. The fabric absorbed stains, so they were worn after meals were ready to be served.
They were half aprons with decorative, small pockets and ruffles and layers to add drama to the look. Half aprons were not worn over house dresses, women changed into party dresses or a nicer day dress to put on a party apron.