If you have a bad hair day, do yourself a favor and cover it with a hat. A fedora or homburg hat can do just fine.
This joke reminds me of the era when men possess hats as an important part of their accessories.
In the 1920s, hats had remarkable footprints in men's fashion. It was not because hats were non-existence before this time, nor were people less familiar with them.
It was because; it became a casual accessory for men during the decade, with no social restriction.
Therefore, while women were beautifully rocking their cloche, berets, and bucket hats, men also found consolation in a wide array of hats.
It was almost different hat styles for different men's wear. So they felt not cheated at all as far as hats were concerned.
1920 Men's Hats History
From ancient times, men had always had some forms of head coverings. There are times they went hatless too.
Some forms of men's headwear before the hat craze includes wigs, turbans, hoods, etc. Nonetheless, the many forms of head coverings then signify status (ranks) and protection.
Men's fashion began to change during the 18th century. Many rumored it to have been influenced by the French revolution.
The likes of Fedora and homburg hats replaced beaver hats and top hats, as men seem to find them more comfortable, casual, and classier.
In 1920 and even 1930, it almost became a necessity for every man to wear a hat. It was more like a function, a tradition, and then fashion.
The fact that men walk around under harsh weather conditions, as cars were less popular was a reason.
Another reason was that there were more outdoor jobs than indoor ones. You can easily see men work as laborers, farmers, and traders than as an accountant.
Therefore, many people attributed the wearing of hats to men trying to protect their hair from the sun and cold and to conceal balding.
What kind of hat did men wear in the 1920s
Men of the 1920s are never fully dressed without their hats on. The kind of hats they wore differs by season and activities.
For example, bowlers' hats were designed for riding horses, to serve as a form of protection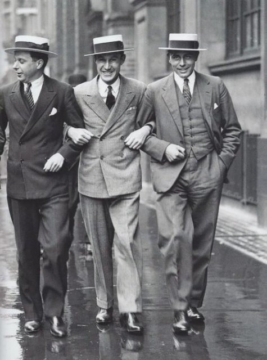 for the head.
Although as time pass by, even non-riders started to wear it as a fashion trend than for its function.
Fedora and homburg hats were popular for their durability and flexible raw-edge snap-brims.
Other popular men's hats were Cowboy hats, Panama hats, Porkpie hats, Campaign hats, Boaters, and Stingy brim.
Men's hats may have been out of fashion for the past 50 decades, but just like women, they are also welcoming back their head wears.
This time, it may not be as a traditional or functional accessory but as a fashion trend. With the 1920s hats in modern styles, you just cannot ask for more.
Moreover, regardless of what your favorite hat is, always know we have the right pick for you.