Let's take a trip down memory lane and explore the wonders of jewelry in the 1970s. Fashion in the 1970s was heavily influenced by the culture and politics of the time. People enjoyed vibrant colors, bold styles, gold, and self-expression. It's no surprise that 70s fashion and 70s accessories still find a home in today's fashion.
In this article, we will be exploring various trends in 70s fashion and accessories. After all, fashion is timeless and there is nothing wrong in rocking stylish jewelry throwbacks from the 70s.
Why Choose A Jewelry From 1970?
According to DRU jewelry (a label that promotes 70s fashion and trend, Thea Miller), there is an increase in demand for 70s fashion and style. Apparently, people love how bold fashion was at the time. After All, the 1970s were quite revolutionary. We had women embracing corporate culture, and being independent, we had the hippy movement and disco. At the time, your fashion was a statement and it was loud. Also, we can't ignore the influence of gold.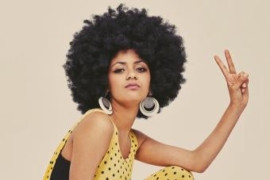 As a fan of vintage fashion, you can take the bold stylish route and rock popular 1970s jewelry. There are several options, and we are happy to help you navigate them. You can also incorporate some jewelry styles with modern fashion.
Pendants:A quick look at the celebrities of the time. One can easily spot several pendants around their neck. Pendants were a popular 70s fashion accessory and they come in various styles. The pendants could be heart-shaped. Circular, and sometimes sentimental holding pictures of loved ones. Pendants were the go-to necklace choice of the 70s. So, if you are in a retro mood today, put on a bold pendant and you have successfully transported yourself to the 1970s era of fashion.
Chokers:For some people, chokers as a fashion style may seem strange. It is easily associated with sexual acts. However, chokers were a hallmark of fashion in high society back in the gilded and victoria age. Nevertheless. In the 70s, chokers took new forms and designs. They came to represent freedom and independence for women at the time. Big, chunky metallic chokers were a huge wave of 70s fashion. For the truly brave, a large Gold choker was a necklace favorite.
Hoops:Similar to other fashion statements at the time. Hoop earrings were big, bold, and beautiful. Some of these hoop rings were so big they could touch the shoulders. These earrings were a hallmark of fashion at the time thanks to the disco culture of the 70s. At the time, the materials that make up the hoop rings were inexpensive. As a result, they were affordable and grew to mass appeal. Also, people often opt for bright and sparkly earrings. You can still pair hoop rings with today's fashion. They are a great choice for a casual night out with friends.
Bracelets: like other decades before the 70s, bracelets of gold and silver remained trendy. However, pearls, beads, and other colorful materials were also considered fashionable. On average the bracelets are wide and large. It became fashionable to have friendship bracelets around this time. People engraved the names of their loved ones on their bracelets. As a result, these bracelets gained sentimental value as people used 70s accessories to showcase their affection. Also, there were matching bracelets that lovers could adorn. The bracelets could be a pair with each partner having a piece.
Bone Cuff:While we can classify the bone cuff as a type of bracelet, its design is unique. It was popularized by Tiffany's Jewelry designer (Elsa Perreti). The bone cuff of the 70s came largely in silver and gold. Today, the bone cuff design has evolved into several other patterns and colors. The bone cuff is just as relevant in today's fashion as it was in the 70s. It's a great look for both formal and informal events.
Brooches: For many living in the 70s era, brooches felt like a blast from the past with regards to 70s fashion. Brooches in the 70s were expensive and exquisite. For that reason, most women had no more than two pairs. The brooches often come adorned with various pearls and jewels and could be pinned anywhere on the dress. They are signals of grace and beauty.
Tips For Wearing 70s Jewelry Today
When you choose to go with a statement piece of jewelry, never wear more than one at the same time. That way you keep it simple to match modern fashion.
Patronize layering necklaces, but ensure that you stick to one metal or color.
You can embrace the big stone style of the 70s. However, keep it subtle without having to wear too many colors.
Do not combine more than one form of vintage style on your outlook.
Final Words
The 70s is a time of fun, big ideas, and self-expression. Today, we need some of that boldness and individuality. Dressing like you are back in the 70s can help unlock some of your inner creativity. There is a lot of 70s fashion influence in today's style and you can expect to keep seeing more.