After the Great Depression of 1929, femininity was in style, lovers of fashion opted for softer, sculptural pieces of jewelry, and women, although unable to buy new clothes regularly, could still change and update their jewelry boxes, as vintage jewelry designers invented new kinds of pieces. In this vintage jewelry guide, we talk about various styles that marked this era.
1930s Style RINGS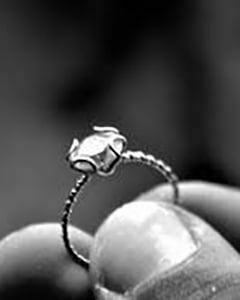 Having been affected by the economic hardship caused by the Great Depression, many fashion lovers opted for the simplest rings. While small gemstones may have been incorporated in some, many simple rings were more metal-detailed and were slightly thinner than the vintage rings to keep prices much more affordable.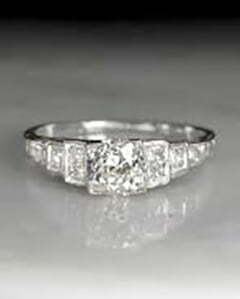 As the name implies, this style was inspired by the Art Deco festival of 1925. The Art Deco era influenced a lot of vintage jewelry designs that featured bold geometry, thicker and larger gemstones, and bulkier designs. Interestingly, men predominantly wore Art Deco rings.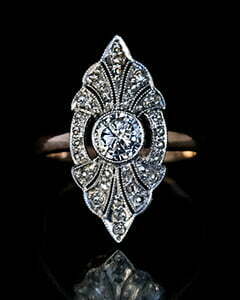 These were more elaborately designed rings and they included designs that were feminine and sometimes romantic (in the case of wedding rings). Some of the designs incorporated in Victorian rings include flowers and filigree patterns, as well as other delicate designs. Gems were used to accentuate the rings when they were made from metals.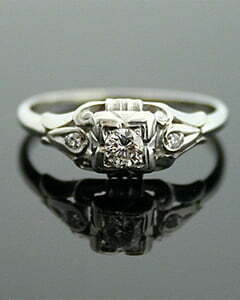 Filigree patterns and geometric designs were some of the bold features of Edwardian rings. They were made using bolder, larger patterns than Victorian rings and share a lot in common with them, including the use of gems for accent.
Vintage rings, along with Art Deco rings, were two of the most common ring styles of the 1930s. More glittery to the eyes than Art Deco rings, vintage rings were accentuated using fine designs of precious stones such as emerald and coral.
1930s EARRINGS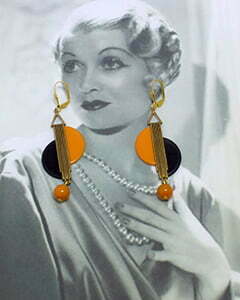 Drop earrings were popular in the 1930s as it was best suited with short hair—which was predominant among women in that time. Actors and music stars wore this kind of earrings and as such, it became widespread all over the world. Although they were not as flashy, drop earrings showed off ladies' necks as they peeked through short hair.
Although pearl earrings were a popular choice of earrings in the preceding decade, they remained popular throughout the 1930s. Inspired by the Art Deco era, pearl earrings were made from dazzling designs from natural motifs.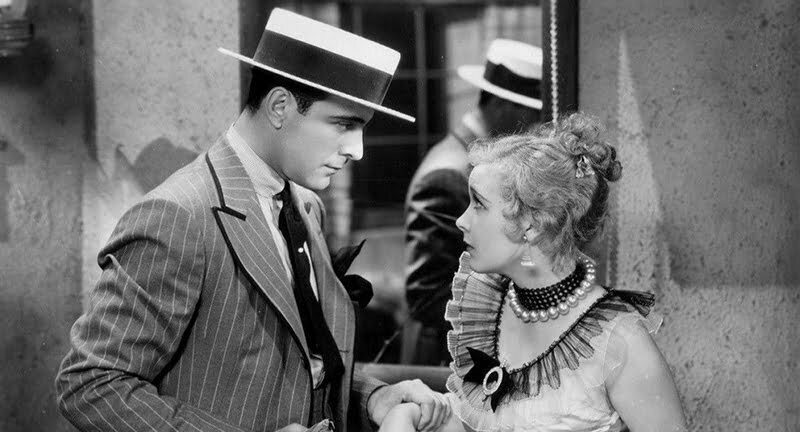 Long, dangling earrings were very popular in the 1930s women's fashion. Jewelry designers made dangling earrings from precious stones and these earrings were worn at formal evenings.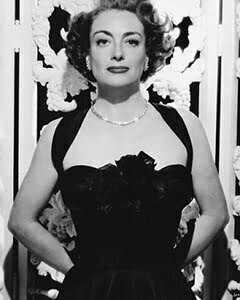 In this vintage guide, stud earrings were designed for pierced ears and for those with coiffed hairstyles.
Hoop earrings were round and thin. They were not really of many raves in the 30s but were still worn.
BRACELETS in 1930s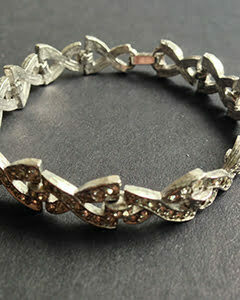 Clasp bracelets were bracelets with tight clasps for fastening. These bracelets were diamond-encrusted and were worn to formal events.
Cuff bracelets in the 1930s were available in different designs and materials. Cuff bracelets are adjustable and wide. They were mostly bright colors.
This bracelet began its trend in the 20s and it was still in a rave in the 1930s. The line bracelet also called a tennis bracelet is thin and light. It is mostly encrusted with diamonds.
Bracelets made with colorful beads never went wrong in the 1930s. Designers fashioned different beaded bracelets to wear with casual dresses. This vintage jewelry guide recommends a must-have bead bracelet.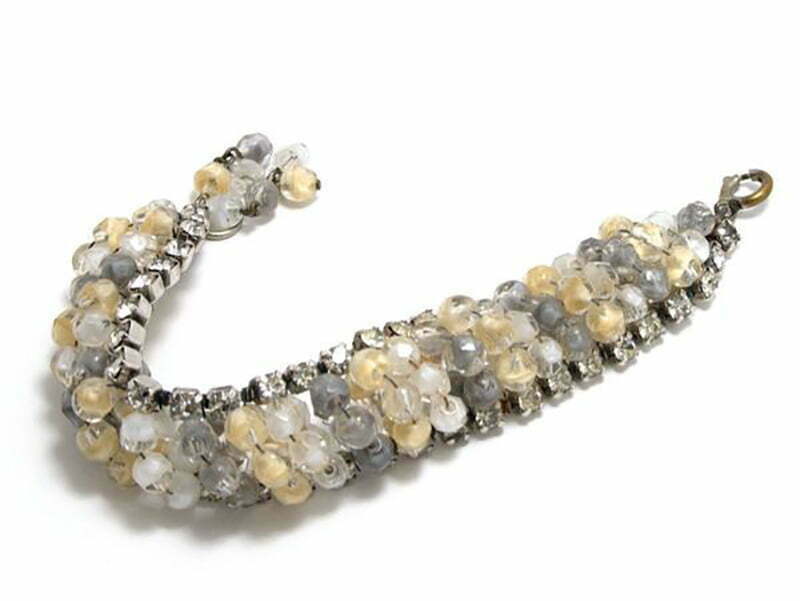 Bangles were plated pieces of mostly gold and silver and even Bakelite. They were mostly big and fitted to the wrist. Some were even worn on the arm. They were designed mostly in the reigning Art Deco designs.
1930s BROOCHES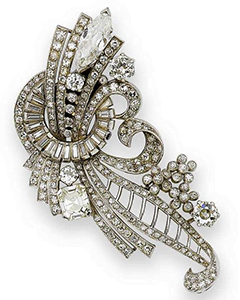 These brooches were mostly designed with the designer's inspiration from nature as the brooches come in the form of flowers or leaves. They are mostly done with turquoise and then embellished with some silver and other little gemstones.
As your vintage jewelry guide, it is safe to say Lapel pins are a hit. Lapel Pins are thin and delicately designed. They are mostly made with gold and then a shiny diamond or ruby to bring out the pin's elegance. Some are even intricately designed to fit some floral motifs.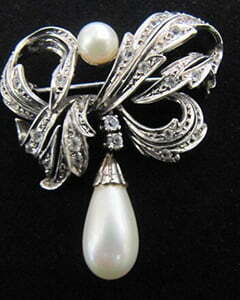 Even though the 1920s saw more pearl designs, the 1930s had some pearl works. The pearl brooches had little gems encrusted on them and came in different designs.
Bar brooches are like lapel pin brooches. They are easily fastened. Some bar brooches were made to be double clips allowing the owner to use them on the dress and hat.
Sequined brooches were very shiny as it was bedecked with shiny gems like rhinestones. These brooches were mostly worn to formal events.