Before the 1960's women's rights movement, many women were still fully engaged in household duties. They lived more of domesticated life, focusing on childbearing and house works. Have fewer places or less say in the politics, economy, and social aspects.
Owing to this fact, women's fashion then was tailored to suit their kind lifestyle. During this era, average women have more house dresses than fancy or occasion wears. At the same time, the elites and the wealthy have the best elaborate dresses.
The reason many women wore less feminine dresses was to please their men. Men expect their wives, sisters, and daughters to wear loss fitting clothes, gowns, and long skirts. They consider dresses like these as being modest.
What did Women Wear in the 60s?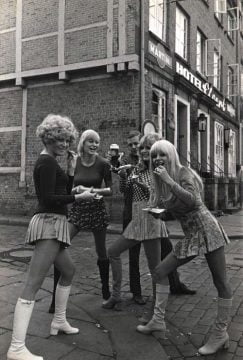 In 1960, the second wave of the feminist movement took place. Women rallied against domestic violence and abuse and advocated for equal rights (gender equality) in place of work, etc.
The second wave of the feminist movement (feminism) in America greatly influenced social values. Moreover, as it concerns each wave of feminism, there seems to be a notable influence on fashion and style changes, especially for women.
Gradually, women's fashion in 1960 began to change. House dresses became more fashionable. So that many who cannot afford more clothes can enhance their looks with other accessories like hats and jewelry while rocking their home wears. As the years went by, loose-fitting clothes paved the way for more feminine and fashionable ones. Skirts, of course, underwent a prominent change after the women's revolutionary movement.
Many women suddenly want to be in control of what they wear and how they wear it. To have the choice of color, styles, and patterns. There was nothing more fascinating for women than wearing dresses on their terms. Women's fashion started to improve. Tailors create new and adorable styles. Some of the notable skirt styles were A-line pleated skirts, Swing skirts, full circle flare skirts, and pencil skirts. These women proudly rock with sleeveless blouses made of fine silk or knitted.
How did Mini Skirts Change the World?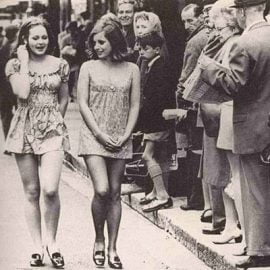 The existence of mini skirts dates back as far as 1390-1370 BCE. The Egtved Girl remains an example that minis existed then.
However, before it rose to fame, it was only common for sports and dance. The mini skirt protest allied with the 1960's feminist movement gave women a new perspective on fashion. More so, during this time, World War 2 also caused a relaxation of the social norms. Thereby quickening the acceptance of what women want.
As women started to demand a place in the corporate world, wearing long skirts became unfavorable. The need to have comfortable working wear such as skirts inches above the knees became necessary. Even the youths started to express themselves in most dynamic wears.
However, this change in fashion did not influence some women. Some were still trying to adapt, while others were unwilling to try. Little by little, mini skirts flaunt the market. Young adults demand their styles and have what they want.
Mini skirts of the 1960s, previously tailored after knee-length, came up to knee length. Gradually, it became even shorter, climbing up above the knees. Thus, around 1996, women who wore mini-skirts gradually outnumbered those wearing midi or maxi skirts. As mini skirts and short gowns became the dream of most women, strict fashion styles began to loosen up.
Synthetic materials with more beautiful designs became desirable. Also, female designers massively sew ready-to-wear minis, and the price was relatively low too. Even more, women who hid their legs under their long skirts and gowns before this evolution started to show them off. The invention of pantyhose, leggings, knee-length boots and socks complemented the short dresses well enough.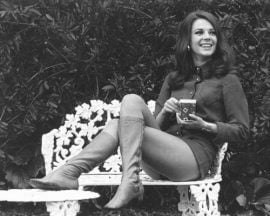 Well, lest I forget. There are people behind the scenes of this change in fashion. They took it upon themselves to campaign for a change of the non-liberated life of women. All thanks to Mary Quant, André Courreges. They are two out of the well-recognized fashion designers who supported and popularized this course. They engaged in massive adverts, and their revolutionary spirit for fashion development was unadulterated. Fortunately, their zeal produced a change most women wanted. A fashion that improves self-image and self-confidence became possible.
More so, their course encouraged other fashion houses weary of the long and less feminine lines of dressmaking. Many fashion designers such as Geoffrey Beene began to study and understand women. Who would not want to make money? At such a time when demand for minis was high? That is because; there is absolutely no point in having a store full of undesirable clothes.
The surge in feminism brought women's liberation. It improved women's newly found self-confidence, broke many fashion traditions, and made 1960 a very important period in the mini skirt (fashion) evolution. Many women still enjoy the fruitfulness of the 1960 women's fashion liberation movement to this day. Fashion would not have been interesting as it is without minis. It changed fashion forever.