Winter fashion looks are difficult to achieve because they must account for changes caused by the weather, as well as the need to be stylish while remaining comfortable.
The 1950s winter fashion pieces were made with durable materials that could protect the wearer, the styles were creative, dresses had flare skirts, and tops were made with wool.
Women's clothing was designed to fit both formal and informal settings. The 1950s winter fashion pieces are timeless and can be styled to be worn in other seasons.
The Dress Elements In 50s Winter
Certain designs are unique to 50s winter dresses; it is exciting and diverse. The fact that fashion was reaching new heights and eclipsing a new trend at the time added to the period's uniqueness.
The following are some of the exquisite fashion trends to consider:
Round dresses – dresses with rounded shoulders, cinched waistlines, exaggerated hips, and full skirts were worn to push the decorative feminist idea and signal the end of the war.
Pencil dresses – many dresses in this style were created for both formal and informal wear. The dresses covered a woman's body from the bust to the mid-calf hemline. For a similar look, pencil skirts could be paired with tailored, tucked-in blouses.
Materials– There were new materials, mostly synthetic, to experiment with and create exciting styles with. This allowed for novel uses of wool.
Tips On Dressing Vintage During The Cold Weather
Trying to dress up when the weather is cold involves much more thought than the location. You don't want to be overdressed for the cold, and you still want to look stylish. These are some warm ideas for dressing vintage in the winter.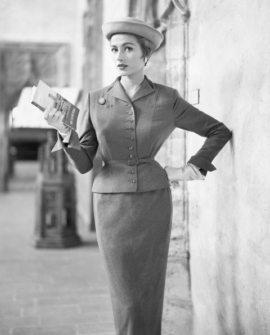 1. Wear a beret– berets are a staple of vintage fashion, particularly from the 1950s, and they are a perfect yet simple and obvious way to dress vintage. They look great with dresses, skirts, and pants, and they keep your head warm. Knitted or wool berets in any color that compliments your outfit are appropriate.
2. Long skirtsare beautiful, and they are also a signature old look, as they keep your legs properly covered against the harsh weather. Long pleated skirts, in particular, evoke 1950s fashion
3. Cardigans– can be layered in a variety of ways; they are very comfortable, and if you get body itches, you can layer with a comfortable material first.
4. Wear tights– there are comfortable vintage tights that will be ideal if you are wearing a short dress or simply need an extra layer of warmth.
5. Wear coats– While coats are not a fashion staple, coats were popular in the 1950s fashion because they fit the fashion theme. Coats are ideal for staying warm while adhering to a vintage theme.
It is tempting to simply layer up bundles of clothing when it is cold, especially if you do not intend to step out because you want to be as comfortable and warm as possible. Moreover, if you try on any of the clothes mentioned above, you can be stylish and comfortable while staying warm.