Mod, which comes from the word modernist, is a subculture that originated in London and extends throughout the United Kingdom. It is a strong movement that invaded music and eventually influenced the fashion industry.
Mods did not fancy the faulty pop songs of the 1950s. The typical sentimental pop-styled loved songs didn't appeal to them. They prefer to engage with what they would consider cool, hip, smart, and sharp. To the Mods, everything should be streamlined and sexy. They do not mind innovation, new, interesting, and even controversies. These ideologies are deeply ingrained in 60s mod fashion.
The '60s Fashion Scene witnessed a flood of new styles, prints, colors, and patterns being utilized and explored, which profoundly influenced what was cool in fashion for mods.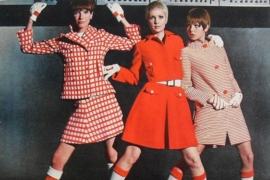 What did Mod Women Wear in the 60s?
The cool energy of the fashion scene was on display in the design of women's apparel.  The style of the time featured vibrant, patterned, and boldly colored materials. Also, they were matched with other vibrant apparel or accessories. These are some of the things women wore and considered fashionable in 60s mod fashion;
Tights– Tights are an easy way to elevate an outfit while keeping your legs covered, especially when wearing a mini skirt. Tights are accessible in a wide variety of colors, designs, and patterns. Pairing a patterned dress with patterned tights was a fashion standout.
Mini Skirts– There is no shortage of articles discussing the length of mini skirts and how they continue to get shorter.
Makeup–  The typical mod woman will be wearing minimal makeup. The makeup will be in the form of pale foundation, artificial lashes, brown eyeshadow, and a whitish or brownish pale lipstick. In all, it makes for a unique and vibrant look.
Mens Cloth– Mod ladies wore gender-neutral and men's clothing, which is incredibly comfortable and fashionable, especially styled with flat shoes.
How to dress like a 60s Mod
The moment you find yourself wearing tailored-fit dress, with bright colours and bold prints then you are dressing like a 60 mods. Sometimes, that can include black and white clothing with bold prints. There are many fashion pieces you may wear to dress like a mod; here are a few to help you create a look that suits the 60s mod fashion style:
Mini Skirts–  One of the most popular fashion styles of the 60s especial in mod circles is the Mini skirt. Offcource we still have the classic bold colors, shades of blues and navy, and the prints. Choose eye-catching textiles like tweed, wool, or velvet. Experiment with as many different prints and colors as you possibly can.
A-line Skirts-If you want to create a 60s mod fashion look but are not comfortable with small skirts, opt for an A-line skirt. Choose a neutral A-line to go with a color-blocked top, or a patterned A-line to go with a solid top.
Shift Dress–  If the goal is to look stylish and comfy in a 60 mods themed dress, then you best go fo the  shift dress. Shift dresses are boxy and loose.  For a fun and easy 60s mod fashion look, go with a sleeveless shift dress in a geometric print. Style it with a pair of flats or a quirky scarf to complete the outfit.
Slim Fitting Trousers-Slim-fitting pants, ankle-length pants, and capris were a 60s mod fashion To style, use neutral colors and mix them with vibrant shirts.  You can roll up your jeans when wearing them with a mod-style shoe.
Parka or Bomber Jacket– This was a popular and gender-neutral fashion item, with everyone wearing it and styling it in creative ways. Combine a bomber jacket with a shift dress, an A-line or mini skirt ensemble, or a parka with a men's button-down and pants to create a 60s mod fashion look that will work in any of fashion era. You can open the zipper halfway to show off the shirt or clothing you're wearing with it.
Bold Accessories–  Accessories play a significant part in strengthening a mod look. Scarves, flamboyant jewelry, headbands, and large sunglasses influenced by modern art can be worn to emphasize your outfit. It is important to choose accessories with patterns such as polka dots and geometric prints.
Suits– Mod fashion in the 1960s included tailored suits (black, gray, and brown) with vests and pocket squares. Pants should be slim and suits should always be three-buttoned; the suit should also be nicely tailored and slim-cut to appear good on you.
Desert Lace-ups or Chelsea Boots – These shoes were a mainstay of 60s mod fashion; they are highly comfy and easy to style. You can get them in neutral colors so you don't have to worry about matching them with specific outfits.
What is a mod dress style?
A mod dress style is colorful, modern, and combines elements of the mod fashion culture of the 1960s. Because of the modernity associated with this dress style, it will continue to exist and be gradually assimilated into other eras and their fashion trends.
The mod dress style is cool in every manner, including the outfit pairings and the mood that you radiate.