Preparing an outfit for any occasion can be both an exciting and stressful adventure. When dressing as a wedding guest, there are numerous factors to consider.
Because a rustic wedding is informal and non-traditional, it is simple to broaden their understanding of how a rustic wedding should look, as well as how guests should dress.
The use of a wedding guest as an important source of brightness in this neutral-focused event is always quite lovely.
What Does a Woman Wear to a Rustic Wedding?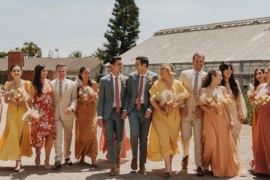 What to wear to a vintage wedding as a woman invited to a rustic wedding is very important. A variety of factors influence outfit selection.
The couple's color scheme should help streamline colors you won't consider wearing.
The wedding location, as cliche as it may sound, the type of clothing you will wear to a lakeside wedding is not the same as the type of clothing you will wear to a barn wedding. Choosing the appropriate wedding guest dress will allow you to be both comfortable and presentable.
The look you want to achieve—how you envision your outfit coming together—helps you choose the appropriate clothing and accessories.
It is easy to believe that because a rustic wedding is less formal, there is no need to dress up. This is completely incorrect; dressing up, albeit in a relaxed manner, is the ideal way to show up at a rustic wedding.
Four Rustic Wedding Dressing Ideas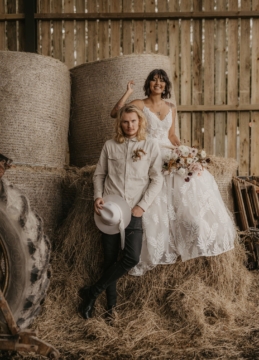 Pretty casual dressy dresses, such as a floral fit and flare dress. Prints work well for rustic weddings as well.
If the wedding reception is held indoors, such as at a barn, country estate, or winery, you may want to opt for more semi-formal attire, such as a maxi dress, which can look as casual or as formal as needed.
It's a good idea to wear shoes that won't get stuck in the grass or on the barn floor. It is important to wear suitable footwear for your comfort.
You should know whether the wedding is rustic casual, western or country themed, in which case more casual attire such as skirts and sundresses will be appropriate.
Paying attention to the information listed above will ensure that you look as classy as they are for the wedding and fit right in.
What Guests Should Not Wear to a Rustic Party
The beauty of rustic weddings is that any outfit in your closet if tweaked and paired correctly will work. This is an example of how inexpensive rustic weddings are for the family and friends who attend them.
Materials like Denim and plaid suits look great when paired with accessories like suspenders and hats. The versatility of what can be worn does not imply a lack of what should not be worn.
The most important thing not to wear to a rustic wedding is a bright color. Because a rustic wedding is defined by the use of neutral colors, it would be disrespectful to the couple to wear any color that is not neutral.