The 1960s fashion thrived on the dying trends of the 1950s and the new world of colorful attires that had just opened up. This was reflected not only in the fashion pieces worn to events but also in pieces worn to places of entertainment.
Women's fashion reached an all-time high for colorful, comfortable, and beautiful outfits, and there was no turning back.
Parties were enjoyable events with creative themes and good music to dance to. There are many fun dances and drinks from the 1960s that still exist or have been modernized for today's party scene.
The Popular-Themed Party In The 60s
In the 1960s, parties were an everyday occurrence. There was always an event to attend and some fun activities to do. These are some popular 60s party themes you need to know;
Dance party– This is very similar to what happens in a modern club but without the music from the 1920s. It's a fantastic outdoor event, and the ultimate 60s playlist will include songs from the era – Jimi Hendrix
Rolling Stones
Janis Joplin
Beach Boys
Dusty Springfield
There were also fun dances like :
The twist
Mashed potatoes
Loco-motion
Watusi
Cocktail Party– All glitz, glam, and alcohol in one location. This is a fun reason to get together with your friends and drink. These are typical 90s drinks that should be available on the menu –
Bloody Mary
Martini
Mint Julep
Whisky sour
White Russian
Peace Love Party– This is a hippie community celebration. Playing games like Operation or Game of Life is an important activity. Dress up in your favorite hippie costume.
Space Party– The exciting theme of man moon land is a great party theme, with guests dressing up in exciting space exploration costumes and drinking fun-named cocktails.
Retro Rock Parties: The perfect combination is rock music, people dressed in love beads, gogo boots, and mood rings.
Decorating the venue for a 60s party is always a lot of fun. Decorate your space with neon-colored peace and flower signs, teepees, love hearts, and psychedelic posters to create the ideal 1960s-themed party environment. Having flower pattern curtains or an acoustic guitar available for party guests will be both entertaining and aesthetically pleasing to you and your guests.
What Do I Wear To A 60's Themed Party?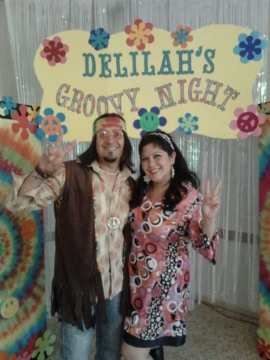 Clothing was a plentiful commodity in the 1960s. Fashion pieces that are exceptional, beautiful, and still elegant when worn today.
This means you can wear a lot to a 60s party, especially the following styles:
Regardless of gender, a pair of jeans and a tie-dye shirt can instantly transform you into the ultimate '60s hippie.
Long skirts in earthy colors or with patterns like flowers and paisley can be worn with peasant-style blouses.
Try bell-bottom jeans and T-shirts, and suede and fringed vests are always a good choice for a hippie costume.
Wear chunky jewelry that is either geometric and bold or peace-related with peace signs.
If you want to go for a hippie look, wear sandals with long pleated skirts and a loose blouse.
Wear a wig, get a neat pixie cut, or braid your hair and let it fall. Any of these would suffice.
If you're feeling crafty, you could buy some dye and customize an old top to your liking, then pair it with jeans to complete the look.
There aren't many restrictions because there are so many clothes you can wear. There are also vintage pieces available in places near you, so you don't have to worry about putting together a costume.
Tips For Wearing Costume
Dressing up in a costume that is very different from your normal style is a lot of fun. You get to experience the extra confidence and thrill that comes with dressing in this manner. However, there are a few things to consider when attempting to wear a costume;
Theme– The event for which you are dressing has a specific theme, and it is critical that you follow this theme. This will aid your research and styling ideas, as well as ensure that you do not feel out of place or regret your styling choices.
Research– Determine what you want to wear, create and compare mood boards, and research where you can get your costume. This step is also essential because you don't want to wear something that will cause controversy.
Budget– This is significant because you should consider how much money you have available for clothing and accessories. This will help you narrow down your options and plan ahead of time if you need to do some DIY.
Colors– Choose colors that you know and like; this will keep you in familiar territory and will boost your confidence. This does not preclude you from wearing unusual colors; experimenting with colors will be exciting.
When it comes to wearing a women's 60s costume, there are no limits to how you can style or use your creativity. It is essential to have fun, so have as much fun as you can while choosing the perfect costume for you.