Women's jackets and coats of the early 40s took on a masculine look that had started in the late 30s. This could be partly explained by the war years when the fashion industry was muted. The militaristic tone of the war years kept this masculine look going with military-inspired trench coats and heavy winter jackets that borrowed designs aspects such as deep pockets and heavy-duty fabric like gabardine. Imitation fur coats substituted real wool coats when wool became scarce because of the rationing. Postwar jackets and coats saw more color and embellishments including real woolen hoods and vanity zippers.
1940s Utility wear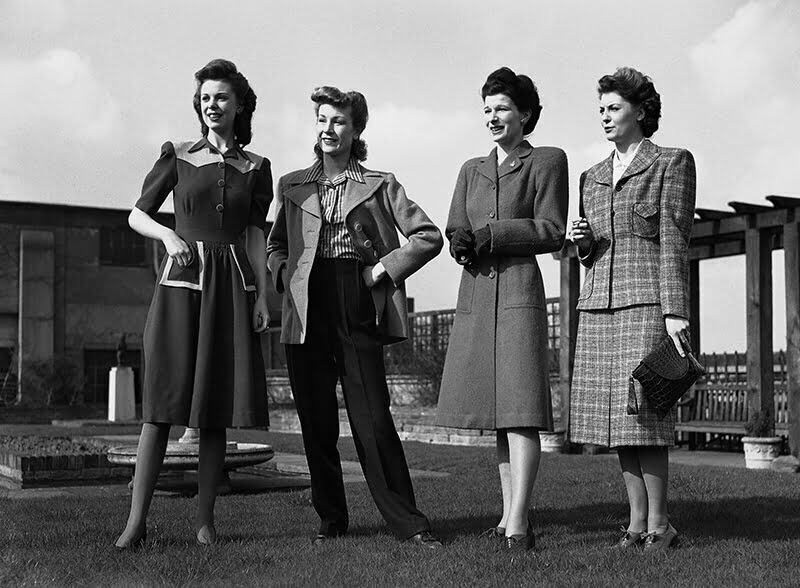 Fashion designers were limited by guideline L-85 in what they could do when making coats and jackets. Pockets on coats could not be more than two, bell-shaped sleeves were banned and bi-swing back were disallowed. Wool was also in limited supply. Some designers took to reusing wool from older jackets and coats. Coats and jackets of the early 40s had inner linings were made of rayon and satin in more pricey jackets. The big-shouldered look was trending on both sides of the Atlantic in 40s women's fashion.
1940s Raincoats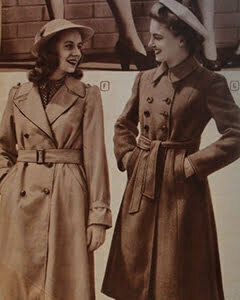 Waterproofed coats were an innovation of the war. These coats had a waterproof lining or used a waterproof material like gabardine. These coats borrowed the masculine look of military coats. They also had wide collars and lapels. They were secured with a wide belt above the waistline. These coats reached slightly below the knee. They came in darker colors like tan, olive, and dark blue. This was a simple utilitarian design that worked when practicality was valued.
1940s Trench coats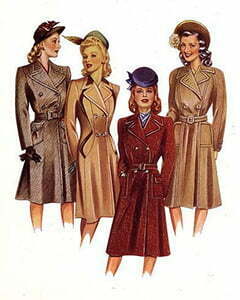 The loose-fitting trench coat was also called a wrap coat. it was distinguished by the two rows of buttons in front and the wide pointed collar. It also had a wide belt looping for a belt that was secured at the front with a buckle. This coat had two slit pockets.
The reefer coat did not have the belt and pointed collar of the trench coat and was also narrower at the waist. Its lapels were wide and peaked. The coat had a single or double row of buttons in front, or two buttons at the waist. It was made of heavy wool or tweed and often had plaid patterns. This was a design that had carried over from the 30s design and popular until the mid-40s.
1940s Box coats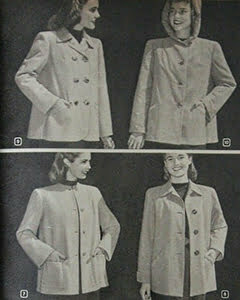 The name of this coat came from its oversized boxy look because of the wide and straight cut. It was also known as the polo coat. It is one of the coat trends that emerged in 1940s fashion. The coat hung loosely over the frame and reached the mid hipline. The box coats were lightweight and suitable for wearing in spring or early fall.
The swagger style was an alternative design of the box coat that reached to the knee. Lighter swagger coats were made from rayon or light wool for wearing in warm weather. Flared pleats were seen in swagger coats of the late 40s which made the jacket swish like one was walking with a swagger. This coat could be worn with pants, a plain skirt, or even a house dress.
The swing coat was yet another version of the box coat with the difference being its slightly narrower waist and flaring bottom. It was made to go well with the voluminous skirts of the new look in the late 40s. This coat had the rabbit fur collar in the oversized peter pan style. This made the collar appear like a small fur shawl draped around the neck.
Fur was used on the classier and more elegant box or swagger coats. Fox, seal, and sable furs were for the high-end coats while rabbit fur was used in more affordable coats. Fur trimming was used on the collar which was made high and wide. Fur trimming was also done on sleeves. A fur coat had two or three buttons to accommodate the fur collar. The coat also came with slit pockets to keep warm. Large round or square fur collars were done on heavier winter coats.
1940s Outdoor jackets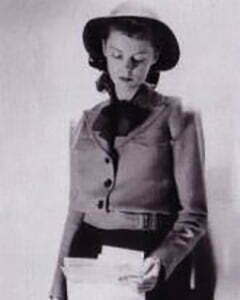 Women who could afford to go skiing wore outdoor jackets that balanced between waterproofing and being lightweight. Quilted jackets with an outer waterproofed fabric like gabardine or cotton twill were ideal for outdoors. They could be zippered, button-up, or have a drawstring.
Leather jackets were versatile outdoor wear, good to wear with skirts or pants. They could be layered over a knit top or sweater. Tan, green, or brown were the favorite colors for this enduring item.