Wars were over and it was time to get the parties started!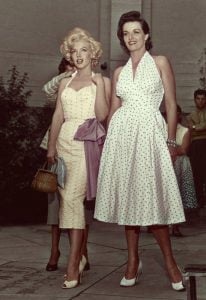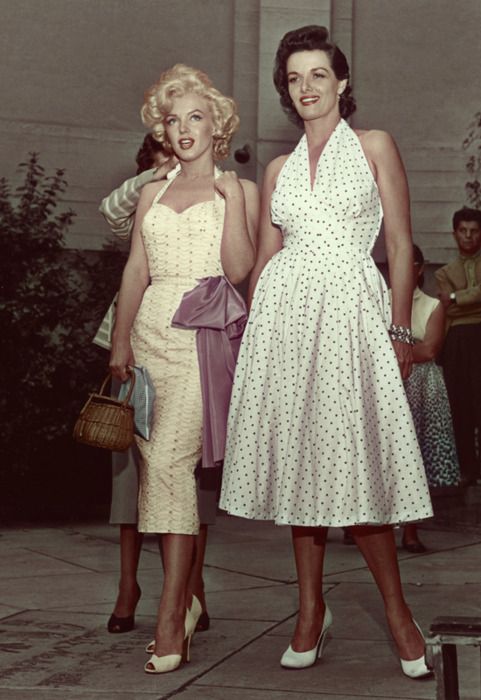 Unlike the previous years where the world wars and depressions rocked the nations and weddings were hurried, the 50s were a decade of peace and end of war prosperities. Weddings were no longer hurried, so they became complete fun events with proper church services and receptions held at either reception halls or the home of family or friends.
1950s wedding dresses were iconic and fashionable. With fashion icons like Marilyn Monroe and Jane Russel modeling the very famous Tea Length wedding dresses, it was bound to leave an everlasting mark in fashion history.
Tea Length Wedding Dresses


The 1950s were modest times. It was a decade of innocence, wealth and excitement and the tea-length dress was an indication.
Tea-length dresses were often made using chiffon and tulle, making them lighter and easy to maneuver. Their hemlines were higher than the floor-length dresses of previous years, ending around the ankle and sometimes higher around the mid-shin. They exposed the shoes which were often in mild catchy colors like peach, pink, or silver.
With the innocence that was particular around this decade; the bodice of the tea-length dresses were simple and decent. With doll-like appearances, they were mostly in short or medium length sleeves.
There were a variety of neckline options available;
V-neck: This is a wide V-shaped opening that runs from either the shoulder to the front or the shoulder to the back or both. Sometimes has a collar.
Sweetheart: A beautiful heart-shaped opening.
Strapless: No hands, had a straight bust line, and sometimes worn with a cropped jacket.
Queen Anne: Had a high neck and back, with a sweetheart front.
Portrait: Had a simple collar to frame the shoulder and neck.
Off the shoulder: Sleeves running along the arm, leaving the shoulder bare.
Jewel: A simple round neckline.
Halter: Straps from around the breast, over the neck, strapless.
Fichu: Flowers or brooches gathered along with the breast.
Scoop neck: This was a U neckline that appeared wide and low.
Squareneck: No cleavage; had straight sides and bust line.
Bateau: Straight cut along the front and back.
Horseshoe: Currently called the Shelf top, it has a U shaped halter looping under the bust line.
1950s Wedding Dresses for Plus Size Ladies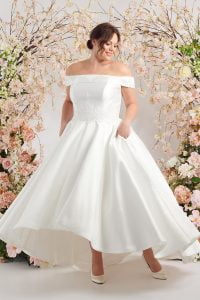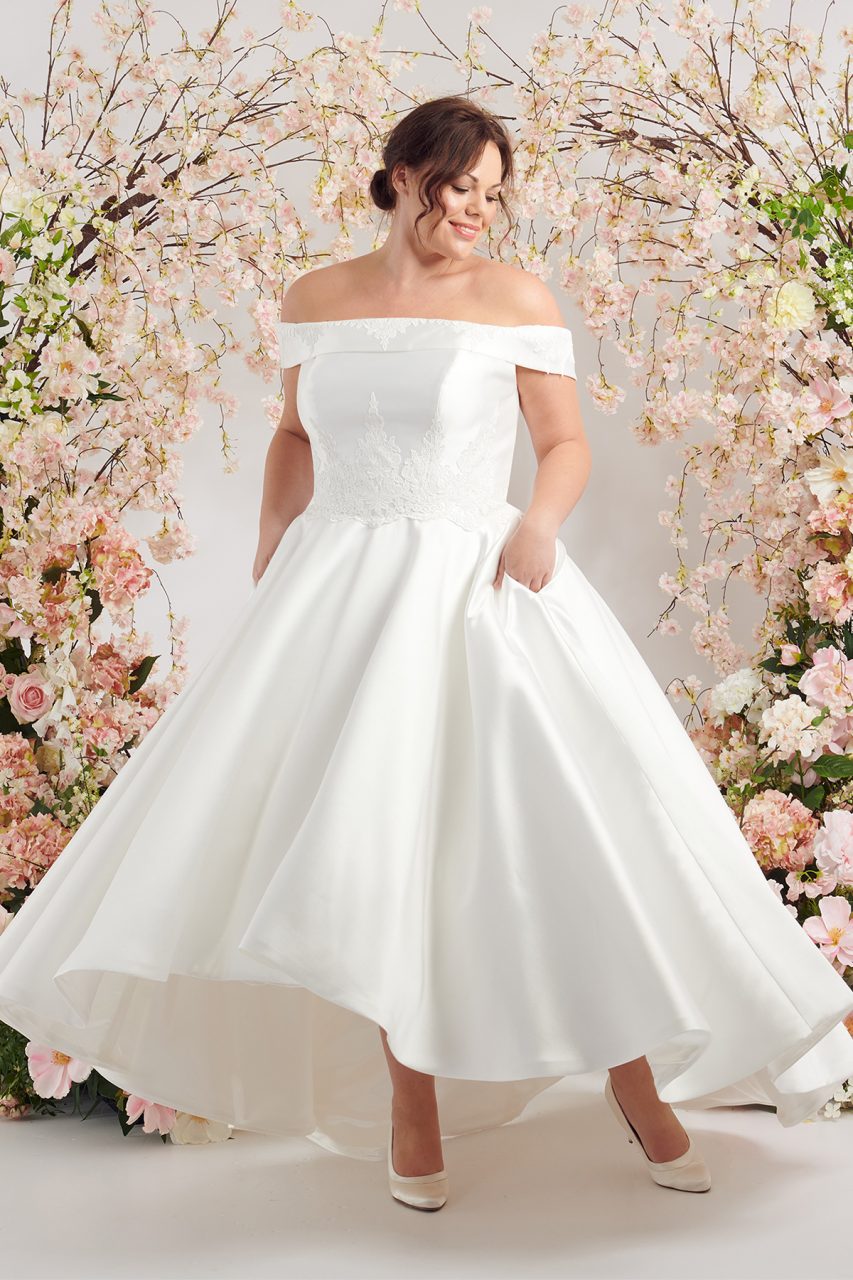 Although ladies of the 50s were considerably a lot less physically endowed than ladies of recent times, there was always a means of altering the trends to get them looking fabulous.
The Tea length dresses, with their thin waistlines and ball gown skirts, were and still are ideal for plus size ladies. Strapless tops with crop jackets, fitting waistlines placed a few inches below the under burst spot and free ball gown skirts could perfectly cover big stomachs.
In modern times, pregnant ladies keen on walking down the aisle in wedding dresses comfortably wear the 1950s tea-length dress as it gives less stress, has enough allowance for the bulging tummy, and allows them to walk freely.